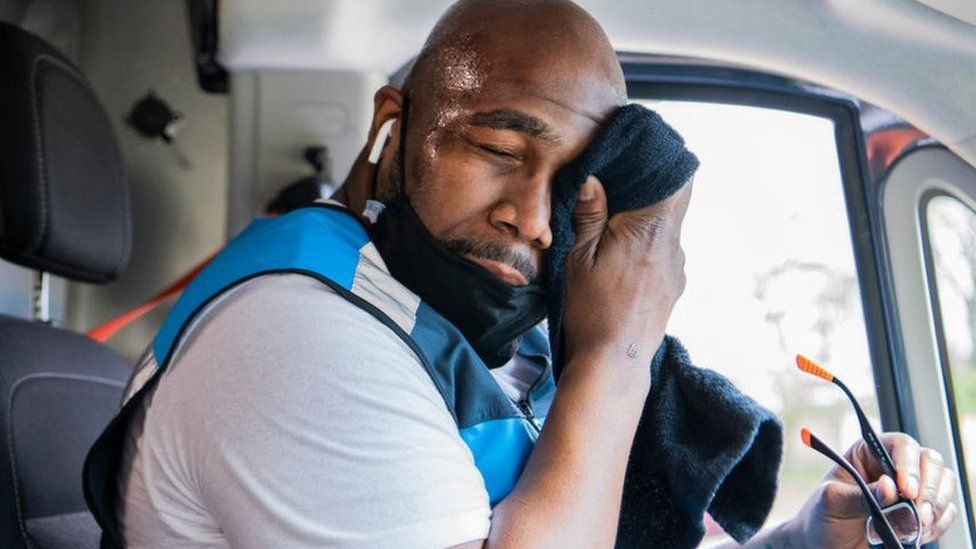 UK heatwave: Temperatures to hit low 30s as heat-health alert issued
Parts of the UK are predicted to experience a heatwave over the next few days, the Met Office says.
Southern and eastern areas will see consistent high temperatures over the next few days.

The forecaster and the UK Health Security Agency (UKHSA) has issued a level 2 heat-health alert warning ahead of the hot weather.

It is in place from Monday to Friday morning, and covers the east of England, south-east and London regions.

The heat-health alert scale is designed to help healthcare workers manage through periods of extreme temperatures and has four levels.

Level 2, called alert and readiness, is triggered as soon as there is a 60% risk that temperature thresholds will be reached in one or more regions on at least two consecutive days and the night in between.

The Met Office declares a heatwave when it records at least three days in a row with maximum temperatures exceeding a set temperature - which varies in different areas of the country.

The UK previously experienced a heatwave three weeks ago, with June 17 marking the hottest day of the year so far.

Northern Ireland had its hottest day of 2022 so far on Thursday, with highs of 23.5C.

Temperatures in the mid to high 20s are expected in some areas over the weekend before they reach the low 30s at the start of next week, according to the Met Office's deputy chief meteorologist David Oliver.

The north-west of England is expected to buck the trend seen elsewhere, with cloud and light rain expected over the weekend and into next week.

BBC Weather presenter Nick Miller said: "Temperatures are set to rise this weekend lasting into a least the first half of next week.

"Parts of England and Wales will see highs in the upper 20s and low 30s Celsius for several days and meet the criteria for an official heatwave to be declared.

"Some places are likely to see their highest temperature of the year so far."

Heatwaves are becoming more likely and more extreme because of human-induced climate change.

The world has already warmed by about 1.2C since the industrial era began, and temperatures will keep rising unless governments around the world make steep cuts to emissions.

In England, there were 2,500 excess deaths in the summer of 2020 as a result of hot weather, while heat-related deaths in the UK could treble in 30 years, the British Red Cross predicts.