The ongoing Eras Tour has not just been lucrative for Taylor Swift – the economies of the cities that she has stopped at have massively financially benefited as well.

The songstress has just under half of her 52 scheduled tour dates under her belt so far, most recently singing her hits to fans at three sold-out stadium shows in Foxborough, Massachusetts, over the past weekend. For one of those concerts, a father said he spent $21,000 on a reseller site to get four tickets for his daughter and her friends after a ticketing issue.

Swift's sold-out performances at Foxborough had been preceded by the same for her three shows in Nashville, Tennessee, and her three dates in Philadelphia.

John Simson, the director of the business and entertainment program at American University's Kogod School of Business Management Department, told FOX Business her tour is having a "huge effect" on local economies, noting there is "maybe a handful of artists who are at that level where people are willing to essentially buy a ticket wherever they can and then travel," including her.

He pointed to a Live Nation-commissioned Oxford Economics study, published in 2021, that said live events such as concerts brought $55.2 billion of direct spending to local economies overall in pre-COVID 2019, $32.6 billion of which came from visiting overnight attendees and daytrippers. It also said a $100 purchase of a concert ticket by a non-local attendee would come with about $330 in spending in the local economy.

"So double that [per-ticket additional spending] for Taylor because obviously the ticket prices are at least $200 on average, maybe even higher from all the reports," Simson said.

Some local sectors of the economy that have benefited from Swift being in town include restaurants, hotels, transportation and recreation.

Local museums, clubs, malls and other venues also see positive impact from spending that coincides with Swift's tour, according to Simson. Other concerts in town can as well.

"The other factor that may impact this is when you have a show in Foxborough, it's very different than if you have a show that's in the city because obviously there's way more in terms of restaurants and other things to do," Simson said. "Like if you went to Taylor Swift in Nashville, maybe you'd go to the Wildhorse Saloon or the Grand Ole Opry. You'd make a trip of it, and you'd add two or three more things."

Nearly 212,000 total people attended Swift's three shows in Nashville, including some 71,000 on May 7, according to the Nashville Convention & Visitors Corp (NCVC). Per the organization, attendance records were set on a single-event and weekend basis for Nissan Stadium.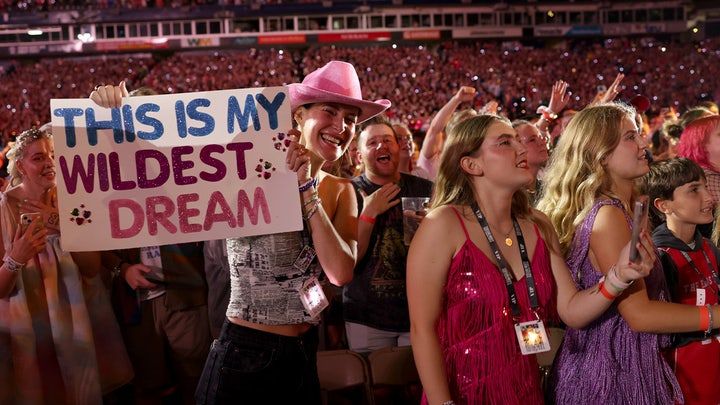 Guests attend night three of Taylor Swift | The Eras Tour at Nissan Stadium on May 7, 2023 in Nashville, Tennessee.

"As an anchor of a star-studded weekend in Music City, Nashville's hotel occupancy rate reached a staggering 97% at the peak of Taylor Swift's Eras Tour," Nashville Area Chamber of Commerce CEO Ralph Schulz said in a statement to FOX Business. "With three sold-out concerts, the tour generated tens of millions in direct visitor spending, boosting local businesses and supporting job growth, while also showcasing Nashville as a premier destination for music enthusiasts worldwide."

Nashville had other events that weekend, including a brewing-related convention, a show by Janet Jackson and three nights of stand-up from Trevor Noah, according to the NCVC. Three universities also had graduations, one of which Oprah Winfrey delivered the commencement at.

In other cities like Phoenix, Houston and Tampa, Florida, hotels saw notably high occupancy rates on the weekends Swift performed, according to local reports.

What a musician makes per-show on tour varies, as each out "has different economics," Simson said.

Many artists have various people like agents, managers and business managers they work with that each take percentages from the shows, he explained. He said the performers get to renegotiate such terms to "make them more reasonable" as they become more popular.

The number of tickets sold, their prices and the capacity of the venue also factor in.

"I would think $5-6 million grosses are probably in the ballpark of what [Swift] is doing right now," Simson said.

Swift's entire U.S. Eras Tour could generate $642 million to $728 million, according to a March estimate from music industry publication Pollstar.

Fans will next see the singer in East Rutherford, New Jersey for a trio of dates starting Friday.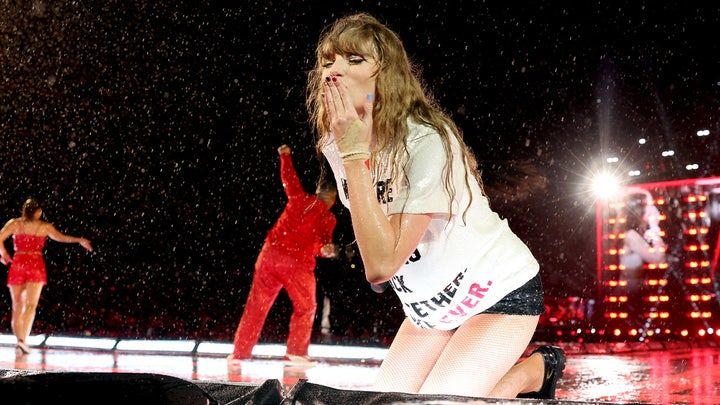 Taylor Swift performs onstage for night three of Taylor Swift | The Eras Tour at Nissan Stadium on May 7, 2023 in Nashville, Tennessee.


Swift's three-hour-long concerts, her first since 2018, feature "Shake it Off," "Fearless" and a slew of other hits, plus two surprise songs, according to reports. Many fans who could not land tickets have "Taylor-gated" outside the stadiums to hear her live.