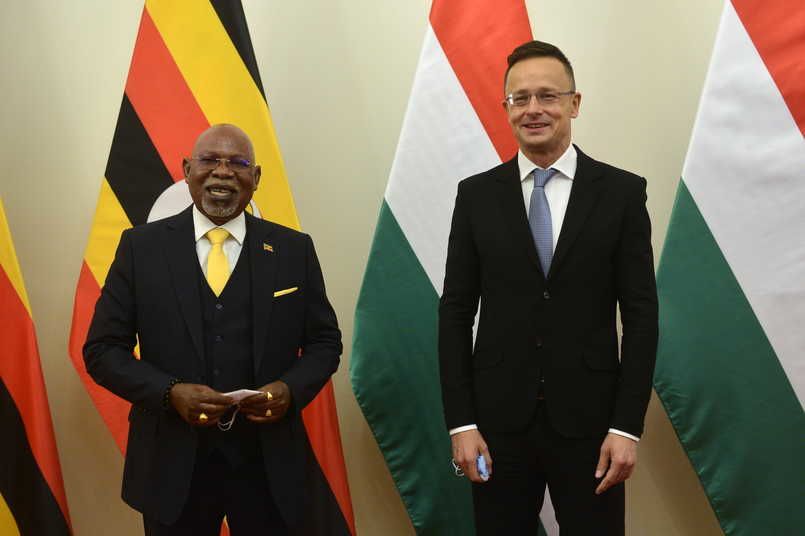 Szijjártó meets with Ugandan counterpart in Budapest
Minister of Foreign Affairs and Trade Péter Szijjártó met with his Ugandan counterpart, Abubaker Jeje Odongo, in Budapest on Monday, according to a report by state news wire MTI.
At a joint press conference after the meeting, Szijjártó noted that Hungary is implementing a HUF 5.2 billion economic development program in Uganda, which is among the biggest recipient countries for migrants and refugees in the world. He added that while European resources are "used to finance migration", when they ought to be put toward stopping migration, the Hungarian government believes assistance should be brought to where there is trouble.

Szijjártó said Hungarian water treatment solutions are being used to provide drinking water for 160,000 people at a refugee camp. Hungary has also supplied the country with mobile healthcare containers and cardiology equipment, he added.

Hungarian companies have set up a cybersecurity centre, rolled out a biometric registry for refugees and migrants, and supported developments in the tourism sector, he said.

The aim is to ensure security, hygienic and economic conditions that allow Ugandans and immigrants to remain in the country, he added.

Szijjártó said the programme will continue, adding that Magyar Eximbank has opened a USD 46 million credit line to support Hungarian companies' activities in Uganda.

Hungary is also cooperating with Germany in a development programme dubbed Sanitation for Millions, with a HUF 300 mln contribution to improving hygienic conditions in schools and hospitals, he said.

Odongo thanked Hungary for the country's support and said the government's strategy of opening up to countries in the east and the south had contributed to a global cooperation formed in the interest of resolving common challenges.