Horror and anger at two recent mass shootings has put Serbia's populist government under pressure to change the political climate
Serbian authorities on Sunday displayed many of around 13,500 weapons they say people have been handed over since this month's mass shootings, including hand grenades, automatic weapons, and anti-tank rocket launchers.

The authorities have declared a one-month amnesty period for citizens to hand over unregistered weapons or face prison sentences as part of a crackdown on guns following the two mass shootings this month that left 17 people dead, many of them children.

Populist President Aleksandar Vučić accompanied top police officials on Sunday for the weapons' display near the town of Smederevo, some 50 kilometres south of Belgrade.

According to Vučić, approximately half of the weapons collected were illegal while the other half were registered weapons that citizens nonetheless handed over. He added the weapons will go to Serbia's arms and ammunitions factories for potential use by the armed forces.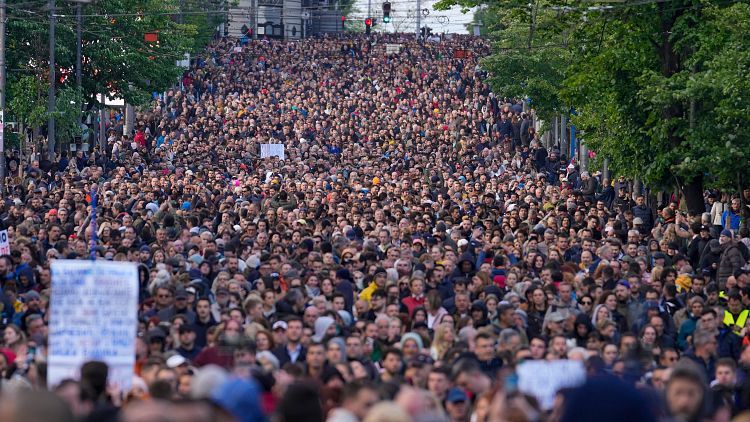 "After June 8, the state will respond with repressive measures and punishments will be very strict," he said of the post-amnesty period. "What does anyone need an automatic weapon for? Or all these guns?"

Serbia is estimated to be among the top countries in Europe in guns per capita. Many are left over from the wars of the 1990s and held illegally.

Other anti-gun measures are to include stricter controls of gun owners and shooting ranges.

Authorities launched the gun crackdown after a 13-year-old boy on May 3 took his father's gun and opened fire on his fellow-students in an elementary school in central Belgrade. A day later, a 20-year-old used an automatic weapon to shoot randomly in a rural area south of Belgrade.

The two mass shooting left 17 people dead and 21 wounded, stunning the nation and triggering calls for change in a country that has been through decades of turmoil and crises.

Crackdown and pushback

Tens of thousands of people have rallied in two protest marches in Belgrade since the shootings, demanding the resignations of government ministers and a ban on television stations that promote violent content and host war criminals and crime figures.

Vučić on Sunday rejected opposition calls for the resignation of Interior Minister Bratislav Gašić, who was also present at Sunday's weapons display. But the president suggested that the government might resign and that he will announce an early election at a rally he has planned for May 26 in Belgrade.

"We have no intention of replacing Gašić, who is doing a great job," said Vučić. "What have police done wrong?"

Opposition politicians have accused Vučić's populist authorities of fuelling violence and hate speech against critics, spreading propaganda on mainstream media and imposing autocratic rule in all institutions, which they say stokes divisions in society.

On Friday, the protesters in Belgrade blocked a key bridge and motorway in the capital to press their demands. Protests also have been held in other Serbian cities and towns, in an outpouring of grief and anger over the shootings and the populist authorities.

Vučić has described the bridge blockade as harassment, and he and other officials and media under his control have sought to downplay the size of the protest.