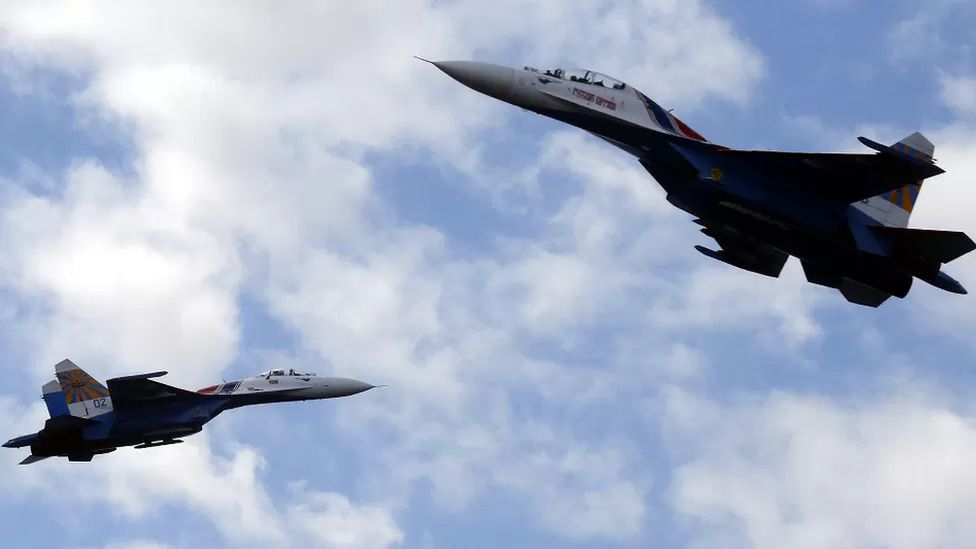 Russian jet released missile near RAF aircraft over Black Sea
A missile was released from a Russian aircraft near an unarmed RAF plane on patrol over the Black Sea, the defence secretary has said.
Ben Wallace said the "potentially dangerous" incident happened on 29 September in international airspace.

Russia said it was the result of a "technical malfunction".

UK patrols over the Black Sea were suspended but have now resumed and are escorted by a fighter jet following Russia's response.

Mr Wallace told MPs the UK was not treating the incident as a "deliberate escalation" by Russia but said it was a "reminder of quite how dangerous things can be when you choose to use your fighters in the manner that the Russians have done over many periods of time".

He was speaking in the Commons following his urgent trip to the US earlier this week where he discussed the security situation in Ukraine, including the threat of a nuclear attack, with his American counterpart.

The incident last month involved two Russian SU-27s and an unarmed RAF RC-135 Rivet Joint - an electronic surveillance plane.

Mr Wallace said that during an "interaction" one of the SU-27 aircraft "released a missile in the vicinity of the RAF Rivet Joint beyond visual range".

He said he expressed his concerns in a letter to the Russian defence minister.

The minister's reply on 10 October said an investigation had been conducted and found there had been a "technical malfunction" with the Russian plane, Mr Wallace said.

They also acknowledged the incident took place in international airspace, he added.

Mr Wallace suggested the Black Sea incident showed the Russian military were "not beyond making the wrong calculation or indeed deciding that the rules don't apply to them".

Luke Pollard, Labour's shadow defence minister, said: "This incident also acts as a serious reminder about the importance of avoiding escalation and miscalculation while continuing the UK's united support for Ukraine."