A TikTok influencer accused of killing her mother's young lover has admitted to a jury she told "repeated lies" to police in an interview.
Mahek Bukhari and seven others deny killing Saqib Hussain and his friend Hashim Ijazuddin, both 21.

The men's car was rammed off the A46 in Leicestershire on 11 February 2022 to keep Ansreen Bukhari and Mr Hussain's affair secret, the prosecution says.

Giving evidence, Mahek said she had not intended any harm to Mr Hussain.

Leicester Crown Court has previously heard Mr Hussain, from Banbury, Oxfordshire, had repeatedly threatened to send explicit videos and images of his lover to her husband after she broke off their three-year affair.

The court has also heard Ansreen Bukhari, 47, and Mahek, 24, plotted with six others, driving from their home in Stoke-on-Trent to Leicester and arranging to meet Mr Hussain in a Tesco car park under false pretences.

The prosecution alleges the group, in an Audi TT and a Seat Leon, were attempting to retrieve Mr Hussain's phone to stop the publication of sexually explicit images and videos of Ansreen.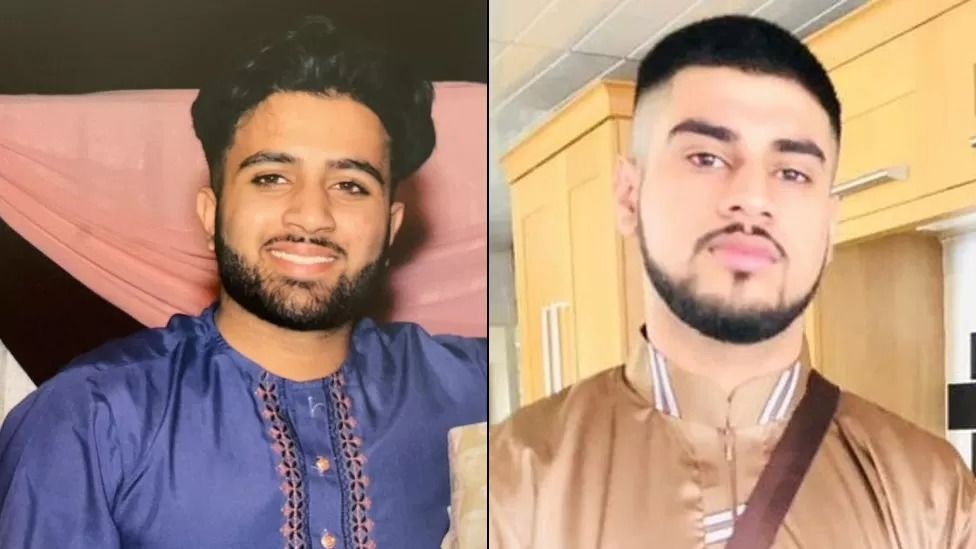 Hashim Ijazuddin (left) and Saqib Hussain died at the scene of the crash

Mr Collingwood Thompson KC previously said Mr Hussain "smelled a rat" as the Skoda entered the car park and left shortly afterwards which led to the journey up the A46.

Following repeated blackmail threats, Mahek told the court Mr Hussain had messaged her hours before the fatal crash and said he was coming to her home in Stoke-on-Trent "with a group of guys".

Her barrister, Christopher Millington KC asked if she had "concerns" about Mr Hussain at the meeting in Leicester, Mahek told the jury she thought "he'd maybe attack us".

Mahek told the jury co-accused Raees Jamal had made the decision to meet at the Hamilton Tesco car park.

She admitted she had shown Mr Jamal a photograph of Mr Hussain so he knew what he looked like and that she wanted Mr Hussain to "get rid" of the sexual images he had in his possession and also to "pay him off".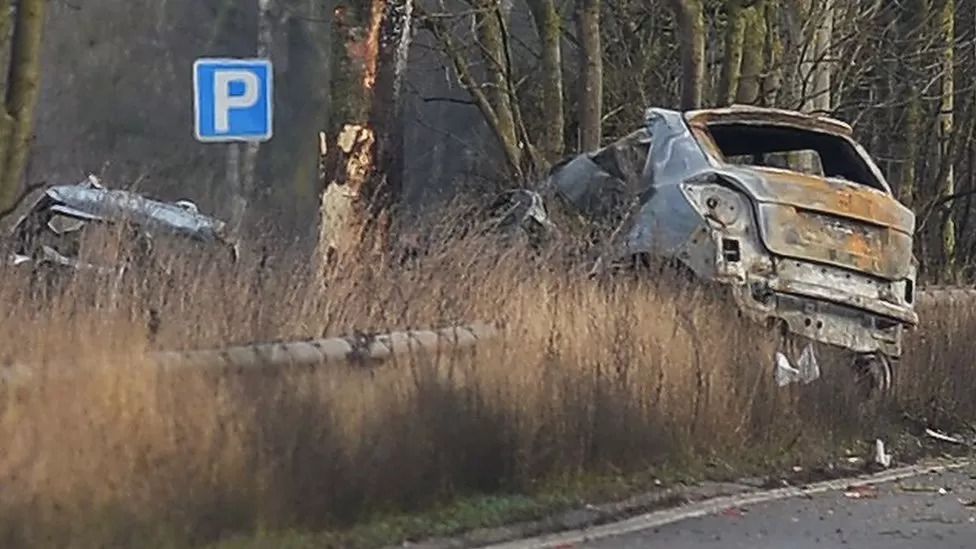 The prosecution claims the car carrying the two men was rammed off the road

When asked about the crash, Mahek said she saw the Skoda Mr Hussain and Mr Ijazuddin were travelling in "trying to go between the two lanes" and then "go towards the central reservation" but did not see or hear the impact.

She said she only realised what had happened when she saw the burning wreckage on her way back into Leicester.

"Did you intend Saqib and Hashim inside the Skoda would be seriously injured or killed?" Mr Millington asked.

Mahek replied: "No".

Mr Millington then asked why Mahek or anyone else in the car did not ring the police.

She said: "At the time, I just knew as soon as I'd seen the flames like there was no chance of survival at all."

When asked about what was said in the car, she told the court people were "going crazy" saying "did you see that car in flames?".

'Lie repeatedly'

The court has previously heard Mahek said in a police interview they were going to Nottingham to promote a shisha lounge and ended up in Leicester due to roadworks.

In tears, Mahek said she "felt ashamed" and admitted she lied to police.

"During those hours of interview, did you lie repeatedly?" Mr Millington asked.

"Yes, yes I did," Mahek said.

She said she had also originally told police she was driving the Audi because she "just didn't want anyone to get involved".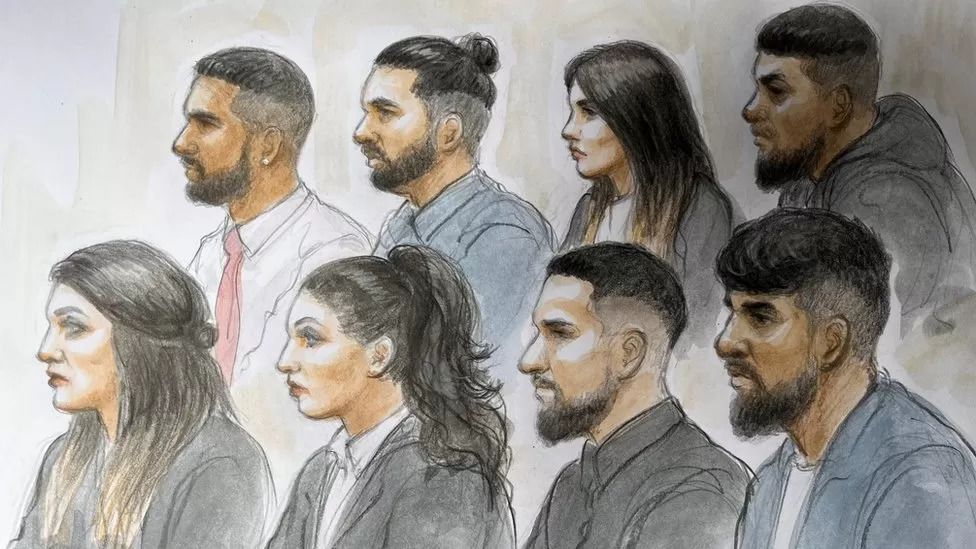 Front, from left: Ansreen Bukhari, Mahek Bukhari, Rekan Karwan, Raees Jamal with back, from left: Ameer Jamal, Sanaf Gulammustafa, Natasha Akhtar and Mohammed Patel

The defendants are:

* Ansreen Bukhari, 47, of George Eardley Close, Stoke-on-Trent

* Mahek Bukhari, 24, of George Eardley Close, Stoke-on-Trent

* Rekan Karwan, 29, of Tomlin Road, Leicester

* Raees Jamal, 22, of Lingdale Close, Loughborough

* Mohammed Patel, 22, of Braybrooke Road, Leicester

* Natasha Akhtar, 23, of Alum Rock Road, Birmingham

* Sanaf Gulammustafa, 23, of Littlemore Close, Leicester

* Ameer Jamal, 28, of Catherine Street, Leicester

All eight deny two counts of murder and alternative charges of two counts of manslaughter.

The trial continues.