Conditions at an overcrowded migrant centre in Kent were akin to living in a prison or a zoo, a recent resident has told the BBC.
Ahmed - not his real name - said people at the Manston processing centre were treated like "animals" with 130 people forced to share a single large tent.

More than 4,000 migrants have reportedly been held at the camp - meant to host 1,600 - in recent days.

The Home Office says it is providing for "all the basic needs" of migrants.

Immigration Minister Robert Jenrick previously insisted the number of people at Manston is coming down.

Ahmed - who left the centre on Monday after 24 days there - described being forced to sleep on the floor, and being prevented from going to the toilet, taking a shower or going outside for exercise.

He told the BBC that he fled his home country of Iran in search of freedom and to avoid persecution, saying that he had been living in fear for his life.

But after arriving in the UK and at the centre, Ahmed said people were prevented from calling their families to let them know they had made the crossing to the UK safely.

"For the 24 days I'm in there, I can't call to my family to say to them I'm dead, I'm living - they don't know anything about me," he said.

"All people in there, they have a family. They should know what is happening to us."

Manston, a former military base in Kent, opened as a processing centre in February for the growing number of migrants reaching the UK in small boats. Migrants are meant to be held there for short periods of time while undergoing security and identity checks.

They are then supposed to be moved into the Home Office's asylum accommodation system, which often means a hotel due to a shortage of available accommodation.

But Manston became even more crowded at the weekend when 700 migrants were sent there from another centre in Dover, which was firebombed.

Several hundred asylum seekers were relocated from the Manston centre on Tuesday, according to one of the MPs in Kent, Conservative Sir Roger Gale.

More will leave throughout the week he said, tweeting: "This must never be allowed to happen again."

Mr Jenrick tweeted on Tuesday that the numbers of migrants held at the centre had "fallen substantially".

"Unless we receive an unexpectedly high number of migrants in small boats in the coming days, numbers will fall significantly this week," he said. "It's imperative that the site returns a sustainable operating model and we are doing everything we can to ensure that happens swiftly."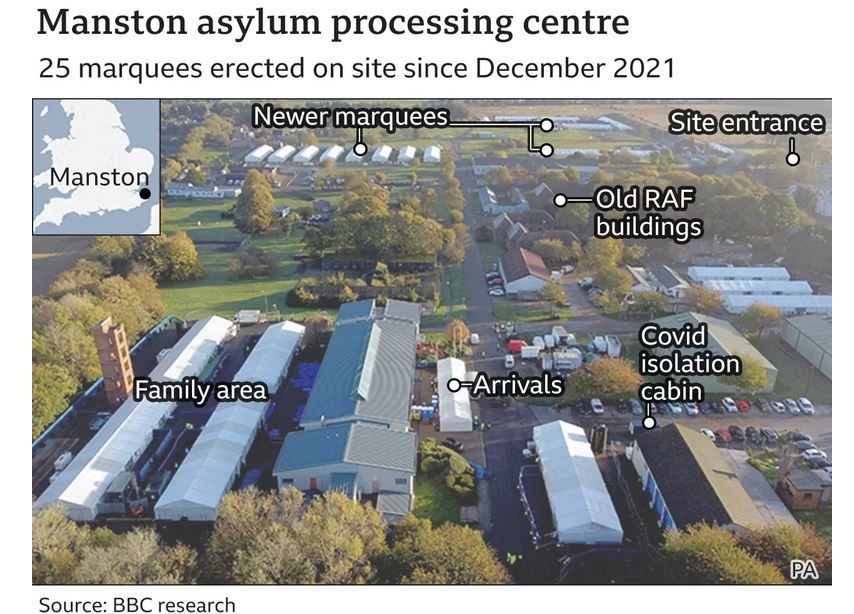 But the British Red Cross said "the serious problems at Manston are indicative of the wider issues facing the asylum system".

A huge number of migrants have arrived in the UK this year. So far this year, there have been almost 40,000 arrivals in Kent - with nearly 1,000 crossing the Channel on Saturday alone.

Separately, the BBC received photos of unaccompanied children being forced to sleep on the floor at another unnamed Home Office facility in Kent. The pictures show a sparsely decorated room, with a few books and a box of Scrabble as entertainment to help pass the time in the facility.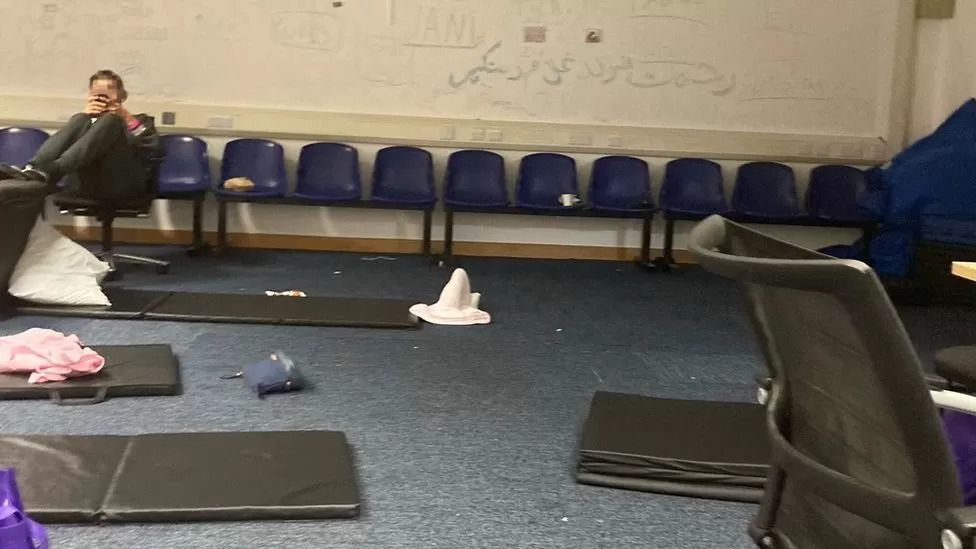 In pictures sent to the BBC, the walls in the facility are covered in writing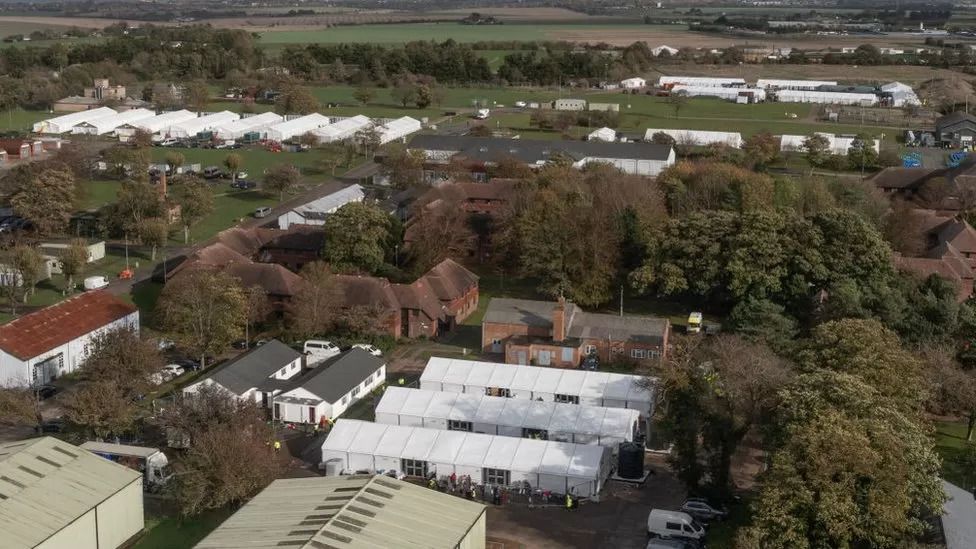 The Manston migrant facility in Kent

Writing in different languages is seen scrawled on the walls above a row of plastic chairs, fixed to the floor. The facility is used to process unaccompanied asylum-seeking children.

A Home Office spokeswoman said: "Manston remains resourced and equipped to process migrants securely and we will provide alternative accommodation as soon as possible.

"The number of people arriving in the UK via small boats has reached record levels, which has put our asylum system under incredible pressure and costs the British taxpayer millions of pounds a day.

"We provide for all the basic needs of people who will have arrived tired, cold, in wet clothing and who may not have eaten during their journey. The Home Office provides 24/7 health facilities at Manston as well as having robust contingency plans to deal with health issues such as communicable diseases."

The government has come under huge pressure to tackle the rise in small boat crossings and to speed up the processing of migrants already in the UK.

Home Secretary Suella Braverman has been accused by opposition parties of ignoring legal advice that said she had to source additional hotel accommodation to prevent overcrowding at the centre.

Ms Braverman rejected the accusations.

The home secretary was also accused of using inflammatory language, after saying southern England was facing an "invasion" of migrants during a heated House of Commons session.

The Refugee Council said her language was "appalling, wrong and dangerous". Her immigration minister Mr Jenrick later said politicians must be careful with their language around migration issues.

And the prime minister's official spokesman said Rishi Sunak told his cabinet at a meeting on Tuesday that the UK would "always be a compassionate, welcoming country".

Meanwhile, counter-terror police have taken over the investigation into an attack the firebombing of an immigration processing centre in Dover in Kent on Sunday.

Detectives have said Andrew Leak, 66, from High Wycombe in Buckinghamshire, likely carried out the attack in "some form of hate-filled grievance" before killing himself.