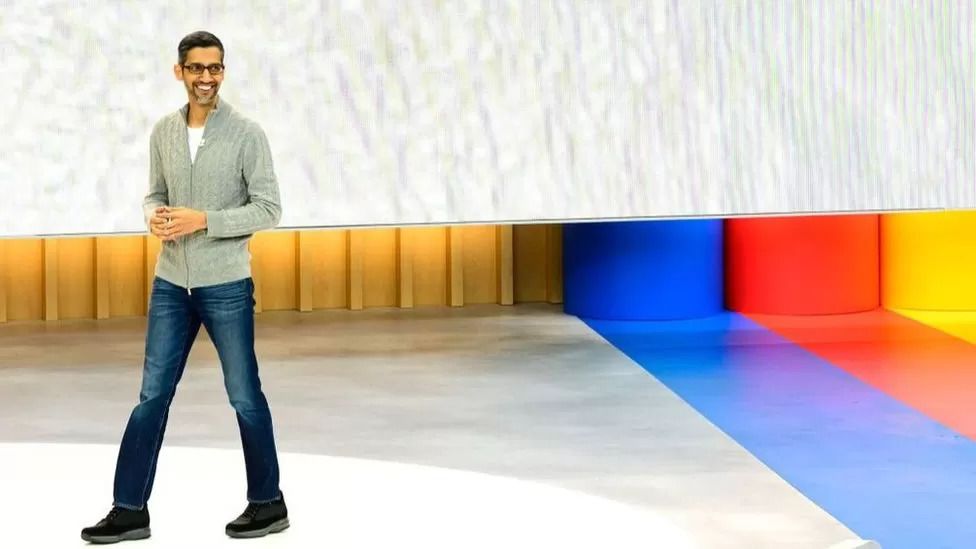 Google reveals AI updates as it vies with Microsoft
Google has announced it is rolling out generative artificial intelligence (AI) to its core search engine.
The move comes after Microsoft incorporated GPT-4 into its Bing search engine earlier this year.

Search Generative Experience - which will be part of Google - will craft responses to open-ended queries, the company said.

However, the system will only be available to a limited number of users and is still in "experimental" phase.

"We are reimagining all of our core products, including search," said Sundar Pichai, the boss of Google's parent company Alphabet.

Additionally, the company announced a new feature on Google's Android system will proactively warn users about unknown AirTags, tiny devices developed to track personal items like keys and wallets.

The technology giant said the "unknown tracker alerts" would go live this summer.

The announcement came after Apple and Google said last week they were working together to address the problem.

Last year two women sued Apple over AirTag stalking.

Women who have been tracked using the devices told the BBC last year that not enough was being done to prevent misuse.

Google made the announcement at its annual developer conference, where leaders of the company touted their latest advancements in artificial intelligence and new hardware offerings, including a $1,799 (£1,425) phone that opens and closes like a book.

The company said it was removing the waitlist for "Bard", its experimental, conversational, chat service, which will be rolled out in English in 180 countries and territories.

It also said the chatbot would soon be able to respond to prompts with images as well as text.

Google has been under pressure to burnish its artificial intelligence offerings, after the runaway success of rival chatbot ChatGPT, which is funded by Microsoft.

A previous attempt to show off its credentials in the field, in February, ended in embarrassment, after it emerged that - in an advert intended to illustrate its capabilities - Bard had answered a question incorrectly.

The incident wiped $100bn (£82bn) off parent company Alphabet's share value - an indication of how keenly investors are watching how the tech giants' AI ventures play out.

Microsoft is deploying ChatGPT technology into its search engine Bing, after investing heavily in the company that developed it, OpenAI. Chinese tech giant Baidu also has a chatbot, called Ernie.

Chirag Dekate, analyst at Gartner, said Google remained an industry leader and was well poised to benefit in the interest in AI.

"Google has the tools to dominate the AI battles, the perennial question is - will they?" he said.