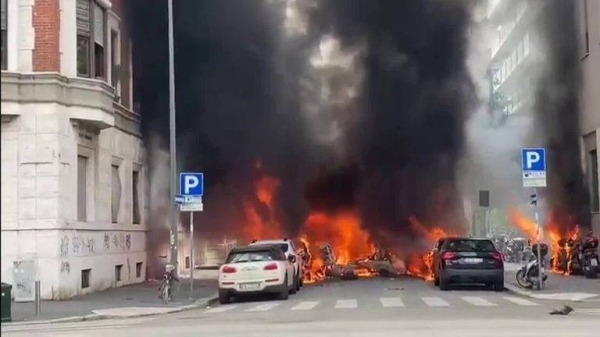 Explosion in Milan city center leaves vehicles engulfed in flames
An explosion in the center of Milan has left several vehicles engulfed in flames.
Video from the scene showed cars and motorbikes on fire in a street between two buildings, one of which is a pharmacy, with thick black smoke billowing from the blast.

Italian media reports that the explosion happened after a van carrying oxygen cylinders caught fire.

Euronews journalist Alessio Dell'Anna in Milan says four people were reportedly injured in the blast which happened in the northern city's Porta Romana neighborhood.

He says the area has been cordoned off and a nearby kindergarten was evacuated.

ANSA news agency says that according to initial information from the fire brigade and police, a technical problem with the van may have caused the blast.

At least five cars and four mopeds were alight, with the blaze scorching the facades of buildings on the street, according to a local newspaper.

The city's mayor, Giuseppe Sala, ruled out foul play and said the driver of the van had told the fire brigade the blaze had started in the engine.

"He quickly grabbed the oxygen cylinders he was carrying... he tried to limit the damage but then there was an explosion," the mayor said.

He added the van driver had suffered minor injuries.