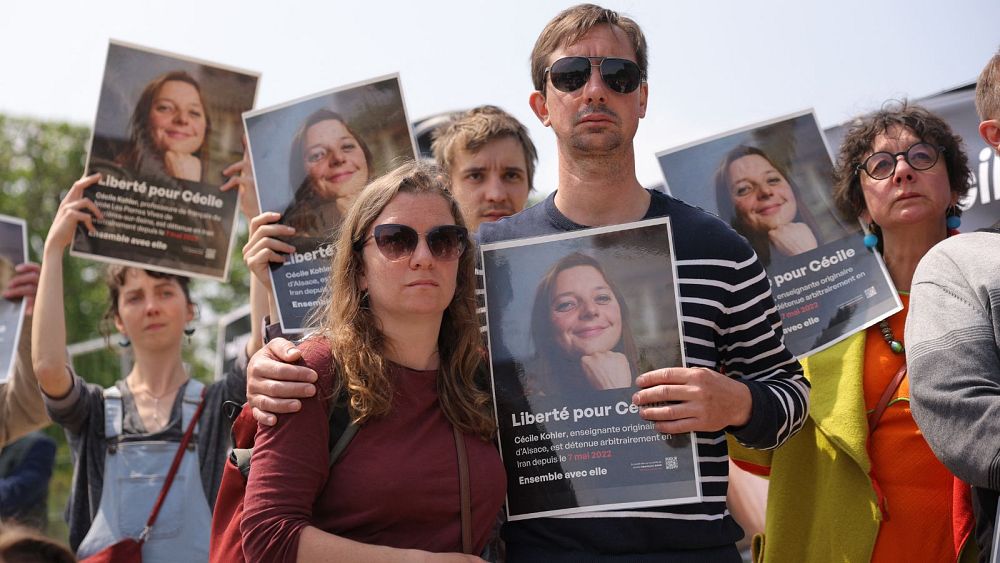 European hostages in Iran used as political 'bargaining chips'
Some 15 European citizens are currently detained in Iranian prisons proving a major source of diplomatic tension between Iran and the EU.
Lengthy sentences, torture and for some, the death penalty. This is the reality of an estimated 15 Europeans face who are imprisoned in Iran.

While two French citizens, Benjamin Brière and Bernard Phelan, were liberated last Friday, others are still living behind bars. "There are Europeans from lots of different nationalities, namely Swedish, British and French detainees", explains Raphaël Chenuil-Hazan, the president of the French NGO, Ensemble contre la peine de mort which fights against the use of capital punishment.

Europeans and dual nationals are systematically used as political bargaining chips by Iran. According to Chenuil-Hazan, Europe feeds into this vicious cycle, "unfortunately 'hostage diplomacy' works because it [Brussels] continues to negotiate for hostages".

Who has been handed a death sentence?

Charged with organising an attack against a military parade in 2018, the execution of Swedish-Iranian Habib Farajollah Chaab in early May sparked an international backlash. Europe's High Representative for Foreign Affairs Josep Borell, "strongly condemned" the decision, with Swedish Foreign Minister Tobias Billstrom responding to the news with 'dismay'.

The dual national had been living in Sweden for over a decade, he was kidnapped whilst travelling in Turkey in January 2020 by Iranian security.

"Iran did not recognise Chabib's dual Swedish and Iranian nationality. They only saw an Iranian opponent, rather than a European. He is Swedish and he should be protected as such by international conventions," Chenuil-Hazan said.

The case of Alireza Akbari, a British-Iranian dual national executed on charges of spying for the United Kingdom in January, also made headlines. Akbari was sentenced for 'corruption on Earth', as well as for posing a threat to national security. This is a commonplace motive according to Chenuil-Hazan, "there is this fear of spying. They see spies everywhere!"

"Since 2022 the death penalty has increasingly been used by the government to put pressure on protestors", Agnès Callamard, the Secretary-General of Amnesty, told Euronews. Iran carried out more than 576 executions in 2022, the second highest rate in the world after China, according to Amnesty International's latest report.

As for 2023, experts fear the execution rate will rise: "Eighteen protestors have already been sentenced to death and hundreds more risk a similar fate", said Chenuil-Hazan.

Europe's relations with Iran

"There are a number of Iranian leaders who do not believe in maintaining relations with the West, they only believe in power plays. They are convinced that there is no point in equal negotiations" explained Thierry Coville, an expert in International Relations.

However, Coville underlined the importance of such talks: "It's not because we discuss, that we give in. Establishing a dialogue means making contact, looking at what is required, establishing a balance of power and effectively trying to achieve the objective we have been talking about, which is to get these people out of there."

"The European Parliament placed certain members of the Iranian Revolutionary Guard on a blacklist. However, they shouldn't be picking individuals but instead placing the whole body on the list", Bart Groothuis, the Vice-President of the Iran Delegation of the European Union and MEP for Renew Europe told Euronews.

Groothius - who has also been sanctioned by Iran - has urged Borrel to "come up with new forms of hostage diplomacy and work on prisoner swaps, to see what we can do to get more prisoners out of Iran."

Last January, MEPs voted in favour of a resolution that would classify the Islamic National Revolutionary Guard Corps as terrorists. However, this measure was not implemented. "There needs to be a court decision first", said Borell last January.

Under EU legislation, it is up to the 27 Member States to provide consular assistance and deal with their citizens imprisoned in Iran. They may then request assistance from Brussels to complement these efforts.

However, according to Amnesty International, European governments could go further in assisting their citizens. "It is open to question whether European governments are doing all they can do. For instance, there are doubts as to whether they are attending the trials of these individuals", underlined Callamard.