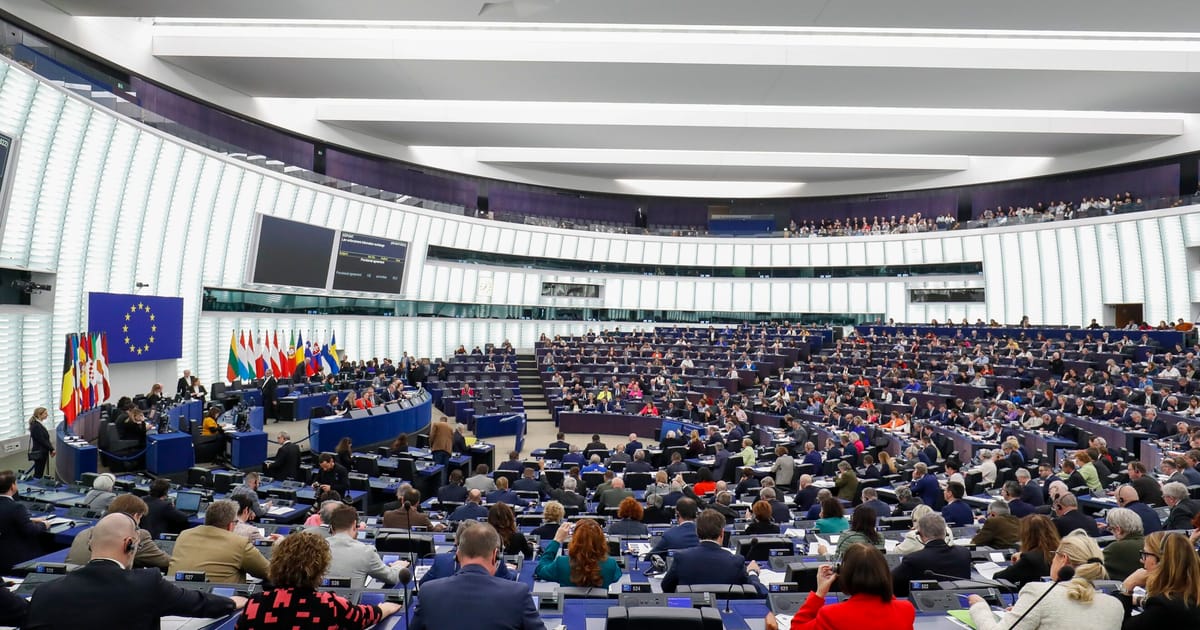 EU clamps down on corruption in wake of Qatargate cash-for-influence scandal
The Commission called on member countries to strengthen transparency rules.
The European Union on Wednesday promoted new rules to clamp down on corruption across the bloc in the wake of the alleged cash-for-influence Qatargate scandal in the European Parliament.

The initiative, which will need to be signed off on by all 27 member countries plus the European Parliament, is an attempt to tighten rules in the wake of the scandal involving bags of cash and allegedly corrupt lawmakers, which has rocked the EU's assembly.

But this proposal is not designed to specifically address corruption in EU institutions.

If approved, it would harmonize rules across EU nations, thus covering these institutions in a broad sense. Yet the specific effort to combat corruption in institutions would be done via an ethics body — a separate undertaking already under criticism that it may go too easy on potential wrongdoers.

Some of the provisions in the Commission's anti-corruption plan, such as protections for whistleblowers, have been eagerly backed by the European Parliament when it comes to applying them to member countries — but have so far been rejected for the Parliament itself.

The Commission on Wednesday called on member countries to adopt common rules against corruption, improve cooperation for cross-border investigations and make it easier to capture criminals by setting up dedicated anti-corruption bodies in all EU countries.

The EU's diplomatic arm, the European External Action Service, also proposed its own measures that aim to bolster the EU's ability to sanction third countries over corruption problems.

In a nod to the Qatargate scandal, the Commission's proposal states that "recent events have served as a reminder that the EU institutions are not immune to corruption."

In order to clamp down on sleaze, the EU's executive called on member states to add new criminal offenses to their rule books.

"Today, only bribery is criminalized at the EU level. But with this proposal … we will also cover misappropriation, trading in influence, abuse of function, obstruction of justice and illicit enrichment related to corruption," said EU Home Affairs Commissioner Ylva Johansson at a press conference.

The proposed rules automatically apply to EU institutions and staffers, according to the Commission's Vice President for Values and Transparency Věra Jourová, while public officials across the bloc will be subject to stricter anti-corruption laws.

"If a high [ranking] politician is found to be corrupted, that would be an aggravating circumstance because that hurts even more into the society," said Johansson.

But the regulation does not envision special provisions for EU lawmakers, who are under heavy scrutiny since Qatargate broke.

The Commission said Wednesday that its long-stalled proposal for an overarching EU ethics body will be announced later this month amid mounting pressure on Brussels to show it's taking integrity seriously as corruption allegations continue to swirl.

A proposal is in the works and will soon be debated by the highest-ranking officials of the EU's top nine institutions, said Jourová.

She added: "This is not a trivial thing. We are going to establish a new body which will deal with highly sensitive matters, not individual cases.''

The EU's package is likely to stir controversy among member countries, which have wildly different attitudes toward corruption.

According to a 2022 Eurobarometer survey, 63 percent of citizens in EU countries consider corruption unacceptable.

But that number varies widely from country to country, from 78 percent who considered it unacceptable in Ireland versus just 34 percent in Latvia and 30 percent in the Czech Republic.