Tennis great Boris Becker says he is building his life's "third chapter" following his release from prison.
The 55-year-old German served eight months of his two-and-a-half-year sentence for hiding £2.5m worth of assets and loans to avoid paying debts.

He was released in December and was subsequently deported from the UK.

"I'm usually good in the fifth set - I've won the first two sets, I've lost the next two and I'm planning to win that," he told 5 Live Breakfast.

In a lengthy interview, former world number one Becker said:

* There was "no handbook" for dealing with fame and fortune after winning Wimbledon as a teenager

* Prison was "brutal" and a "very different experience to what you see in the movies"

* He's a "stronger, better man" after eight months in prison

The full interview will be played on Saturday's 5 Live Breakfast show.

'Whoever says prison life isn't hard is lying'

The six-time Grand Slam singles champion, who was catapulted to stardom in 1985 when he won Wimbledon aged just 17, was found guilty of four charges under the Insolvency Act in April last year.

The case centred on Becker's bankruptcy in June 2017 resulting from an unpaid loan of more than £3m on his luxury estate in Mallorca, Spain.

Speaking before the release of a new TV documentary about his life and career, 'Boom! Boom! The World vs Boris Becker', Becker said: "I don't think there was a handbook written for how to behave, what to do and how to live your life when you win Wimbledon at 17.

"The fame and fortune after was very new.

"Obviously I never studied business, I never studied finance and after my tennis career I made a couple of decisions probably badly advised but again it was my decision."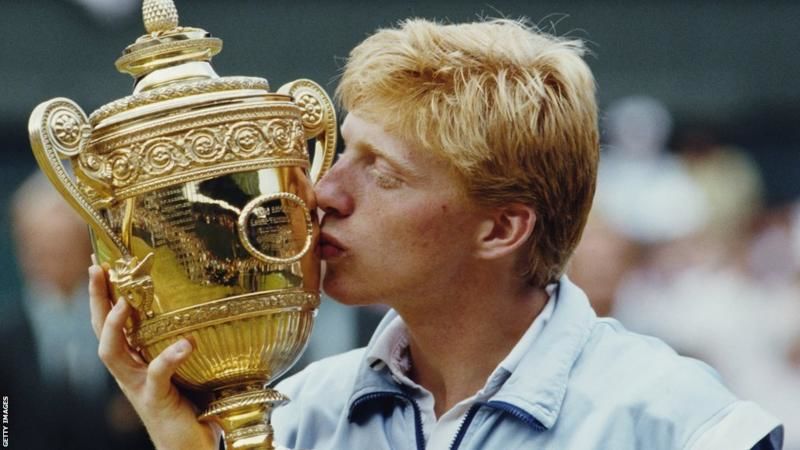 Becker is the youngest ever champion of the men's singles at Wimbledon, winning the 1985 title aged 17

After sentencing, Becker spent the first weeks of his detention at Wandsworth Prison in south-west London, before spending the majority of his sentence at Huntercombe Prison in Oxfordshire.

"Whoever says that prison life isn't hard and isn't difficult I think is lying," the three-time Wimbledon champion said.

"I was surrounded by murderers, by drug dealers, by rapists, by people smugglers, by dangerous criminals.

"You fight every day for survival. Quickly you have to surround yourself with the tough boys, as I would call it, because you need protection."

Becker said being a legendary tennis player counted for nothing while he was in prison.

"If you think you're better than everybody else then you lose," he said.

"Inside it doesn't matter that I was a tennis player, the only currency we have inside is our character and our personality. That's it, you have nothing else.

"You don't have any friends at first, you're literally on your own and that's the hard part, you have to really dig inside yourself about your qualities and your strengths but also your weaknesses."

'I miss London'

Following his release, Becker was deported to Germany and will not be allowed to return to UK soil until October 2024.

"I miss London, I really miss Wimbledon and I won't be going there this year," he said

"I'm fortunate that I can stand on my feet, none of my partners have dropped me, they've welcomed me back home.

"When you're down, and the last five, six years were very difficult for me, you truly find out who's with you and who's not with you."

Speaking about how he has been received by people since his release, he said: "Nobody's perfect including myself and I've accepted all of that.

"I've been out now for three and a half months and I'm very humbled again by the reception I've received from fans, from people on the street from people who have followed the story a little bit."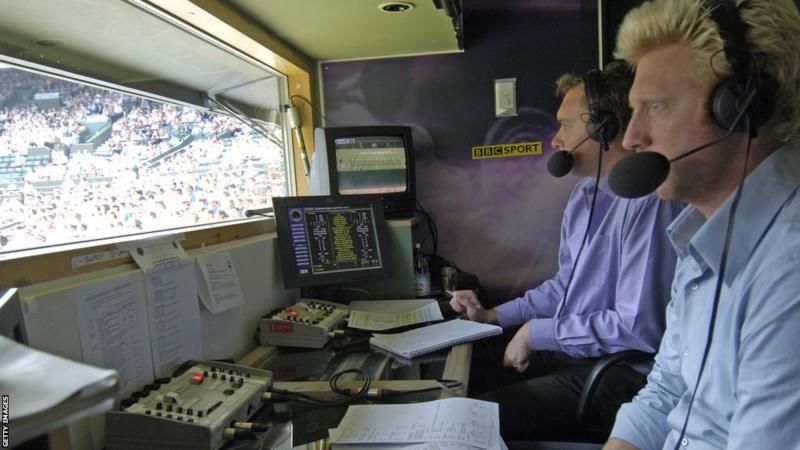 Becker has commentated at Wimbledon for the BBC

The former BBC pundit says he has been in dialogue with the BBC about being part of its Wimbledon coverage in the future.

"I've told them I can't come back next year," Becker said.

"If I'm allowed to go back I will make a phone call and ask if they want me back on the team, I would certainly love to but it's not my decision."

'I'm a stronger, better man'

Becker believes he has learned valuable lessons from his time in prison.

"I never thought at 17 I'd be incarcerated at 54," he said.

"If anything it certainly humbled me, it certainly made me realise that whether you're called Boris Becker or Paul Smith, if you break the law, you get convicted and you get incarcerated, that goes for everybody.

"I never expected the good and I certainly didn't expect the bad but I'm a survivor, I'm a tough cookie, I've taken the penalties, I've taken the incarceration but I've also taken the glory and if anything this made me a stronger, better man.

"With my decisions in the future you can see whether I have learned from it or I didn't."