Ukraine's President Volodymyr Zelensky is visiting the UK to meet Prime Minister Rishi Sunak.
In a tweet, he said he would meet his "friend" Mr Sunak to hold "substantive negotiations".

The UK announced on Thursday that it would supply Ukraine with the long-range missiles it had requested to fight the Russian invasion.

Mr Zelensky has been meeting Western leaders in recent days seeking to bolster support for Ukraine.

At the meeting, Mr Sunak said the pair would be "discussing what more we can do to support" Mr Zelensky and Ukraine.

The Ukrainian leader is the first foreign dignitary to meet Mr Sunak at Chequers, the prime minister's official country residence.

Mr Zelensky thanked the UK for the support shown to Ukraine since the invasion, during a short press conference ahead of the meeting.

"We are thankful from all our hearts, from Ukrainians, from our soldiers, we are thankful," he said.

He added the pair will "discuss urgent support for the Ukraine."

Those in government have characterised the visit as a courtesy and a catch-up, rather than a negotiation. Though one source added "there's always business to be done".

Downing Street said the UK would confirm "hundreds" of air defence missiles and drones to help Ukraine's defence later today.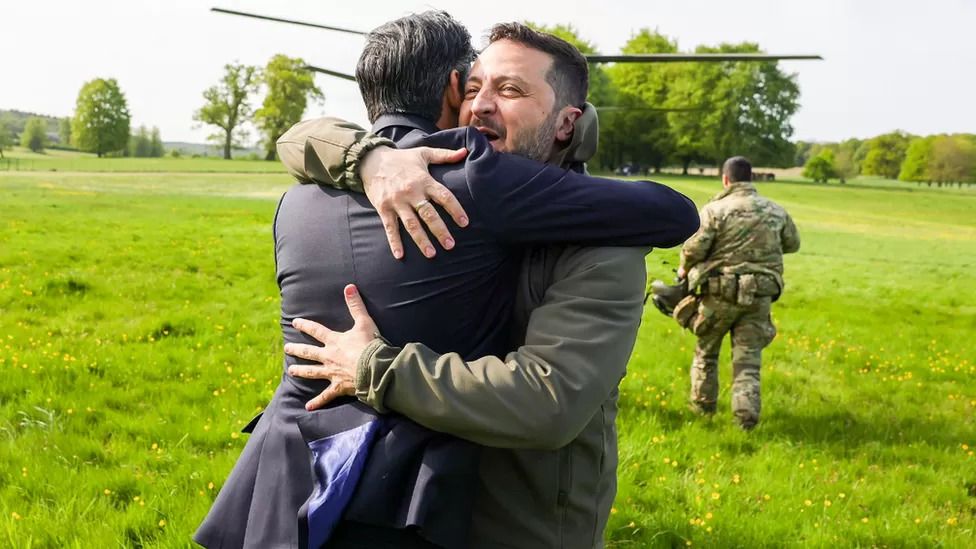 No 10 said Mr Sunak would reiterate the importance of providing a full package of support to Ukraine.

"We must not let them [Ukraine] down," the prime minister said, adding it was "a crucial moment" in Ukraine's war effort.

"The front lines of Putin's war of aggression may be in Ukraine but the fault lines stretch all over the world. It is in all our interest to ensure Ukraine succeeds and Putin's barbarism is not rewarded."

It is expected that the meeting between the two leaders will not last more than a couple of hours.

Mr Zelensky's trip to the UK will be the fourth stop on a European tour that included meetings in Paris, Berlin and Rome.

Ukraine secured a new defence aid package worth €2.7bn (£2.4bn) from Germany after talks in Berlin with Chancellor Olaf Scholz on Sunday.

Mr Zelensky described the new tranche of German Leopard tanks and anti-aircraft systems as "the largest since the beginning of the full-scale aggression" by Russia in February 2022.

Later, France promised dozens more light tanks and armoured vehicles after President Emmanuel Macron met his Ukrainian counterpart in Paris.

In February, Mr Zelensky visited London for the first time since the start of the war, during which he attended an audience with the King and addressed Parliament.

His visit to the UK comes ahead of a G7 gathering in Hiroshima, Japan, later this week which will also be attended by Mr Sunak.