A huge 14ft (4.2m) smalltooth sand tiger shark has washed up in County Wexford in the Republic of Ireland.
Scientists believe this is the first official record of this rare species in Irish waters.

A Swiss tourist emailed shark biologist Nicholas Payne at Trinity College Dublin after he discovered it while walking at Kilmore Quay on Saturday.

"As soon as I saw the photos, I knew we had to get down there urgently," said Dr Payne.

The Trinity team, including Jenny Bortoluzzi and Haley Dolton, and accompanied by UCD scientist Kevin Purves, rushed against the incoming tide to see the shark.

"Myself and my team quickly scrambled and drove down to Wexford and we made it just in time as the tide was coming in," he said.

"We had to rush to take as many measures and samples of the animal as possible before the tide took it out."

Smalltooth sand tiger sharks, which pose no risk to people, are currently assessed as "vulnerable" by the International Union for the Conservation of Nature.

While not specifically targeted by commercial fisheries, they may face threats such as bycatch, or from pollution.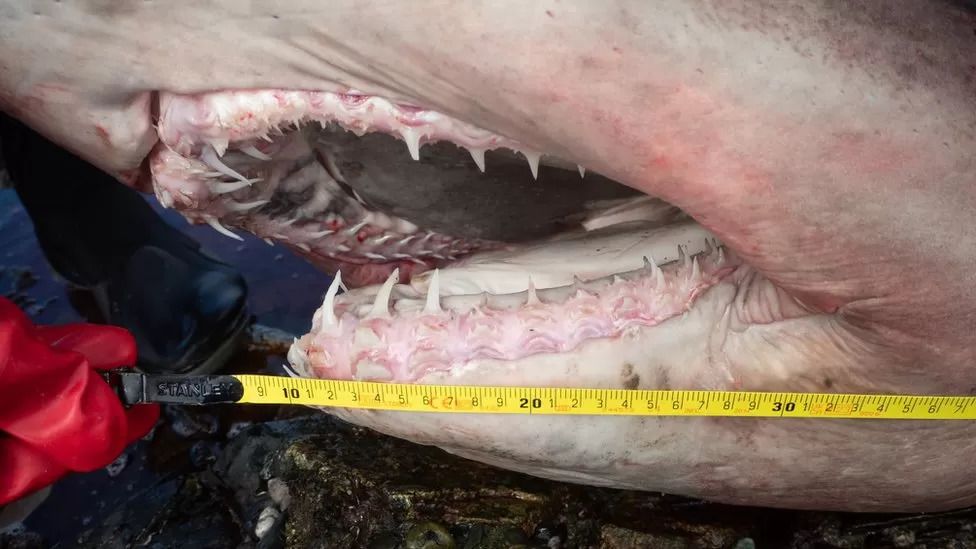 The distinctive snout and teeth help distinguish the smalltooth sand tiger shark from other species

The team is keen to learn what happened to it - why it died and why it appeared in this region.

"It's a rare opportunity to have access to this species and to do what we can in terms of learning more information in trying to get something good out of this sad event."

Dr Payne said the shark weighed between 300 and 400kgs, a "really large female".

"Even though it was dead, for us to be so close to it and measuring and looking at it - it is still awe inspiring for us to see those amazing animals - albeit it a little bit sad - that it was not swimming around out there."

Maximum recorded size for females of this species is about 15ft, (4.5m) putting this Irish specimen - which was a female - at the upper end of their size limits.

'Not aggressive animals'

A fortnight ago, another of the species washed up on the south English coast and Dr Payne said there were concerns about seeing two in a short space of time in such a northerly location.

They intend to make contact with the marine biologists in the UK to share information about the two sharks.

Dr Payne said these sharks are not aggressive animals and there has not been a single recorded incidence of a human being bitten.

"If there's any worry to be had it's more probably from the shark's perspective because seeing two animals appear so close together both in space and time - given that they are normally not observed in this region - is a little bit concerning from our point of view as shark biologists and conservationists," he said.

"We're hopeful it's not the start of something or that we are going to see more mortalities in this species."