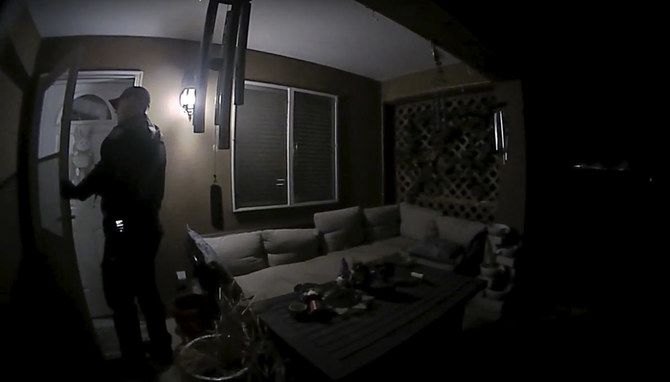 US police kill man after responding to wrong address, video shows
Police in the US state of New Mexico released footage Friday showing officers shooting a man dead after responding to the wrong address.
The Farmington Police Department released body camera videos and 911 audio of the incident on April 5, in which three officers knocked on the door of the wrong house.

They were responding to a call about domestic violence from 5308 Valley View Ave but footage shows the officers arriving at a house marked "5305."

Chief Steve Hebbe ordered the release under state law "and out of a desire to be forthcoming and transparent with the Farmington community, the general public, and the news media," the department said in a statement.

The footage shows the officers knocking on the door several times and identifying themselves.

The officers then request confirmation of the address from dispatch and discuss whether they are at the wrong house.

Moments later, a man opens the door and points a firearm at the officers before they draw and immediately fire their weapons.

The victim, Robert Dotson, died at the scene, police said.

A woman later identified as Dotson's wife appears at the door about a minute later and more shots are fired. Police said she fired a gun at the officers.

The department said the names of the three officers involved, which were redacted from the footage and audio, could not be released due to the ongoing investigation.

It remains unclear why the officers, who are on paid leave for the length of the investigation, approached the wrong address, police said.

In one of the 911 audio files released, Dotson's daughter can be heard crying before saying that her mother was screaming and her father had been shot.

"All of us — the men and women of the Farmington Police Department — recognize the severity of this incident," Hebbe said.

"Once again, we wish to express our condolences to the Dotson family and as your chief of police, I wish to convey how very sorry I am that this tragedy occurred."

About 40 percent of US households have guns, according to the Pew Research Center.

There were an estimated 44,000 gun-related deaths in the United States last year, about half of them murder cases, accidents and self-defense, and half of them suicides, according to the Gun Violence Archive database.

It showed that 14 people have been shot or killed in what the archive terms "officer-involved incidents" in New Mexico this year.

More than 5,000 people in the United States have died of firearm-related violence in 2023, according to the archive.
---