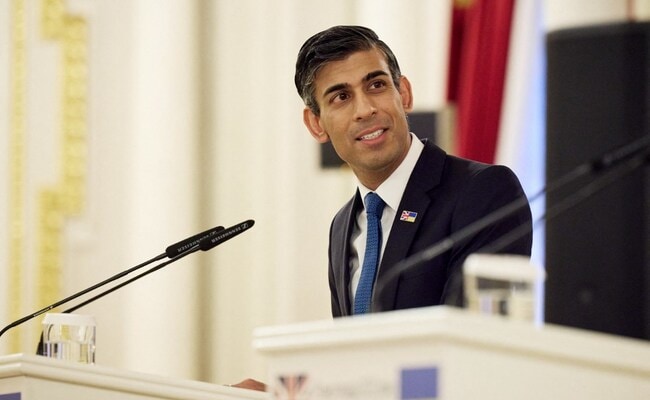 UK Opposition Puts Up Ads Targeting Rishi Sunak, Wife As Local Polls Near
The campaign, seen as a precursor to the general election expected next year, has become heated with Labour accusing Rishi Sunak of being responsible for the tough consequences of the cost-of-living crisis on voter
Britain's Opposition Labour Party has been gearing up for the upcoming local elections for councils across England next month with sharply worded social media advertisements targeting Prime Minister Rishi Sunak's track record, with the latest one on Tuesday alluding to his wife Akshata Murty's past tax status.

The campaign, seen as a precursor to the general election expected next year, has become heated with Labour accusing Mr Sunak and the governing Conservative Party of being responsible for the tough consequences of the cost-of-living crisis on voters.

In an apparent reference to Ms Murty's now-relinquished non-domicile (non-dom) tax status allowing her to pay taxes on her shares from Infosys - co-founded by her father Narayana Murthy - in India, the latest Labour campaign advert takes aim at the "loophole" which it has committed to abolish if elected.

It reads: "Do you think it's right to raise taxes for working people when your family benefitted from a tax loophole? Rishi Sunak does."

"A Labour government would freeze council tax this year, paid for by a proper windfall tax on oil and gas giants. And we'd scrap the Tories' non-dom tax loophole," the Labour Party said in a statement.

The controversial ad campaign began last week, with the first reading: "Do you think adults convicted of sexually assaulting children should go to prison? Rishi Sunak doesn't."

It cited data from the UK Ministry of Justice showing that 4,500 adults convicted of sex acts on children avoided a prison sentence since the Conservatives came to power in 2010. Despite the ensuing backlash that came from across the political spectrum, Labour issued a second tweet which accused Mr Sunak of being soft on gun crime and a third which suggested he didn't think thieves should be punished.

In a letter to his shadow cabinet, seen by 'Sky News', Labour Leader Sir Keir Starmer appears defiant on this poll strategy, which analysts believe indicates the first signs of a bruising general election campaign ahead.

"Rishi Sunak is the chief architect of choices prioritising the wealthiest and of the government's failure to get a grip of the economy and get growth going," reads Starmer's letter to his top team.

Shadow chancellor Rachel Reeves said she was "not going to make any apologies" for the ad campaign.

"I back these ads because they are highlighting the dire record of this Conservative government," said Reeves.

"Whether it's the justice system, our health service, the cost of living pressures that people are under, this is a result of 13 years of Conservative failure and as an Opposition party we have got to highlight that and put forward our alternative," she said.

However, the campaign has been criticised by others in the Opposition, with Liberal Democrat leader Sir Ed Davey saying it was wrong to attack "individuals personally".

"Frankly, the local elections should be about issues that matter to people, whether it's sewage in the local environment and rivers, whether it's investing in our NHS [National Health Service, whether it's policies to deal with the cost-of-living crisis, that's what the Liberal Democrats are campaigning on," he said.

England goes to the polls on May 4 to elect councillors up and down the country. A voting intention poll this week by Redfield and Wilton Strategies showed that Labour is on 44 per cent, while the Conservatives are on 30 per cent - which marks Labour's narrowest lead over the Tories since Sunak took charge at 10 Downing Street in October 2022.

Local elections ahead of a general election year are often seen as a sign of things to come but the governing Tories remain confident about narrowing the gap over the next few months with falling inflation.