Trump's arraignment was brief but packed with drama: The former president heard the charges and pleaded not guilty.
A series of historic firsts for any former president — a first court hearing on criminal charges, a first public appearance while in custody, a first-ever not-guilty plea — was over in just an hour during Donald Trump's arraignment in a Manhattan courtroom on Tuesday.

"Not guilty," Trump said in a firm voice before New York Supreme Court Justice Juan Merchan upon hearing the charges against him in the 34-count felony indictment for first-degree falsifying business records.

Trump walked unhurriedly into the courtroom, uncuffed and flanked by a Secret Service escort. He wore his signature uniform: a bright navy blue suit and red tie. Around 20 uniformed officers flanked the wooden benches, keeping journalists in their seats. Shrill whistling and yelling could be heard from the crowd on the street outside the building, 15 floors below.

After Trump was seated, just ahead of the court proceeding's 2:30 p.m. start time, officers ushered in five photojournalists, who had a minute to take photos of the former president. They were the only images taken in the room. Merchan banned the use of all electronic devices.

Trump attorneys Joe Tacopina, Susan Necheles, and Todd Blanche referred to their client throughout the proceeding as "President Trump." But to the judge, he was simply "Mr. Trump."

To prosecutors, he was "the defendant." Assistant District Attorney Christopher Conroy told the judge that Trump falsified business records "to undermine the integrity of the 2016 election."

Conroy called the hush-money payment to porn star Stormy Daniels allegedly to silence her ahead of that contest "covert and illegal" and said it was made "to avoid negative attention." They were also mischaracterized for tax purposes, he noted.

He also complained about Trump's "irresponsible social media posts."

Prosecutors blasted Trump's rhetoric

Trump "threatened potential death and destruction. And that's a quote," Conroy told the judge.

The ex-president also threatened "World War III," he said, "and that's another quote."

Conroy specifically mentioned an image Trump re-Truthed showing himself "wielding a baseball bat at the head of the district attorney." He said Trump's rhetoric raises "individual and public safety concerns."

"What these posts will not do is deter the Manhattan district attorney's office," Conroy said.

He cited such escalating rhetoric in asking the judge to bar Trump from publicizing discovery material from the case, including grand jury witness testimony transcripts. Conroy said the district attorney's office and Trump's lawyers were conferring to come to an agreement that would bar the former president from leaking material to journalists or posting it on social media.

Blanche said "President Trump was only responding forcefully" to grand jury leaks and negative statements from star prosecution witness Michael Cohen.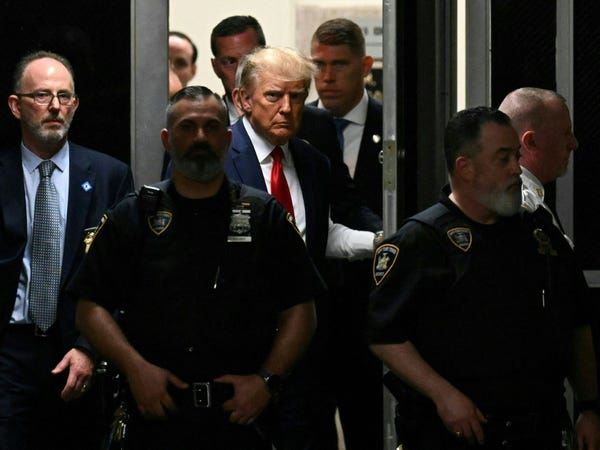 "He is absolutely frustrated and upset," he said of Trump.

Trump is also "defending his career, his reputation, everything he's built his entire life," added Necheles.

Merchan refrained from imposing any limits on Trump's speech at the hearing, noting his First Amendment rights.

"He is a candidate for the president of the United States, so these rights are critically important," the judge said.

While the DA's office did not ask for a gag order, the judge raised it as a possibility.

"Please refrain from making statements that have potential to incite violence, create civil unrest, or jeopardize the safety of any individuals," the judge said.

"This is a request that I'm making," he added. "I'm not making it an order."

But, he said, if the rhetoric continues, "I'll have to take a look at it."

He also warned Trump that should he fail to appear for future court dates or if he causes commotion in the courtroom, the proceedings, including a sentencing hearing, would continue without him.

"If you become disruptive — I don't believe that will happen — I do have the right to remove you from the courtroom," the judge said.

"I understand," Trump told the judge.

Trump's legal team asked if he could skip the next court date

Prosecutors asked for a January 2024 trial but Blanche called that timeline "a little bit aggressive" and proposed a spring trial. The judge said he'll decide the trial date after Trump's attorneys have a chance to review discovery material.

Merchan scheduled the next hearing in the case for December 4, where he will hear arguments to decide whether to dismiss any of the charges.

Blanche asked if Trump could waive his appearance at that hearing, citing "the incredible expense and security issues" surrounding the former president's appearance in court. Merchan said he wanted Trump to show up anyway, "the same way we expect all other defendants to appear in court," but said he'd be open to hearing more arguments from Trump's lawyers later on.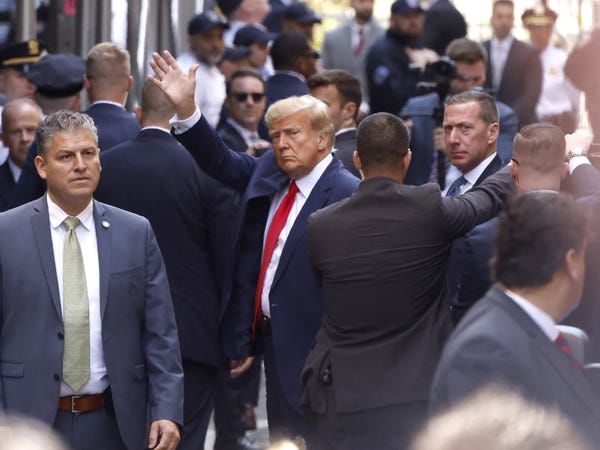 During the hearing, prosecutors said that one of Trump's lawyers, Joe Tacopina, may have a conflict of interest because Daniels previously sought to hire him as a lawyer, and she may be a witness at trial.

Tacopina said he never spoke to Daniels or reviewed any documents she sent him, and that she waived any potential attorney-client relationship when she wrote a book about her experience and spoke to the district attorney's office. Merchan simply asked Trump if he understood he had "the right to conflict-free counsel."

"Yes," Trump said, adding: "Thank you."

Trump left after the proceeding ended, released on his own recognizance, with the same scowl he wore walking in.

Though the appearance and booking each took an hour, news of the arraignment has been "looming" for weeks.

Reporters and members of the public started congregating outside the downtown Manhattan criminal courthouse Monday afternoon in preparation for the historic arraignment.

A morning rally nearby in support of Trump drew GOP Reps. George Santos and Marjorie Taylor Greene, both of whom left within minutes. Members of the media far outnumbered Trump supporters, despite Trump's calls for "protest."

Trump and his defense lawyers maintain he has done nothing wrong and is facing political persecution.