A TikTok influencer "set a trap" that led to a man who was blackmailing her mother with a sex tape being rammed off the road and killed, a court has heard.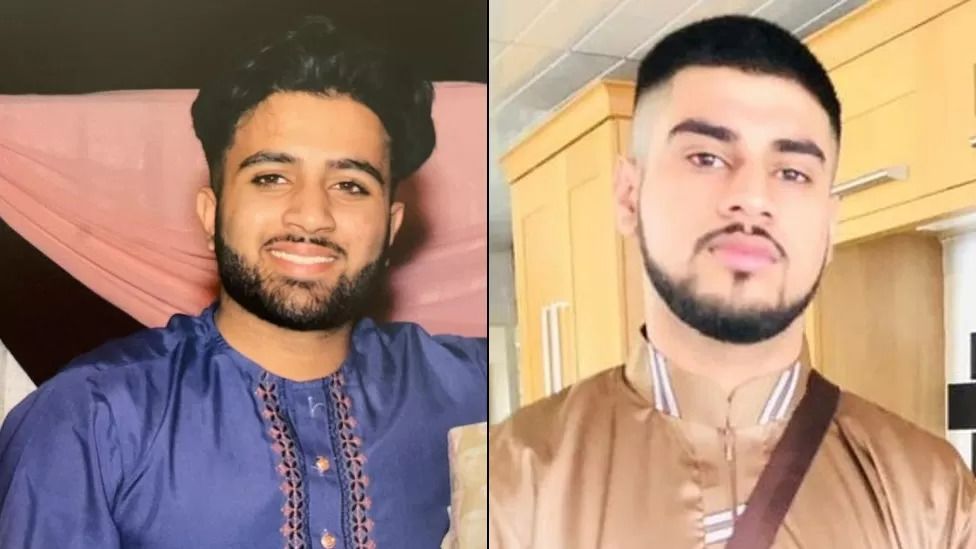 Mohammed Hashim Ijazuddin (left) and Saqib Hussain died at the scene
Saqib Hussain and Mohammed Hashim Ijazuddin died in a crash on the A46 near Leicester in February 2022.

Mahek Bukhari, her mother Ansreen and six others are charged with murder.

Prosecutors told Leicester Crown Court on Monday it was a case of "love, obsession, extortion and ultimately cold-blooded murder".

The court heard Mr Hussain, 21, from Oxfordshire, and 45-year-old Ansreen Bukhari, of George Eardley Close, Stoke-on-Trent, began an affair in 2019 but she ended it in January 2022.

Collingwood Thompson KC, opening the retrial for the prosecution, said Mr Hussain had in his possession sexual videos and images of Ansreen and made repeated attempts to contact her after she broke it off.
The court heard Mr Hussain was becoming "increasingly obsessive" while "professing his love for her" and "begging her" to continue the relationship.

The barrister said: "This anger manifested itself in an attempt to blackmail Ansreen Bukhari in order to persuade her to contact him.

"Messages show that sexually explicit material of her, which had obviously been taken some time before, and he threatened to send it to her husband and son."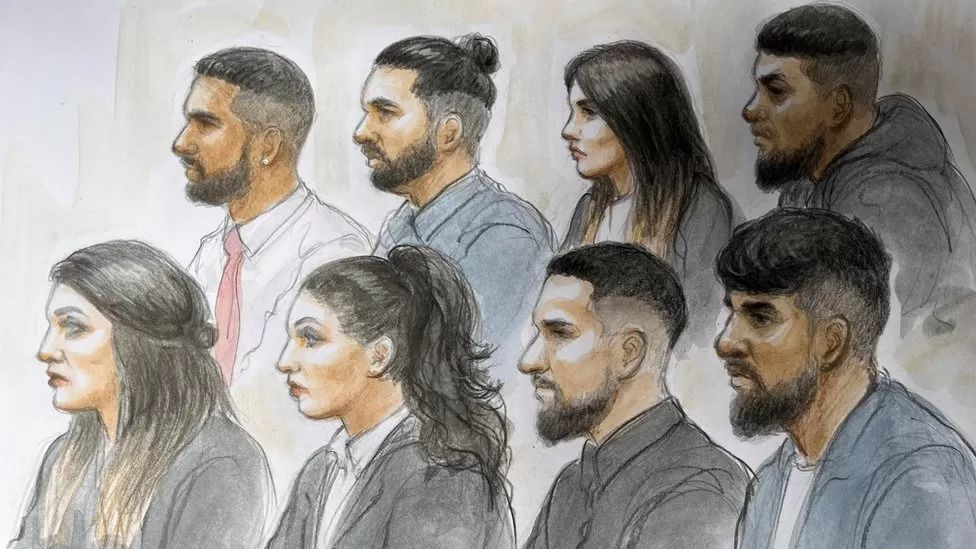 (From front left) Ansreen Bukhari, Mahek Bukari, Rekan Karwan, Raees Jamal, (from top left) Ameer Jamal, Sanaf Gulammustafa, Natasha Akhtar and Mohammed Patel

The court heard her 23-year-old daughter - who was aware of the affair - was told of the blackmail plot and, fearful of the impact on her family, as well as her social media following, sent Mr Hussain a message saying: "Carry [on] speaking to her now, you'll see movements soon."

She also sent her mother a WhatsApp message afterwards saying: "I'll soon get him jumped by guys and he won't know what day it is."

The jury was told Mr Hussain was demanding up to £3,000 he had spent on dates with Ansreen Bukhari during their affair and a meeting was arranged in Leicester to hand it over.

But rather than handing over the money, the court heard the mother and daughter were plotting to seize Mr Hussain's phone containing the explicit material.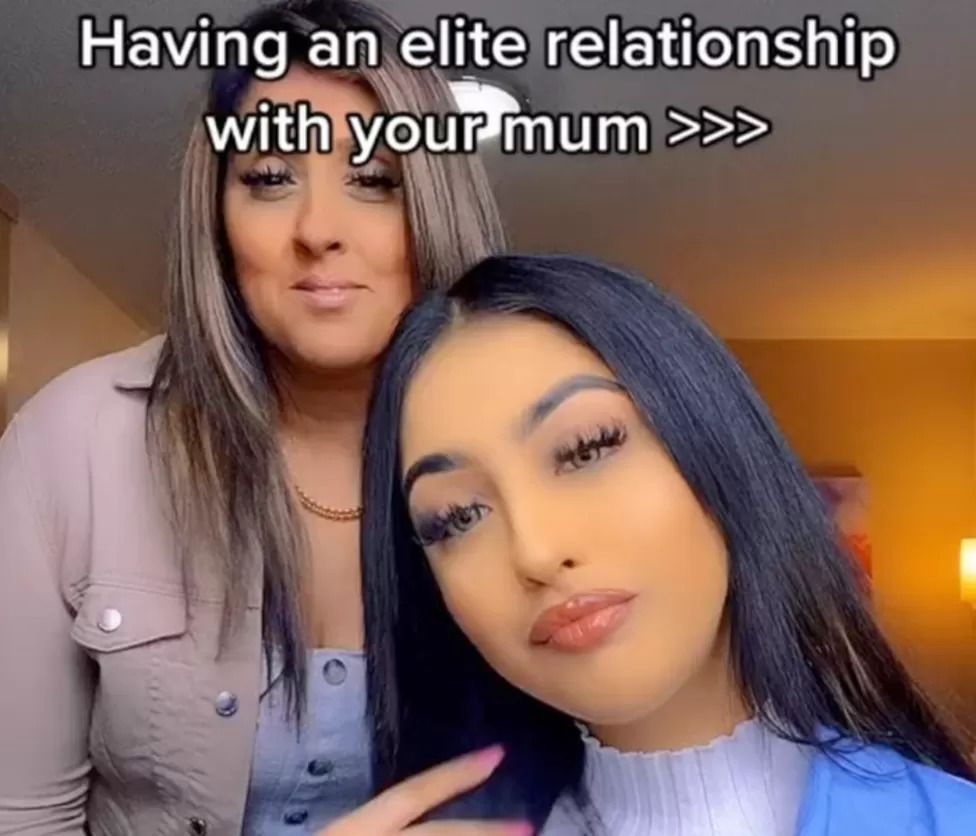 Mahek Bukhari had posted on social media about being close to her mother

The Crown's KC told how "other defendants, we say, then became involved in what happened", claiming it became clear the Bukharis needed to "silence" Mr Hussain.

Mr Thompson said: "Common sense would suggest the idea was to lure him [Mr Hussain] into a meeting, promising him his money."

He said the group "no doubt hoped when confronted with numerical superiority, he might just hand the phone over".

"And that if he did not - cause Mr Hussain really serious harm to achieve their ends, if not to silence him permanently as will become apparent," he added.

Mr Hussain and his 21-year-old friend Mr Ijazuddin, who had agreed to drive him to the meeting, died in the crash shortly after midnight on 11 February.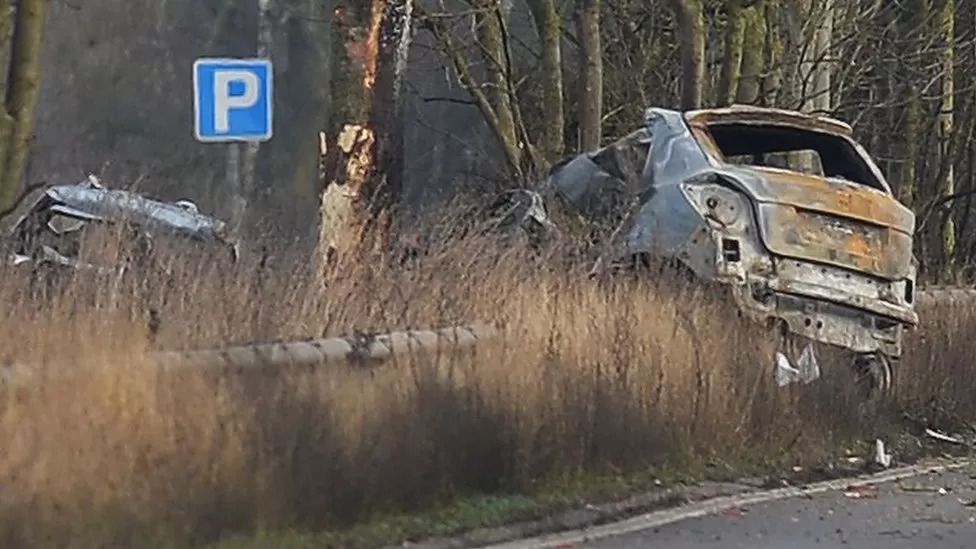 The prosecution claims the car carrying the two men was rammed off the road

The court was played the distressed 999 call made by Mr Hussain as he travelled in the passenger seat.

In the call, Mr Hussain said: "There's guys following me, they have balaclavas on… they're trying to ram me off the road.

"They're trying to kill me, I'm going to die… please sir, I just need help.

"They're hitting the back of the car, really fast… please I'm begging you. I'm going to die."

A scream was heard on the line before it abruptly ended.

"It explains why the police knew that this was no ordinary traffic accident but cold-blooded murder and it led to of course a major investigation," Mr Thompson KC said.

"That investigation revealed a story of love, obsession, extortion and ultimately cold-blooded murder," he told the court.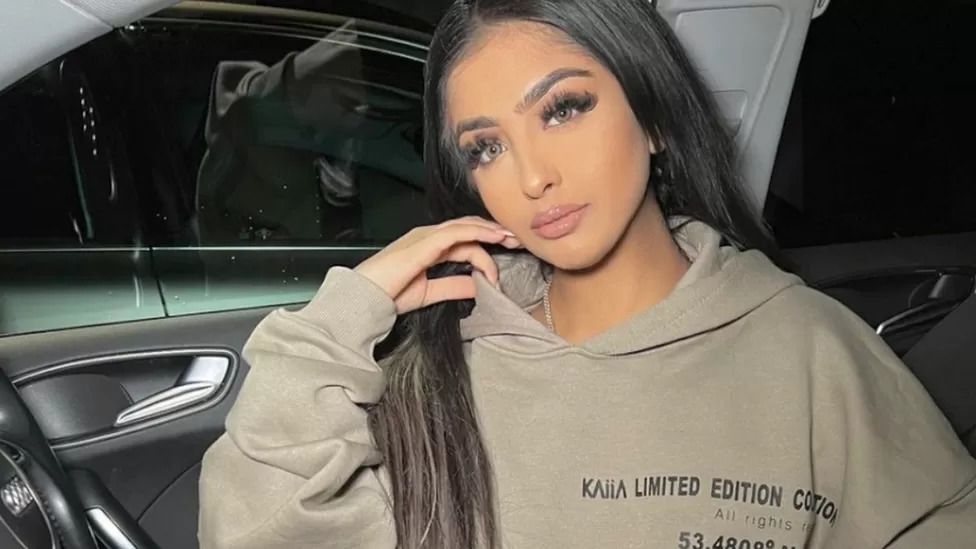 Mahek Bukhari has denied two counts of murder

Police footage was shown to the jury of the crash scene showing the Skoda Fabia in flames against a tree in the central reservation of the A46 dual carriageway, close to the Six Hills junction near Leicester.

Police and firefighters discovered the remains of two bodies after extinguishing the blaze.

The court was told Mr Ijazuddin, from Oxfordshire, was "in the wrong place at the wrong time", with the favour to his friend turning out "to be a tragic and fatal mistake".

The co-defendants are:

* Rekan Karwan, 29, of Tomlin Road, Leicester

* Raees Jamal, 22, of Lingdale Close, Loughborough

* Mohammed Patel, 22, of Braybrooke Road, Leicester

* Natasha Akhtar, 23, of Alum Rock Road, Birmingham

* Sanaf Gulammustafa, 23, of Littlemore Close, Leicester

* Ameer Jamal, 28, of Catherine Street, Leicester

The trial continues.