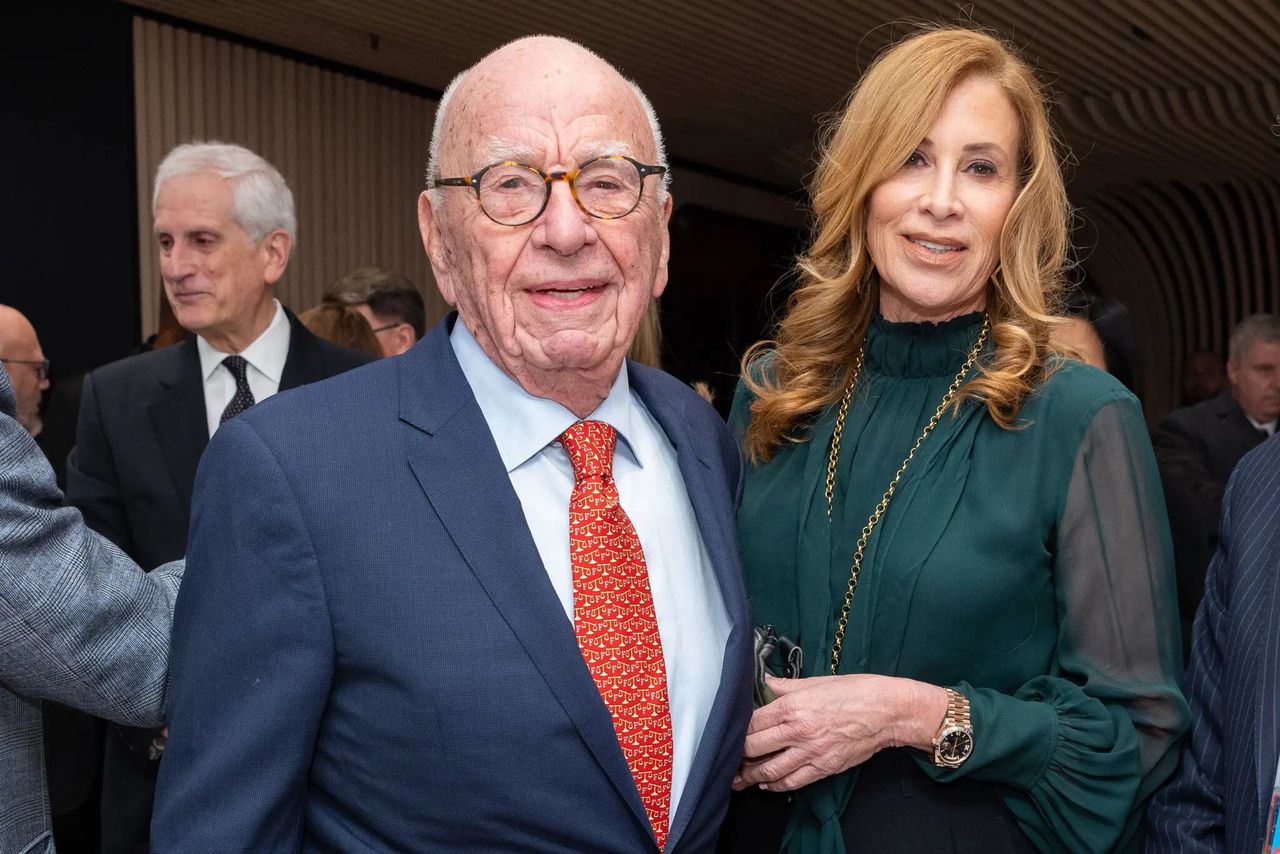 The planned summer wedding of the 92-year-old media mogul and Ann Lesley Smith is said to have been called off
Rupert Murdoch's engagement to Ann Lesley Smith, a 66-year-old former dental hygienist whom he met at his vineyard in Los Angeles, is said to have been called off after two weeks. It would have been his fifth marriage.
Last month Rupert Murdoch presented an engagement ring to Ann Lesley Smith, a 66-year-old former dental hygienist whom he had met last year at his vineyard in the Bel Air section of Los Angeles. A little over two weeks later, the wedding has been canceled.

A spokesman for Mr. Murdoch declined to comment Tuesday. A person close to him, speaking on the condition of anonymity to share details concerning a personal matter, acknowledged that the planned summer wedding had been called off, adding that it would not be a "great leap" to say that Mr. Murdoch's relationship with Ms. Smith had come to an end. The wedding would have been the media magnate's fifth trip down the aisle and Ms. Smith's fourth.

Mr. Murdoch, 92, made the engagement public last month through Cindy Adams, the veteran gossip columnist at one of the many newspapers he owns, The New York Post. After reporting that Mr. Murdoch had presented Ms. Smith with a diamond engagement ring in New York on St. Patrick's Day, the columnist included a comment from her boss: "I dreaded falling in love — but I knew this would be my last," he said. "It better be. I'm happy."

In the days after the engagement, details began to emerge about Ms. Smith, who was born Ann Krohn and attended high school in Petaluma, Calif. Efforts to reach Ms. Smith by phone and via social media were unsuccessful, and she did not immediately reply to a message passed to her by a worker on her property in Escalon, Calif.

In her 20s, while working as a dental hygienist in the Bay Area, Ms. Smith met John B. Huntington, a California railroad heir nearly 20 years her senior. During their marriage, which lasted from 1985 to 1989, she spent lavishly on clothes, rode horses and did charity work, she said in a 2013 interview with the Christian Broadcasting Network. "Money was no object," she said. "I had everything in the world."

Sign Up for Love Letter Your weekly dose of real stories that examine the highs, lows and woes of relationships. This newsletter will include the best of Modern Love, weddings and love in the news.

In 1988, she was involved in an imbroglio at a society gala on the dance floor of the Fairmont Hotel in San Francisco. Reuters described the melee as "a shoving match between two San Francisco socialites," Ann K. Huntington (as Ms. Smith was then known) and another guest, Avelina Pritchard. "She pulled my hair," Ms. Pritchard said in an interview for this article. "She scratched me." Ms. Smith pleaded no contest to misdemeanor assault and was ordered to donate $3,000 to a shelter for abused women, Reuters reported at the time.

In the interview with the Christian Broadcasting Network, Ms. Smith claimed that, after her marriage to Mr. Huntington, she had no place to live and had become suicidal because of a stingy prenuptial agreement.

While pressing for greater financial support in court, she alleged that her former husband had been physically abusive. Court documents from the case show that three mental health experts testified on Ms. Smith's behalf, saying that the marriage had left her with post-traumatic stress disorder, rendering her unable to work. But a psychiatrist who treated Ms. Smith in the late 1980s disputed that assessment in his testimony, according to the court documents.

Ms. Smith's life began to turn around when she became a Christian, she told the network, adding that she had started doing volunteer work as a chaplain for police departments in Marin County. In 1999, she wed Michael Carabello, a former percussionist in the rock band Santana. The fact of that marriage, which lasted about a year, did not appear in the spate of reports published in the wake of her engagement to Mr. Murdoch.

Her third marriage was to Chester Smith, a radio and television entrepreneur in Modesto, Calif., who had started out as a disc jockey and country singer. Ms. Smith appeared at his side on the cover of "Captured by Love," a 2005 album credited to "Chester Smith with Ann Lesley Smith." In the photo, Mr. Smith is holding a guitar and has one foot on the fender of a Rolls-Royce. Ms. Smith is dressed in a police uniform with a priest's collar, her hand on her husband's shoulder.

At the time of their meeting, Mr. Smith had been married to his first wife, Naomi Smith, for more than four decades. Together they had built his radio and television business into a mini-empire that included stations in California and Oregon. One of their three daughters, Lorna Scott-Smith, said she had not been invited to her father's wedding to his second wife. "I never met her," Ms. Scott-Smith said in an interview.

After Mr. Smith died at age 78 in 2008, another of Mr. Smith's daughters, Roxanne Storey, sued Ann Lesley Smith in San Joaquin County Superior Court. She alleged that Ms. Smith, the trustee of his estate, had failed to give her and her sisters their fair share of the inheritance.

The case was settled days out of court after Judge Duane Martin admonished Ms. Smith in a ruling, writing that "the court has lost all confidence in her ability to administer the trust other than for her own benefit, in conflict with her fiduciary duty to Chester Smith's three daughters."

Mr. Murdoch's broken engagement comes at a time when he is embroiled in a $1.6 billion defamation lawsuit filed by Dominion Voting Systems against two of his companies, Fox Corporation and Fox News. Last week, a judge in Delaware Superior Court ruled that the case was strong enough to go to trial.

Mr. Murdoch's fourth marriage, to the actress and model Jerry Hall, ended in divorce last summer after six years.
---