Target shareholders are feeling the backlash underway at the retailer as controversy swirls over its Pride merchandising plans, as first reported by Fox News Digital.

Shares slipped 2.7% on Wednesday and have dropped more than 9% this month, with 6% of that decline this week alone, as tracked by Dow Jones Market Data Group. That amounts to $4.2 billon in market value.

Over the same time frame, the S&P 500 has dropped just over 1%.

"For more than a decade, Target has offered an assortment of products aimed at celebrating Pride Month," a Target spokesperson told Fox News Digital. "Since introducing this year's collection, we've experienced threats impacting our team members' sense of safety and well-being while at work. Given these volatile circumstances, we are making adjustments to our plans, including removing items that have been at the center of the most significant confrontational behavior. Our focus now is on moving forward with our continuing commitment to the LGBTQIA+ community and standing with them as we celebrate Pride Month and throughout the year."

Adding fuel to the fire, the retailer's Gay Pride collection has been linked to a controversial designer: Abprallen's Erik Carnell, who is an outspoken Satanist whose brand features occult imagery and messages like "Satan respects pronouns" on brand apparel, Fox News Digital reported separately.

He is also known for aggressive messaging and phrases, including "Burn down the cis-tem," which have been featured on the website along with one that says "homophobe headrest" with an image of a guillotine.

Carnell explained in an Instagram post that Satan represents "passion, pride and liberty" and "loves all LGBT+ people."

Target is experiencing a similar trend that Anheuser-Busch saw following the Bud Light backlash after the brand sent transgender activist Dylan Mulvaney a personalized pack of beer with the influencer's likeness as part of an ad for the company's March Madness contest and to celebrate the year anniversary since Mulvaney began identifying as a woman.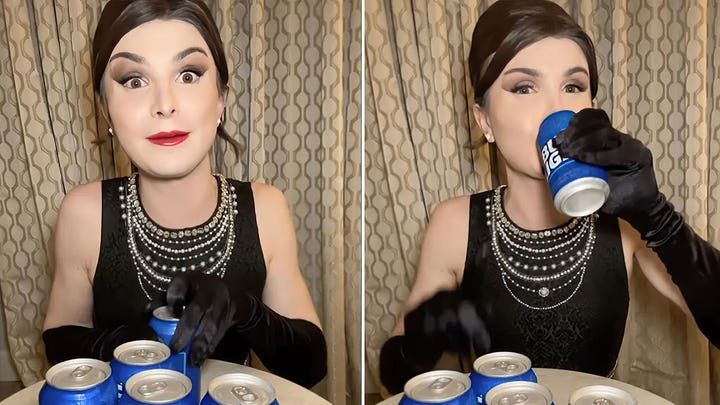 Bud Light has faced intense backlash from longtime customers over a recent campaign with transgender activist Dylan Mulvaney.

Since March 30, the Bud Light parent has lost $17.5 billion in market value with shares down more than 13%, as tracked by Dow Jones Market Data Group, as nationwide boycotts of the beer began and sales tanked. The S&P 500 has risen 1.6% over the same time period.

CEO Michel Doukeris attempted to distance the company from the campaign while also vowing to help distributors who bore the brunt of the financial outcry.

Several executives who created and launched the campaign have since been put on leave.