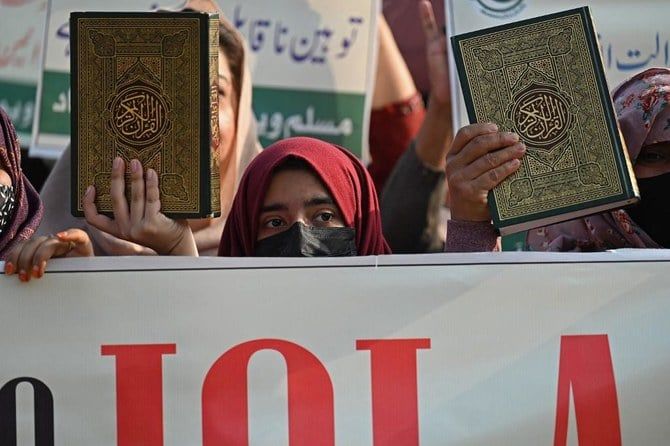 Swedish police blocks Qur'an burning protest
Swedish police on Wednesday denied permission for a protest involving the burning of a Qur'an, following a January demonstration that angered Turkiye, putting Sweden's pending NATO application on hold.
Protests are rarely banned by Swedish police as they are considered as a right under freedom of assembly, but police cited the risk that the protest could provoke terror attacks or attacks against Swedish interests.

The demonstration permit request was made by a small, little-known Swedish association, Apallarkerna, and was aimed at protesting against NATO membership, and like the earlier protest staged far-right activist, Rasmus Paludan, would involve the burning of a Qur'an in front of Turkiye's Stockholm embassy.

"The burning of the Qur'an outside Turkiye embassy in January 2023 can be determined to have increased threats against both the Swedish society at large, but also against Sweden, Swedish interests abroad and Swedes abroad," the police decision, read by AFP, said.

"Sweden has become a higher priority target for attacks," it continued.

At the end of January, Turkish President Recep Tayyip Erdogan said that Sweden, which Ankara already accused of harboring Kurdish "terrorists," could no longer expect Turkiye to ratify its NATO membership bid, as long as burnings of the Qur'an were allowed.

Turkiye and Hungary are the last holdouts to ratify Sweden's NATO membership, after the Scandinavian country broke decades of military non-alignment and applied following Russia's invasion of Ukraine.

The Qur'an burning, carried out by Paludan behind the protection of a police officers and in front of cameras, spurred anti-Swedish demonstrations in several Muslim countries.

Negotiations with Turkiye on NATO accession have been suspended since then.

On Wednesday, the Swedish security service, Sapo, warned of an increased terrorist threat to Sweden and Swedish interests.