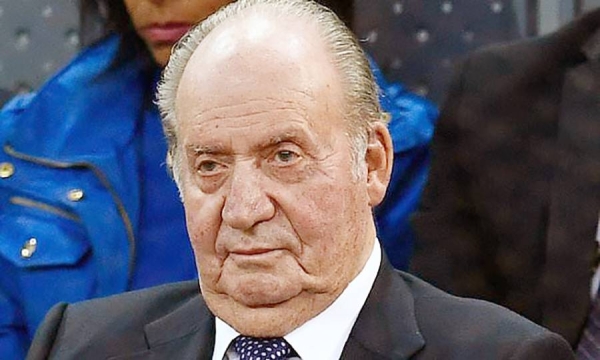 Spain's Carlos makes 'unwanted' visit home from exile
Spain's aging king-in-exile dined with friends at one of London's most exclusive private clubs this week, and watched Real Madrid beat Chelsea 2-0.
There was, however, no lunch with King Charles III during a whirlwind visit to the British capital for Juan Carlos -- although it was rumored the distant cousins might meet, since the former Spanish monarch won't be attending Charles and Camilla's coronation in May.

Now, a less-than-warm welcome awaits Juan Carlos in his homeland, where he arrived Wednesday for only his second visit, after three years of self-imposed exile in the Middle East.

His family — King Felipe and Queen Letizia — have made it clear they're not amused with the trip, and there's no meeting scheduled between father and son in the diary at the Zarzuela Palace either: something which has been interpreted as a clear sign of an ongoing rupture between the two.

The beginning of the end for King Juan Carlos came in 2008, when pictures of him standing in front of dead elephants on a hunting holiday in Botswana were published by the Spanish press.

This trip was the first blow to his reputation, with the expensive vacation taking place during a deep financial crisis. He abdicated in 2014 after almost 40 years on the throne, and handed power to his son Felipe.

Six years later, Felipe took Juan Carlos' annual allowance and renounced his own personal inheritance.

When he fled Spain for Abu Dhabi in August 2020 amid those financial scandals -- not to mention several extramarital affairs and a messy legal breakup with one particular mistress — Juan Carlos's reputation was in tatters, although he still retains the title of Rey Emérito, King Emeritus.

Officially, Juan Carlos has returned to Spain to take part in a sailing championship in the north-western region of Galicia where his boat 'Bribón' will be competing.

Curiously enough, this word is used in Spanish to refer to someone who uses his wiles to commit petty crimes.

This second visit has generated even more commotion than the last time, as he has decided to return despite not having the consent of the Royal Family and with the resentment of Spain's Socialist government.

While Spanish society is divided over its affection for its former king, institutions seem to have made up their mind.

The Royal Family is trying to protect its image and reputation, and dissociate itself from the controversial ex-king.

The scandals that haunt Juan Carlos I, as well as reports stating the Royal Family fears the consequences of his actions, contrast with the former king's attitude.

When asked by the press to explain his behavior on his last trip to Spain he gave a clear-cut answer: "Explanations for what?".

Both the Spanish government and the Royal Household made it clear that their priority is to save Felipe VI. Their strategy lies in hoping the former king will plan a discreet visit to his homeland.

"Juan Carlos' visit clearly has a negative effect on the Spanish monarchy. Although his criminal behavior has not been proven, his moral one is not exemplary," said Fernando Rayón, journalist and professor of Political Information at CEU San Pablo University.

"Juan Carlos I's activities are like a scuff on his son's shoe. He's not complying with the Spanish Royal Family's maxim: impeccable institutional and personal behavior," he added.

Despite being known as the king who helped Spain return to democracy after Francisco Franco's dictatorship ended with his death in 1975, Juan Carlos abdicated in 2014 when his popularity was shattered.

The last few years have not done him any good, a series of personal and financial scandals lowered his public approval ratings to 30%, according to a survey by Spain's Centro de Investigaciones Sociológicas (CIS).

His son has enjoyed better ratings: up to 70%.

But after Juan Carlos' scandals, many questioned whether the Spanish Royal Family could continue. This is why every step Felipe takes is scrutinized.

"The King's behavior has to be at its best now. He has to be extremely transparent in his private life, with his income and in his activities. This is what Spanish society is now asking of him," he added.

Juan Carlos, who for decades was a symbol of harmony between Spaniards, has sown discord with his conduct while he reigned. As a firewall, the King has established a series of measures he would have to comply with.

"I believe that Juan Carlos is trying to listen to his son. On the first trip he made we all knew every single detail. From where he was staying, to the time when he arrived," said Rayón.

"Felipe VI asked him to limit the information provided to the press and this time he has done it.