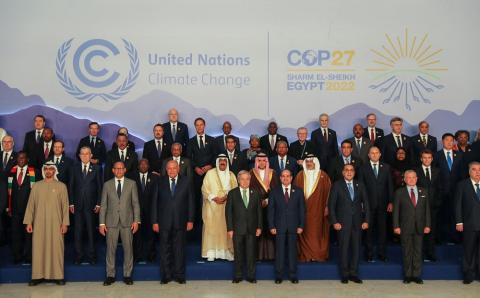 Sisi Kicks off World Leaders Climate Summit with Plea to End Ukraine War
Egyptian President Abdul Fattah al-Sisi kicked off Monday the world leaders summit at COP27 with a plea to end the war on Ukraine given its impact on the world.
Speaking at the landmark Sharm el-Sheikh event, Sisi warned that climate challenges are growing day after day and that climate change is claiming major losses in life and incurring massive costs.

He remarked that people have grown more aware of the extent of the challenge and were looking forward to the effective implementation of pledges.

Egypt, he went on to say, has taken steps in combating climate change, such as investing in the green economy.

Moreover, Sisi called for responding to concerns of Africa, urging developed countries to meet their pledges.

He urged providing the necessary funding to developing countries, saying they are suffering the most from the impact of climate change.

Nearly 50 heads of states or governments on Monday will take the stage in the first day of high-level international climate talks in Egypt with more to come in the following days.

Egypt has officially taken the reins as COP host from the UK and has billed the conference as one that will turn the pledges made at the 2021 climate talks in Glasgow into action.

Delegates on Sunday set a positive tone by agreeing to add discussion of compensating poor nations for climate damage to the conference agenda for the first time ever, something that will usher in rounds of tough negotiations.