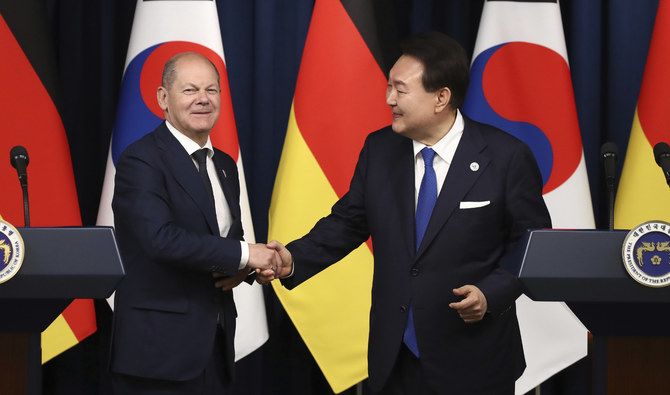 S. Korea, Germany to sign information pact to boost defense cooperation
South Korea and Germany will soon sign an agreement aimed at protecting military secrets to boost defense cooperation, South Korean President Yoon Suk Yeol said on Sunday as he met with German Chancellor Olaf Scholz in Seoul.
The military information agreement will help "smoothly operate the defense industry supply chain", amid global economic and political instability, Yoon told a briefing.

South Korea, which recently pursued a similar information-sharing pact with Canada, has moved to expand its defense industry amid rising demand driven by the war in Ukraine and other global tensions, but has so far refused to provide weapons to Kyiv.

Yoon said respect for freedom as a universal value was "very vital" in the face of authoritarianism challenging democracy, unstable global supply chains and the war.

"From now, I expect South Korea and Germany will further expand reciprocal and future-oriented cooperation and strengthen the solidarity for peace and prosperity of Europe and Asia," Yoon said in opening remarks at the meeting with Scholz.

The two leaders also discussed deepening cooperation in production of semiconductors, among other areas.

Scholz, who is visiting South Korea after attending the Group of Seven summit in Hiroshima, Japan, called North Korea's missile tests a sign of a "still dangerous situation" on the Korean peninsula.

"This is a threat to peace and security in this region," he said at a military base after a visit to the Demilitarized Zone (DMZ) separating the Koreas.

Germany's history as a divided nation had been overcome, he said, but division persists on the Korean peninsula.

Both Scholz and Yoon left Japan on Sunday after joining the G7 summit. South Korea was invited as an observer.

G7 leaders signaled they would not back down from supporting Ukraine, and outlined a shared approach towards China, looking to "de-risk, not decouple" economic engagement with a country regarded as the factory of the world.

Yoon, who met Ukrainian President Volodymyr Zelenskiy for the first time on the sidelines of the G7, said he was planning to provide mine-removing equipment and ambulances, while promising more support for Ukraine.

South Korea signed an agreement with Ukraine on Wednesday on its plan to provide a $130 million financial aid package, a day after the visiting first lady of the war-hit country asked for military assistance.