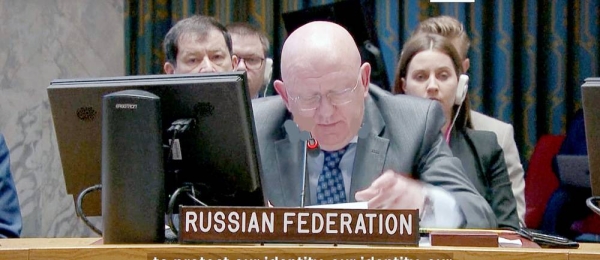 Russia's UN ambassador says his country had 'no choice' but to defend itself
Russia has attempted to justify its illegal invasion of Ukraine, saying it had no choice for its actions while it acknowledged that it had failed to implement the 2015 Minsk agreement.
Moscow's ambassador to the United Nations, Vasily Nebenzya, said: "The mortal tales we hear today in the face of the obvious that Russia did not implement the Minsk agreement, the more people will understand that we had no choice other than to defend our country, defend it from you, to defend our identity and our future."

Russia called a meeting of the United Nations Security Council to mark the 8th anniversary of the signing of the agreement, which Western nations have considered dead since Russia's invasion of Ukraine last year.

"It's time to acknowledge the truth. The truth is that Putin has proved once and for all to be impossible to negotiate with," said Ukrainian ambassador Sergiy Kyslytsya.

The US called the agreement "nullified" by Russian President Vladimir Putin, following his decision to invade Ukraine.

The Minsk agreement was put in place to de-escalate the conflict in Donbas in eastern Ukraine but has been effectively dead since Russia invaded.

Although diplomacy continues, avenues are being exhausted. Moscow has just expelled four Austrian diplomats in retaliation for the expulsion of four Russian diplomats accused of espionage.

And at the Munich Security Conference, the leaders of the Baltic states stressed they will insist that an international tribunal be set up to investigate the war crimes Russia is committing during the aggression.