Russian troops are 'not where they likely hoped to be', an update on Friday afternoon
Russia's almost year-long invasion of Ukraine has "failed to meet any of its operational and strategy objectives", the Ministry of Defence has said.

On February 24 last year Russia launched the invasion "almost exactly as predicted", defence intelligence said on Friday, as it reflected on one year since releasing an update warning of President Putin's large-scale invasion.

Up to 190,000 Russian troops entered Ukraine from the north, east and south, but the operation "didn't go to plan", the MoD states.

In a tweet it said: "358 days after Russia's D-Day they continue a grinding offensive in the Donbas.

"But at D+358 they're not where they likely hoped to be in this sector by D+10. The campaign has likely failed to meet any of its operational & strategic objectives."

Russian troops have gained territory in Ukraine but are suffering heavy losses, British defence chiefs have said.
Putin's force has suffered up to 200,000 casualties including as many as 60,000 killed since the start of the invasion.
A briefing on Friday said: "The Russian casualty rate has significantly increased since September 2022 when 'partial mobilisation' was imposed.
"By modern standards, these figures represent a high ratio of personnel killed compared to those wounded. "This is almost certainly due to extremely rudimentary medical provision across much of the force.
"Artillery has almost certainly inflicted the majority of Russia's casualties."
It stressed that Putin's "private army", the Wagner Group, had "deployed large numbers of convict-recruits", many straight from jail.
Vladimir Putin's generals are reported to be throwing "inexperienced units" into the battlefield as they step up their attacks ahead of an expected full spring offensive to try and seize the initiative.
Ukrainian President Volodymyr Zelensky has urged Western allies to quicken their military support for Ukraine, warning at a major international security conference that delays would play into Russia's hand.
"There is no alternative to speed, because it's speed that life depends on," Zelensky told the Munich Security Conference in Germany on Friday.
Ukraine depends on Western weapons to thwart Putin's attempts to seize control of large areas of the country. The military aid has become a test of foreign governments' resolve amid increasing financial costs.
The first class of 635 Ukrainian fighters has finished a five-week advanced US training course in Germany on sophisticated combat skills and armored vehicles that will be critical in the coming spring offensive against the Russians, the Pentagon said Friday.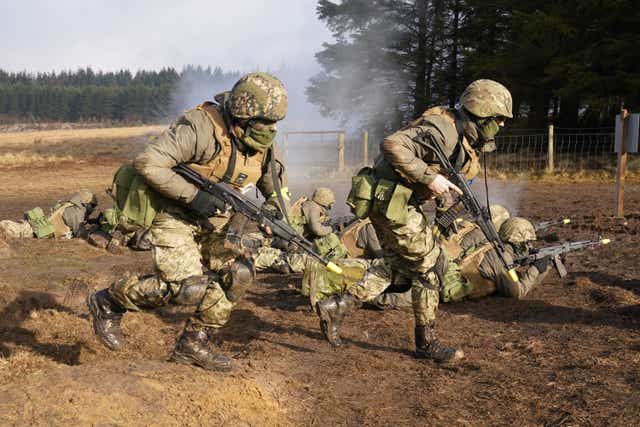 Ukrainian soldiers being trained in northern England
Meanwhile about 40 heads of state and government, as well as politicians and security experts from almost 100 countries are due to attend the three-day gathering in Germany amid fears that the fighting in Ukraine could invite a new Cold War.
Zelensky vowed that his country would ultimately prevail over Moscow's aggression - and even predicted that victory would happen this year. But he warned that Russia "can still destroy many lives."
"That is why we need to hurry up," Zelensky said. "We need the speed."
German Chancellor Olaf Scholz, who has been one of Ukraine's main backers, renewed pledges to help but also insisted that Kyiv's allies must not be hasty.
"For all the pressure to act that there doubtless is, in this decisive question, care must come before rushing, cohesion before solo performances," said Scholz, who has hesitated before taking new steps to help Ukraine.
Berlin agreed last month to deliver German-made Leopard battle tanks to Ukraine and to grant other countries permission to do the same.
The need to supply Ukraine with billions of dollars' worth of military aid has sometimes strained allied countries.
After receiving Western pledges of tanks and more ammunition, Kyiv is now hoping for fighter jets, but some countries have balked at sending them.
For the first time in two decades, conference organisers did not invite Russian officials to Munich. It was the latest snub as Western countries seek to isolate Russia diplomatically.
Russia launched 32 missiles in the early hours of Thursday, Ukraine's air force said. Half were shot down, it added, a lower rate than normal.
Russian rockets and artillery slammed into a residential district in the city of Bakhmut, killing three men and two women and wounding nine, Ukraine's prosecutor general said, adding it was being investigated as a war crime.