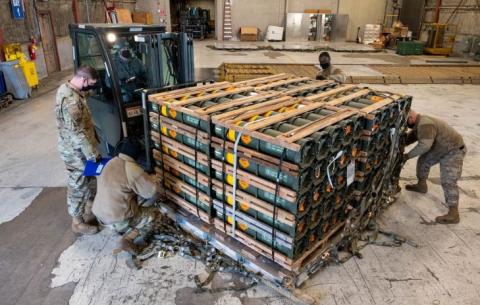 Report: US Considers Sending Seized Iranian Weapons to Ukraine
The US military is considering sending Ukraine thousands of seized weapons and more than a million rounds of ammunition once bound for the Iran-backed Houthis in Yemen, the Wall Street Journal reported on Tuesday.
US officials said they are looking at sending Ukraine more than 5,000 assault rifles, 1.6 million rounds of small arms ammunition, a small number of antitank missiles, and more than 7,000 proximity fuses seized in recent months off the Yemen coast from smugglers suspected of working for Iran, according to the report.

The Kremlin has intensified attacks across a swathe of southern and eastern Ukraine in recent weeks, and a major new offensive has been widely anticipated.

Russia holds swathes of Ukraine's southern regions of Kherson and Zaporizhzhia, including its nuclear plant, nearly all of Luhansk and over half of Donetsk, including the regional capital.

"The situation on the front line, especially in Donetsk and Luhansk regions, remains very difficult. The battles are literally for every foot of Ukrainian land," Ukrainian President Volodymyr Zelenskiy said in his evening address.

"That is why speed is of the essence," he said. "Speed in everything - adopting decisions, carrying out decisions, shipping supplies, training. Speed saves people's lives."