Pro-Palestinian activists held an "emergency protest" outside the Israeli embassy in the UK capital, London, on Saturday demanding sanctions on Israel for its latest violence against Palestinians at the Al-Aqsa mosque.
Israeli police clashed with Palestinians inside Jerusalem's flashpoint Al-Aqsa mosque on Wednesday, with Israel bombarding both Gaza and Lebanon in response to rocket fire by Palestinian militants.

"Last night Israel also bombarded the besieged Gaza Strip, damaging Durra Children's Hospital and injuring a 12-year-old child," said the UK-based Friends of Al-Aqsa, a non-profit NGO concerned with defending the human rights of Palestinians.

"On Wednesday Israeli Occupation Forces beat worshippers with batons and rifles at the holiest site in Jerusalem for Muslims," FOA said in a statement. "Yesterday Israeli forces attacked Palestinian men, women and children with tear gas, stun grenades and rubber-coated bullets."

It also added that "Israeli attacks on Palestinian worshippers at Al-Aqsa are on the rise, particularly during Ramadan, under Israel's illegal occupation and brutal apartheid regime."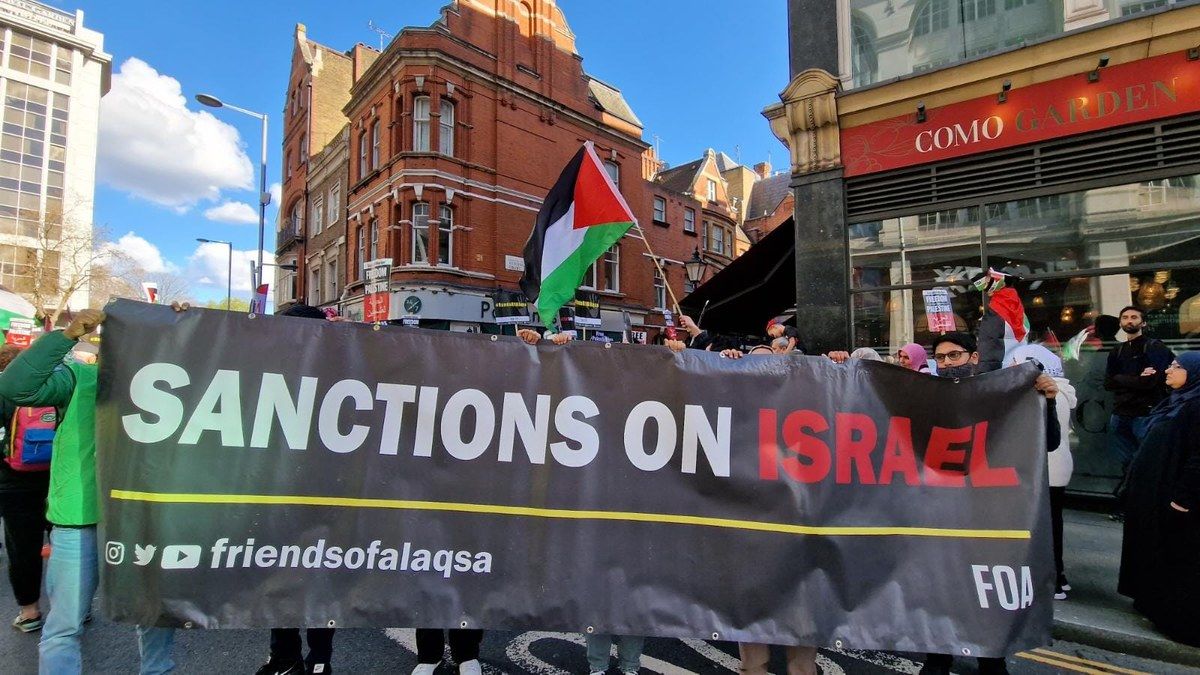 Dr. Ismail Patel, chair and founder of FOA said: "Enough is enough. We don't need statements or words of condemnation from our MPs and leaders, we need sanctions on Israel, now."

The protest was organized by FOA, in coordination with Stop the War Coalition, Palestine Solidarity Campaign, Muslim Association of Britain, Campaign for Nuclear Disarmament and Palestinian Forum in Britain.

"It's time to hold Israel accountable for its repeated brutal beatings of Palestinian worshippers, ongoing crimes against Palestinians and violations of international law," Patel said.

"If these attacks were carried out by any other country the British government would not hesitate to impose sanctions today," he said.