Peoples' Democratic Party calls on supporters to back Kemal Kılıçdaroğlu against Recep Tayyip Erdoğan.
A Kurdish-Left alliance including pro-Kurdish Peoples' Democratic Party (HDP) in Turkey on Friday called on its supporters to vote for President Recep Tayyip Erdoğan's main opponent in next month's presidential election, widely expected to be the most hotly contested race in Erdoğan's 20-year rule.

The opposition candidate, Kemal Kılıçdaroğlu, is supported by a wide-ranging coalition from across the political spectrum.

"At this breaking stage of Turkish politics, we have come together to fulfill our historic duty, both as part of our tradition and our debt to future generations" ahead of the "historic election" on May 14, the alliance said in a statement.

"In this context, we share with the public our decision to support Kemal Kılıçdaroğlu in the presidential elections," it added.

The vote of the Kurdish population, which makes up around a fifth of Turkey's 85-million population, is set to be a decisive factor in the presidential race, as Kılıçdaroğlu and Erdoğan are going head to head in an election which POLITICO's Poll of Polls shows is on a knife edge.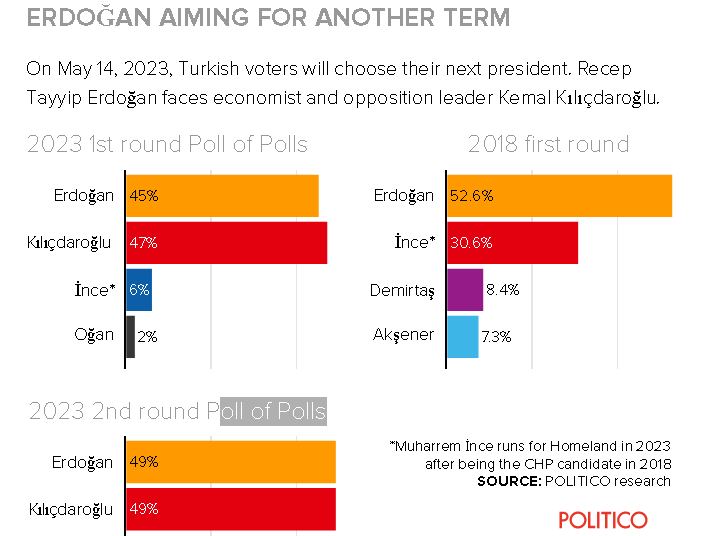 The left-leaning HDP party is the largest pro-Kurdish political force, representing around two-thirds of the Kurdish vote, the party's leader Selahattin Demirtaş — who is currently serving a prison sentence on terrorism charges — recently told POLITICO.

Kılıçdaroğlu, 74, is an understated former bureaucrat who has led the main opposition party, the center-left Republican People's Party (CHP), for more than a decade.

Turkey's double-digit inflation and mounting criticism against the government's response to the devastating earthquake that killed tens of thousands in February have given him a real shot at ousting Erdoğan.