A Polish scientist is being held in Iran, Poland has confirmed, after Iranian state TV reported that several Europeans had been caught spying.
Poland's foreign ministry said the man was detained in September. A Polish university named him as Maciej Walczak.

Iranian news agencies said Mr Walczak was arrested for taking soil samples in a restricted area, along with British deputy ambassador Giles Whitaker and the husband of an Austrian diplomat.

The UK and Austria denied the reports.

Iranian authorities have detained a number of European nationals on spying charges in the past year, amid escalating tensions with the West over stalled efforts to revive a 2015 nuclear deal.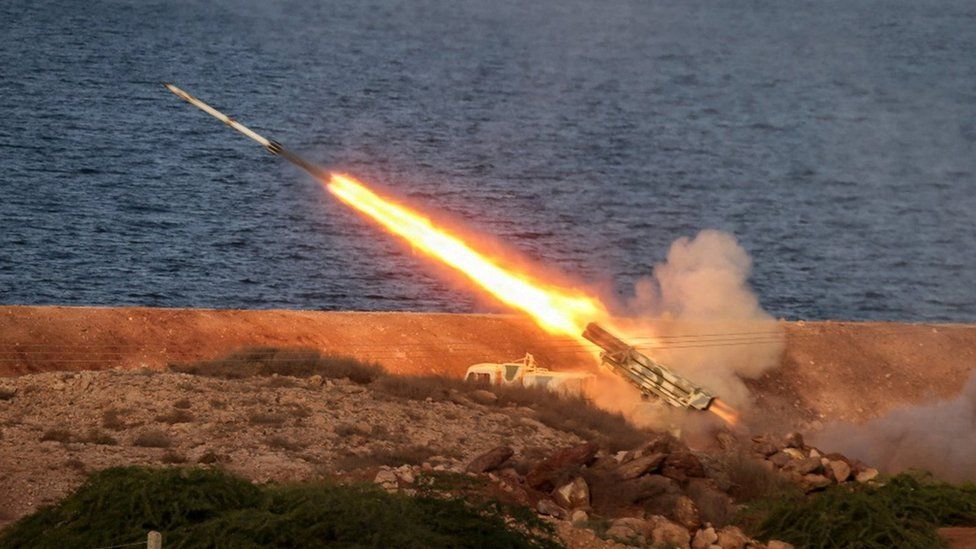 Iranian media said the Europeans were filmed taking soil samples during IRGC missile exercises

Iranian state TV reported on Wednesday that the Islamic Revolution Guard Corps (IRGC) Intelligence Organisation had identified several foreign nationals carrying out "espionage in forbidden zones".

It said Mr Walczak - head of the environmental microbiology and biotechnology department of Poland's Nicolaus Copernicus University - and three Polish colleagues had travelled to a prohibited military zone near the south-eastern city of Shahdad, in the Lut Desert, while an IRGC air defence missile exercise took place nearby.

"The pictures published by IRGC intelligence show that [Walczak] took samples of soil, salt, rocks, clay and water," it alleged.

The Polish foreign ministry issued a statement on Thursday confirming that a "highly reputed scientist" was taken into custody in Iran in September, but it provided no further details about his case.

"Consular and diplomatic steps have been taken to make it possible for him to return to Poland as soon as possible," it added.

A Copernicus University spokesperson confirmed to BBC Persian that Mr Walczak had been arrested along with two other Polish citizens in September. The other two had been released and had returned to Poland, they said.

Iranian state TV also broadcast footage it said showed that Mr Whitaker had taken soil samples and taken photos in the Shahdad area at the same time as the IRGC missile defence exercise. The British deputy ambassador was "expelled from the city after apologising", it added.

The report did not say whether Mr Whitaker was detained at any point, but state news agency Irna reported that he was "arrested on espionage charges". Again, no date was mentioned.

A spokesperson for the UK Foreign Office spokesperson told the BBC that the "reports of the arrest of a British diplomat in Iran are completely false".

"These reports that our deputy ambassador is currently detained are very interesting," tweeted Simon Shercliff, the British ambassador to Iran. "He actually left Iran last December, at the end of his posting."

The Iranian state TV report said the Austrian cultural attaché's husband was filmed collecting soil samples in the north-eastern Damghan area. It added that he had previously been caught taking photos in a military area of Tehran.

The Austrian foreign ministry said: "All of our staff and their relatives in Tehran are fine. No-one has been detained or arrested."