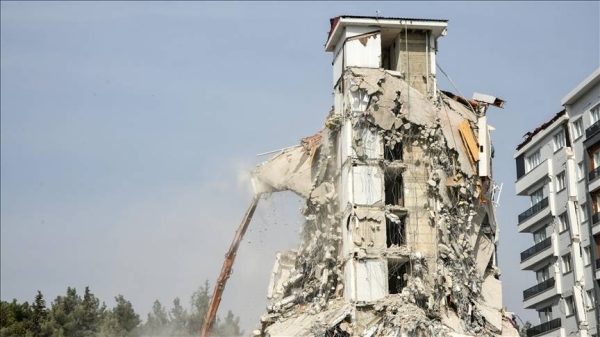 Over 210,000 buildings destroyed or heavily damaged in wake of Turkey quakes
Turkey's president on Friday said that over 214,000 buildings had collapsed or were heavily damaged by last month's devastating earthquakes in the country's south.
"At this moment, we've determined 608,000 independent sections in 214,000 buildings that have collapsed or are severely damaged and will be demolished," Recep Tayyip Erdogan said at a meeting in Istanbul with high-level officials, including Vice President Fuat Oktay, parliament speaker Mustafa Sentop, Communications Director Fahrettin Altun, and government ministers.

Once damage assessments are complete, the number of new residential buildings and village homes to be built in the quakes-hit cities will become clear, Erdogan added as he addressed the Turkey National Risk Shield Meeting at the Dolmabahce Presidential Office.

The new buildings will be no more than three or four stories high above the ground floor, he said.

"We aim to revive our ancient cities with an understanding that will keep our historical and cultural assets alive and also reinforce them against disasters."

More than 45,000 people died in Turkey in the magnitude 7.7 and 7.6 earthquakes on Feb. 6. The earthquakes, which were centered in the province of Kahramanmaras, affected more than 13 million people across 11 provinces, including Hatay, Adana, Gaziantep, Diyarbakir, Adiyaman, Malatya, Kilis, Osmaniye, Elazig, and Sanliurfa.