Antonio Guterres, the UN secretary-general, used his address to the World Economic Forum in Davos, Switzerland, on Wednesday to urge world leaders and businesses to expand their efforts to achieve net-zero carbon emissions.
He also called on business leaders to provide "credible and transparent" plans by the end of the year on how they intend to achieve net-zero.

Guterres warned that many businesses had set their climate targets based on "dubious or murky" criteria, which can "mislead consumers, investors and regulators with false narratives."

"It feeds a culture of climate misinformation and confusion and leaves the door open to 'greenwashing,'" he told delegates at the WEF's Annual Meeting.
"The transition to net-zero must be grounded in real emissions cuts and not rely essentially on carbon credits and shadow markets. That is why we (the UN) created an Expert Group on Net-Zero Emissions Commitments."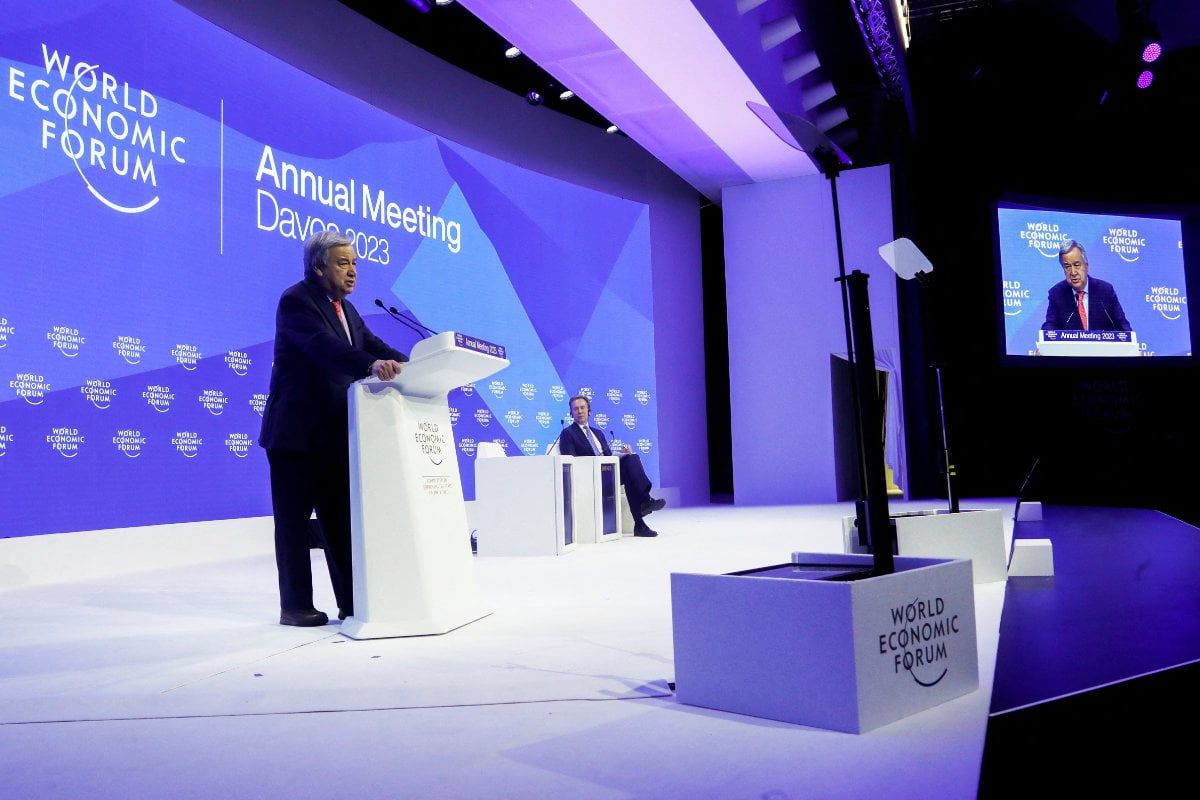 UN Secretary-General Antonio Guterres addresses the World Economic Forum (WEF) in Davos, Switzerland, on January 18, 2023.
Guterres warned that time is running out to prevent disasters linked to man-made climate from growing in scale and frequency.
"We are looking into the eye of a Category 5 storm," he added.
To avert the worst effects of climate change, scientists say any rise in global temperatures must be limited to no more than 1.5 degrees Celsius above pre-industrial levels. The average surface temperature of the planet has already increased by about 1.8 C since the late 1800s.
Guterres urged the world to "end the addiction to fossil fuels," warning that the aspirational goal of limiting warming to 1.5 C was "going up in smoke."
"Fossil fuel producers and their enablers are still racing to expand production, knowing full well that this business model is inconsistent with human survival," he said.
"This insanity belongs in science fiction, yet we know the ecosystem meltdown is cold, hard scientific fact."
The Paris Agreement, a legally binding international treaty on climate change adopted by 196 countries at the 2015 UN Climate Change Conference, COP21, committed nations to scaling up their efforts to reduce greenhouse gas emissions by 45 percent before 2030.
It also obliged them to build resilience against the adverse effects of climate change, uphold and promote regional and international cooperation in efforts to limit global warming to the 1.5 C target, and to reach net-zero by 2050.
To date, 137 countries have committed to achieving carbon neutrality, as tracked by the Energy and Climate Intelligence Unit, an independent advisory organization in the UK. Of those, 124 have set targets for 2050.
Bhutan and Suriname are the only two nations to date that have achieved carbon neutrality and are, in fact, carbon negative. Twenty-four countries have set their climate targets as official policy. They include Brazil, China, Germany and the US, which are some of the world's largest emitters. Five countries are preparing legislation, including Canada, South Korea and several EU member states.
However, even if the 193 parties to the Paris Agreement implement their existing commitments, it is estimated that global greenhouse gas emissions would still increase by almost 11 percent by 2030, compared with 2010.