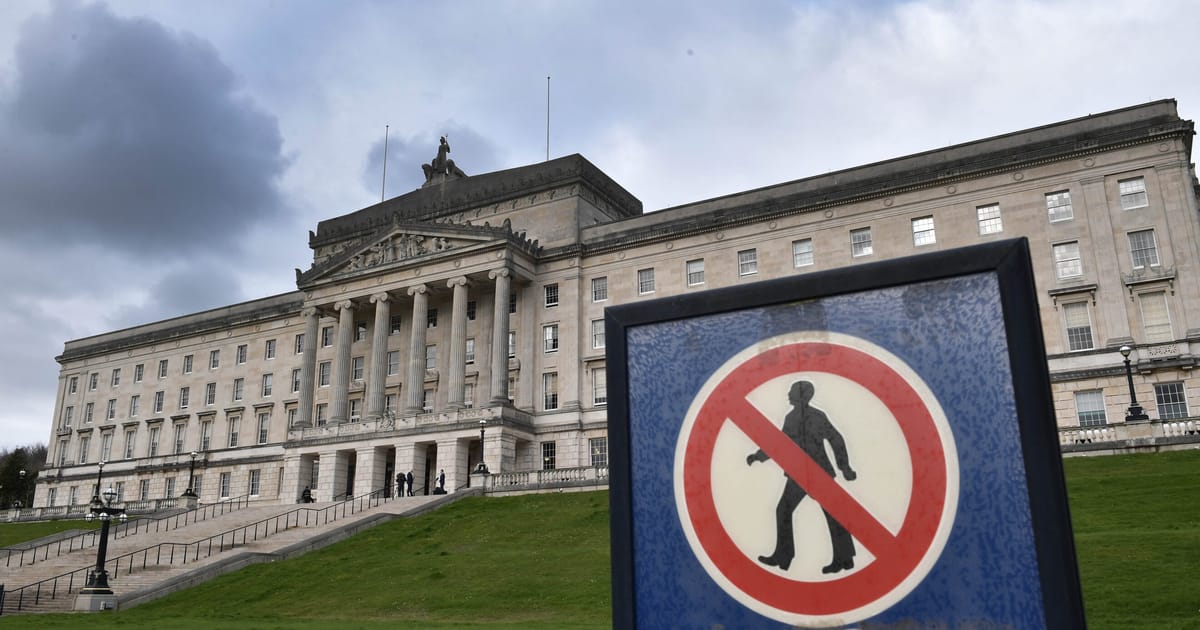 Northern Ireland's civil servants: It's up to UK ministers, not us, to fix fiscal crisis
Top officials managing political vacuum in Belfast say NI budget bill leaves 'a gap' between what the British government wants and what they legally can do to stop red ink flowing at Stormont.
Northern Ireland's senior civil servants told a parliamentary committee Wednesday it will be up to the British government, not themselves, to impose an estimated £800 million in spending cuts and tax hikes needed to balance the region's debt-addled books.

Their warning — the first in public by officials who normally keep their views away from public microphones — follows a trio of reports Tuesday from the Northern Ireland Fiscal Council identifying a range of possible measures to bring red ink under control at Stormont, where a Brexit-related walkout by the Democratic Unionists has put cross-community government on ice and left civil servants effectively running the show.

The advisory body said Northern Ireland faced a 3.3 percent spending cut this year in real terms, taking account of inflation, unless more revenue could be found. One measure floated to balance the books includes the introduction of household water charges already levied elsewhere across the U.K.

The head of the Northern Ireland Civil Service, Jayne Brady, said the U.K. government bill setting out 2023-24 spending limits — due for its second reading next week in the House of Commons — doesn't give her nine permanent secretaries the mandate to take many of the key decisions that will be required.

She said Secretary of State Chris Heaton-Harris' guidance to the permanent secretaries likewise leaves "a gap" between what the government in Westminster expects them to do and what decisions they legally are permitted to take.

"It is our understanding, having read the guidance and the law, there will be decisions that will not be able to be fulfilled within that guidance," Brady said. "That would require some level of ministerial direction. That's the legal advice we have received. There is a gap."

Brady said fixing Stormont's finances would require hands-on decision-making from ministers, either Heaton-Harris and other Northern Ireland Office ministers or, potentially, locally accountable ministers if the collapsed Northern Ireland Executive can be revived.

Looming decisions on spending cuts to statutory public services or raising local taxes and charges "rightly should be made by ministers because we have no democratic provision to make those," Brady said. Northern Ireland's cross-community government fell apart last year because of obstruction by the DUP, the major British Protestant party. Power-sharing, the core goal of the region's 1998 peace agreement, cannot legally function unless both the DUP and the largest Irish nationalist party, Sinn Féin, agree to participate.

Neil Gibson, the permanent secretary at Northern Ireland's Department of Finance, told the committee that each department head was preparing detailed research and options on potential cuts and tax measures — advice prepared for Heaton-Harris or junior Northern Ireland Office ministers to pull the trigger, not themselves.

"We are making sure we have the relevant material for the NIO on each of those, what is the legal position on charging in this area, what legislation is required," said Gibson, who noted that Heaton-Harris already had used such advice to raise Northern Ireland's regional rates this year by 6 percent.

"Our job remains the same, to provide all the material for political decision-making to be taken on all of those revenue-raising options that are available," Gibson said.

The Democratic Unionists, who deny any culpability in Northern Ireland's fiscal crisis, issued a new plea for increased Treasury funding on the back of Wednesday's testimony.

Senior British government officials have told POLITICO that an increased funding offer, potentially in the region of £1 billion, could be part of any agreement to revive a cross-community government at the Stormont Parliament Building overlooking Belfast. The DUP has indefinitely blocked power-sharing in protest against post-Brexit trade rules that make it easier for Northern Ireland to trade with the Republic of Ireland than with the rest of the United Kingdom.