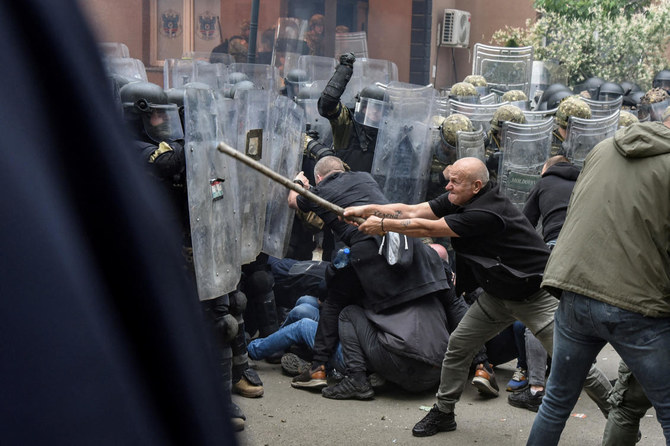 Kosovo Tensions Escalate as Serbs and NATO Clash
NATO peacekeepers clashed with Serb protesters in Kosovo, resulting in injuries to Italian and Hungarian soldiers.
Serbia's president raised the army's combat readiness to the highest level.

Kosovo's president accused Serbia's president of destabilizing Kosovo, while Serbia's president accused Kosovo's prime minister of creating tensions.

Serbs in Kosovo clashed with Kosovo police and NATO soldiers, throwing tear gas and stun grenades.

Serbs also spray-painted NATO vehicles with the letter "Z." The tense situation developed after ethnic Albanian mayors took office in Kosovo's Serb-majority area, which led to US and allied rebuke of Pristina.

Serbian forces raised their combat readiness in response to the situation.

In April, Serbs refused to participate in local elections in Kosovo, leading to ethnic Albanian candidates winning mayoralties in four Serb-majority municipalities with a low turnout.

Serbs are demanding that the Kosovo government remove ethnic Albanian mayors and allow local administrations financed by Belgrade to resume work.

On Friday, three out of four ethnic Albanian mayors were escorted into their offices by police, who were then attacked by protesters.

The United States and its allies have criticized Pristina for imposing mayors in Serb-majority areas without popular support, while the Kosovo government and its supporters argue that elected mayors will provide services to all citizens.

The US ambassador to Kosovo has called for an end to violence against official property.