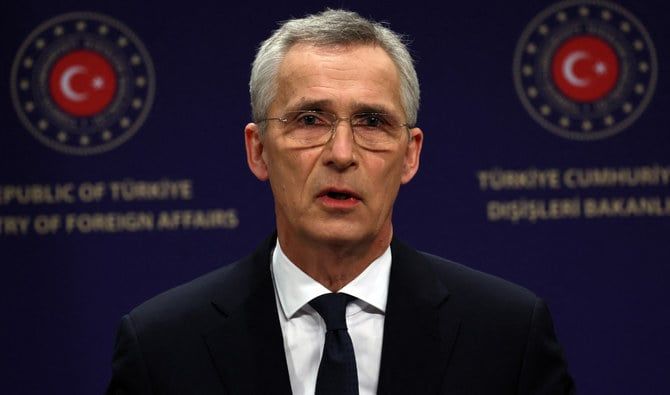 NATO chief says 'time is now' for Turkiye to ratify Finland, Sweden membership applications
NATO Secretary-General Jens Stoltenberg said on Thursday the "time is now" for Turkiye to ratify applications by Finland and Sweden to join the defense alliance.
Stoltenberg was speaking at a joint news conference in Ankara with Turkish Foreign Minister Mevlut Cavusoglu after German Foreign Minister Annalena Baerbock this week said she expects all NATO members to ratify the bids "without further delay."

Finland and Sweden applied to join the North Atlantic Treaty Organization following Russia's invasion of Ukraine in February last year and their membership bids have been ratified by all allies except Hungary and Turkiye.

Turkiye is widely seen as the main hold-up, with President Recep Tayyip Erdogan indicating his country could ratify Finland's application while not going ahead with Sweden's.

Turkiye says Sweden harbors members of the Kurdistan Workers Party or PKK, which is seen as a terrorist group by Turkiye, the EU and others.

Last month Turkiye suspended talks with Sweden and Finland on their applications after a protest during which Rasmus Paludan, leader of the Danish far-right political party Hard Line, burned a copy of the Holy Qur'an outside the Turkish Embassy in Stockholm.

Stoltenberg described protest as "a disgraceful act" and said the Swedish government had demonstrated a strong position against the protest which should be praised.

"For me, this just demonstrates that Sweden and Finland understand and are implementing policies which recognize the concerns that Turkiye expressed. And this is why I think that time has come to ratify," he said.

Cavusoglu repeated Turkiye's position that it could evaluate Finland and Sweden's bids to join NATO separately.

While conceding that Sweden had changed its legislation on terrorism in line with Turkiye's demands, Cavusoglu said the changes should be fully implemented.

Stoltenberg, who later met with Erdogan in Ankara before departing for southern Turkiye to visit earthquake-hit regions, said that the fight against terrorism would be high on the agenda at the NATO summit in Vilnius in July.