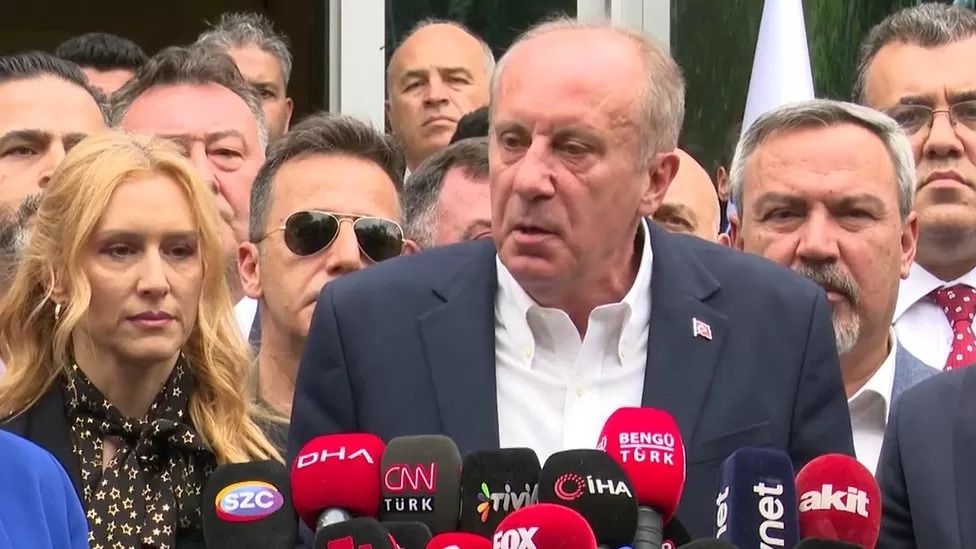 Muharrem Ince: Turkish candidate dramatically pulls out before election
Three days before Turkey's tightest presidential vote in years, one of the four candidates, Muharrem Ince, has pulled out of the race.
Mr Ince had been under increasing pressure for splitting the opposition vote, when they have their biggest chance yet of removing Recep Tayyip Erdogan from power.

"I'm withdrawing my candidacy," he told reporters.

He cited fake sex pictures as one of his reasons for pulling out.

He complained that for 45 days he had been slandered and suffered character assassination, and Turkish authorities had failed to protect his reputation.

"Fake invoices, fake videos, pictures… they took a video from an Israeli porn website and added my face there," he said.

"Unfortunately some people in Turkey shared those for the sake of being in so-called opposition."

But he also said he did not want to be blamed by the alliance of opposition parties if they lost the presidential vote.

Mr Ince's decision to pull out gives President Erdogan's biggest rival, Kemal Kilicdaroglu, a big boost, and Turkey's main stock market soared on the news.

Mr Erdogan has led his country for more than 20 years, but Turkey is grappling with an inflation rate of 44%.

The has also been criticised for failings in the response to a double earthquake in February that killed more than 50,000 people in 11 provinces.

Mr Kilicdaroglu, a soft-spoken man of 74, heads an alliance of six opposition parties and latest polls give him 49% of the vote.

Although Mr Ince is polling only a small share of the vote, opposition supporters hope his withdrawal might be enough to tip Mr Kilicdaroglu over the 50% needed to win the election outright on Sunday.

If no candidate secures 50%, the vote goes to a run-off two weeks later.

Mr Ince, 59, won 30% of the vote for the main opposition Republican People's party five years ago, but he left the party the following year.