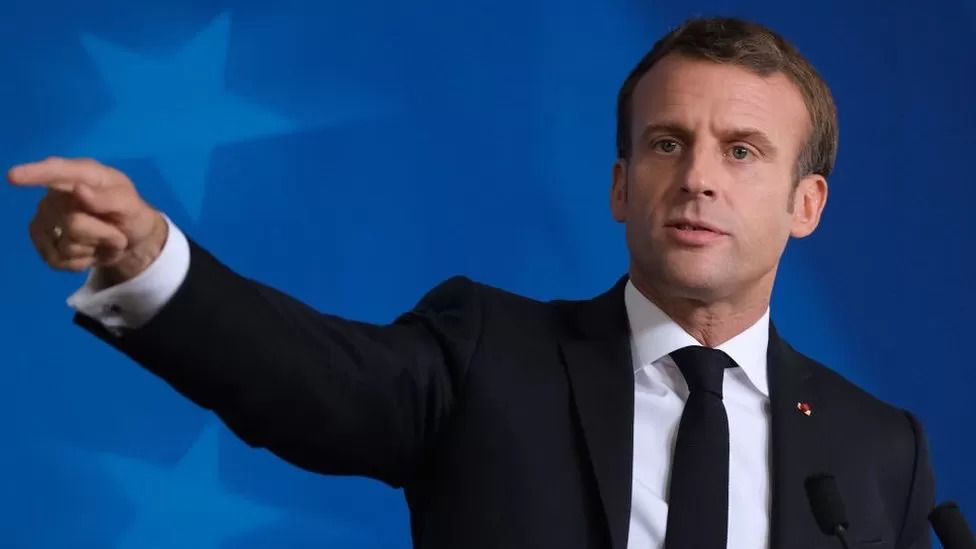 Members of far-right group jailed over Macron attack plot
Three members of a far-right group have been found guilty of plotting to attack French President Emmanuel Macron.
The so-called "Barjols" had chosen a World War One commemoration ceremony which the president was due to attend in November 2018 - where they planned to attack him with a knife.

Their lawyers claimed they were simply bumbling extremists with no clear plan.

But prosecutors said the gang was hoping to violently overthrow the government.

All three were found guilty of conspiring to prepare an act of terrorism.

Jean-Pierre Bouyer, 66, was handed the longest sentence of four years in prison, with one year suspended, far below the 10-year maximum jail term.

Two others were handed shorter prison terms.

A fourth man was given a six-month suspended sentence for possessing a weapon.

All were arrested in the eastern Moselle region. Police found a commando-style knife and an army vest in Bouyer's car and guns were later found at his home.

Nine other members of the group were cleared.

During the trial, the court heard about racist online conversations in which they discussed migration, their fear about civil war, and their hatred of Mr Macron.

In one conversation, a mother of three boasted about her ability to storm the presidential palace with the help of 500 Russian soldiers.

The group were also suspected of plotting attacks against mosques and migrants.

"I was so furious, so angry that I might have said that," one defendant, a 55-year-old woman, told the court when asked about an idea of kidnapping and burning Muslims.

The chief prosecutor called the group an "incubator of violent action", and while some of their views could appear "eccentric", the "threat was real".

But defence lawyers said the group were marginalised people from the countryside, all supporters of the anti-government Yellow Vest movement. One lawyer accepted there was "hatred" expressed by some in the group, but said that it was driven by "social distress".

The group formed in 2017 after jihadist attacks in France, including at the Charlie Hebdo magazine and the Bataclan concert hall in Paris in 2015.