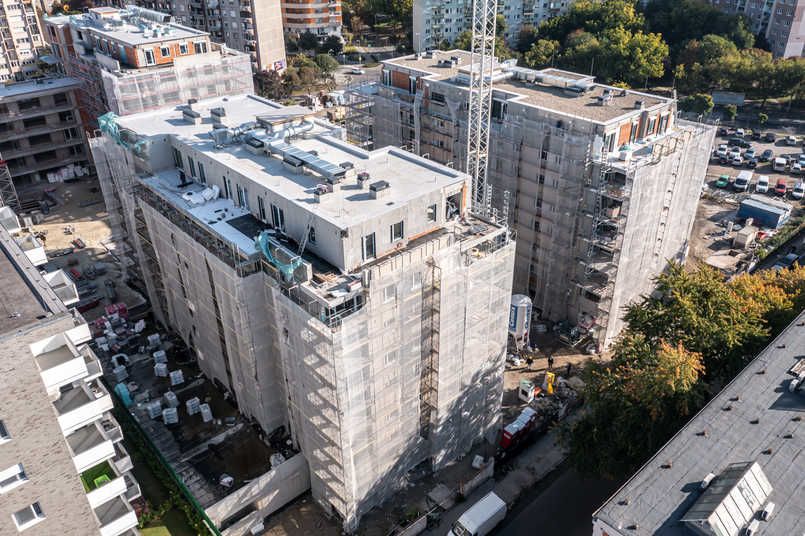 Kassák Passage building structure completed
The structure of Kassák Passage, the second phase of Living's Kassák project, and the continuation of the already completed Kassák Residence complex, is now complete, according to a press release sent to the Budapest Business Journal.
The new phase of the Kassák project will see the construction of 262 apartments in two buildings.Kassák Passage will boast community services and smart home functions. It is expected to be completed in the second half of 2022.

The residential park is situated in a dynamically developing part of District XIII. Klapka utca is located a block away from Váci út and the office corridor there, which is thus just a few minutes away on foot. Budapest's downtown is easily accessible by car, bicycle and public transport.

Work is continuing on the project currently both indoors as well as outdoors. The homes of Kassák Passage have efficient floor plans and outstanding construction standards, with a focus on environmental awareness and energy efficiency. The residential units are nearly zero energy apartments, allowing them to receive a BB energy efficiency rating. The complex, comprising some 700 apartments, will also include its own park, spread out over more than 9,000 sqm, featuring a number of relaxation spots inspired by the paintings of Lajos Kassák, after whom the project is named.

"Following the success of the Kassák Residence project and the popularity of its apartments, it was an easy decision for us to proceed with the development of Kassák Passage, which is currently progressing as planned. At Living, we place great emphasis on providing buyers with high-quality technical standards, and we strive to continuously expand the range of services offered, based on customer needs. This is why we launched our community services, the first of their kind in Hungary, in the first phase of the Kassák project," said János Martin, Living's branch director.