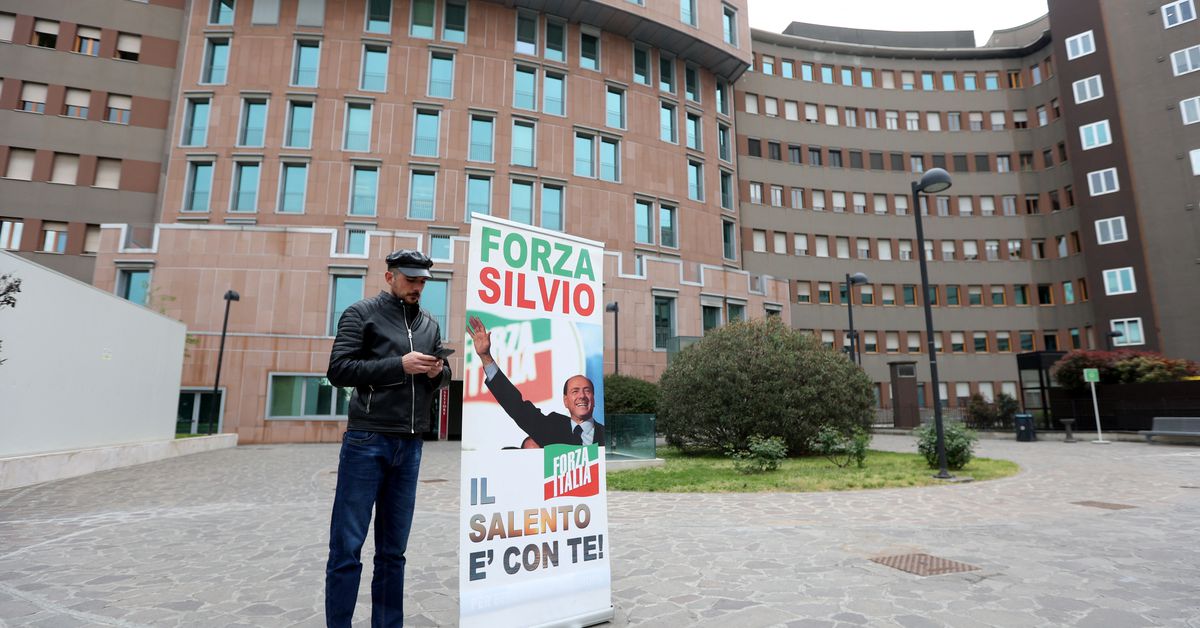 Italy's Berlusconi still in hospital, but "better than he was"
Former Italian Prime Minister Silvio Berlusconi is "better than he was", his friend Fedele Confalonieri said on Friday after visiting him in hospital, where he is being treated for a lung infection caused by chronic leukaemia.
The 86-year-old billionaire media tycoon was rushed to Milan's San Raffaele hospital on Wednesday, triggering speculation that his life might be in danger and drawing a stream of family and friends to his bedside.

His doctors said on Thursday that had been suffering from leukaemia "for some time" and that he had recently developed a pulmonary infection.

Confalonieri, who has worked in Berlusconi's business empire for decades, visited him for a second day running. Asked afterwards if he was optimistic, he replied: "Yes".

All five of Berlusconi's children also went to the hospital in the afternoon to see him. None of them talked to waiting reporters, but his youngest son Luigi gave a thumbs-up as he left the building.

Another friend, the editor of Il Giornale newspaper Augusto Minzolini, wrote on Friday that Berlusconi had reassured him in a phone call that he would recover. "'It´s hard, but I'll pull through once again'," Minzolini quoted him as saying.

Well-wishers have gathered outside the Milan hospital to show their support, including 90-year-old Ruggiero Sutto, who said he was suffering from the same sort of blood cancer.

"These things are normal at a certain age," he told Reuters. "I'm sure he'll make it because he's a strong man, and because he's the best prime minister we've had in Italy. If they were all like him, Italy would have become a great country."

A friend of Berlusconi, Vittorio Sgarbi, said before he went into hospital the two had discussed his future. "There will now be a historic transition. Berlusconi will focus more on his family than on politics," Sgarbi told Rai Radio.

Berlusconi's Forza Italia party is part of Prime Minister Giorgia Meloni's right-wing coalition, although he does not have a direct role in her government.

He has not designated an heir to take his place at the helm of the party and it was far from clear if the group could hold together without his oversight.