Thousands of students, teachers and supporters demonstrated in Hungary's capital for improved pay and working conditions for educators, the latest expression of frustration with the right-wing government's education policy by a growing student movement.
The protest march in Budapest began on a square beside Hungary's parliament and stopped traffic on one of the city's busiest avenues. Demonstrators, made up largely of high school-aged students, called for the repeal of a draft bill that would revoke teachers' status as public employees, and demanded pay raises for educators and a restoration of their right to strike.

Agnes Vlasics, 57, a teacher from Budapest, said she'd considered ending her 30-year career in education over the poor working conditions, and what she sees as a lack of will by the government of nationalist Prime Minister Viktor Orban to meaningfully engage with teachers' concerns.

"This government can't lose. They make a prestige issue out of everything," she said.

"When they impose newer and newer sanctions over our heads using governance by decree ... what can we trust in? Unfortunately, Viktor Orban has lost any connection with reality that he ever had."

Students and teachers have held a series of similar protests over the last several months, and have become the primary voice of dissent in Hungary after a coalition of opposition parties was soundly defeated by Orban's Fidesz party in national elections last year.

Orban's government, often accused of autocratic rule, says it can only carry out a planned series of pay raises for teachers once the European Union releases funds for Hungary that have been frozen over rule-of-law and judicial independence violations.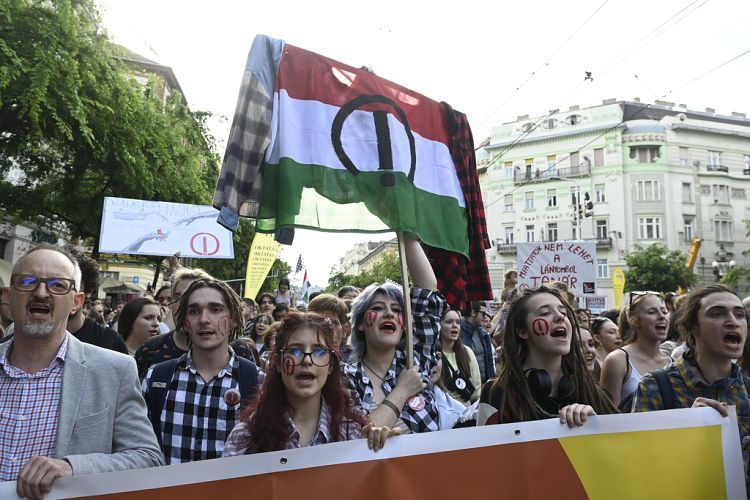 Critics say the government should be able to finance its education system using its own national budget, and that poor pay and working conditions in the field are causing a critical shortage of educators.

Protesters on Friday were present in even higher numbers than a similar demonstration earlier this month, which saw police attempt to break up the crowds of young people using tear gas and, on at least one occasion, rubber batons. Demonstrators chanted, "Tear gas doesn't teach us" in reference to the police response.

Nina Zador, 18, a student in Budapest, said she has noticed some of her peers had given up hope that they can affect change by demonstrating for their teachers, but she had no plans to stop.

"At least I still have a little ray of hope, and it is very important to show that we are standing up for our future," she said.

"Regardless of the fact that we do not see much change so far, it is important to show what we think."