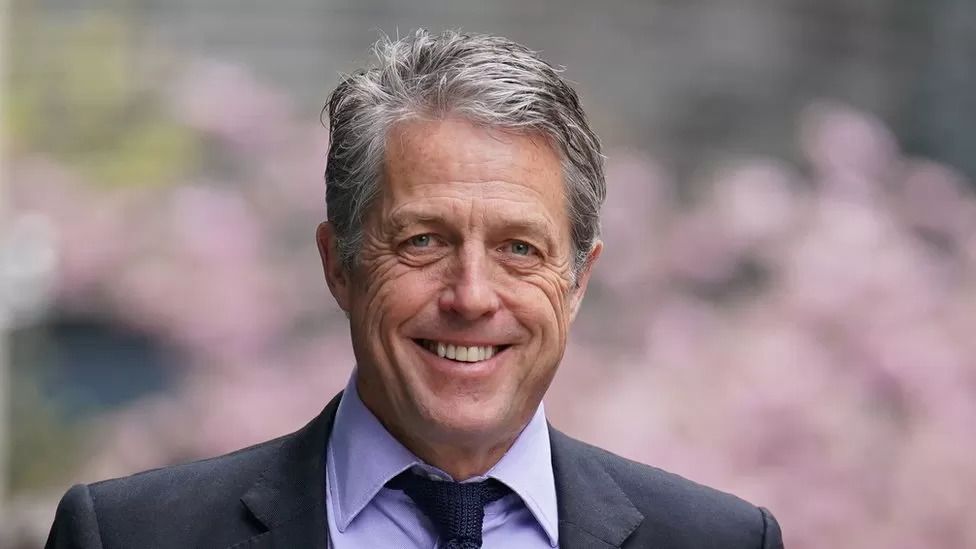 Hugh Grant accuses Sun publisher of 'deliberate false denials'
Hugh Grant says the publisher of The Sun newspaper used a "deliberate policy of false denials" to prevent him suing for breaches of his privacy.
A witness statement from him alleges the paper commissioned private investigators to break into his home and steal his private information.

The actor was at the High Court for legal arguments as News UK attempted to get his case thrown out.

The publisher denies the claims and wants the judge to reject them.

Hugh Grant's statement claims that for years, News UK, as it is now called, lied about its involvement in phone hacking and illegal information gathering.

He said the company had a "vast, long-lasting and deliberate policy strategy plan of false denials and other concealment in relation to The Sun, to prevent me, and others in a similar position, from bringing claims against them."

This included, he said, false denials to the Leveson Inquiry into Press Standards, a press complaints body, and in public statements.

Prince Harry is also suing the publisher of the Sun over alleged unlawful information-gathering.

In recent years, News UK has settled a series of claims about illegal information gathering, without admitting liability.

The question of when victims of press intrusion learnt that they might have a case is crucial to this stage of the legal process because usually civil claims have to be brought within six years.

Many of the "hacking" claims date back much further, and could be dismissed as too old.

Mr Grant said in his statement that he only became fully aware of the intrusions into his personal life last year when a private investigator, Gavin Burrows, told him The Sun had hired private investigators to target him.

"Mr Burrows had information that, in addition to hacking my phone and tapping my landline, he was aware that my premises had been burgled by people working for The Sun and that a tracking device had been placed in my car. I found this astonishing."

Hugh Grant told the Leveson Inquiry in 2011 that his flat had been broken into and that a story shortly afterwards had given details of the inside.

In the statement, he said: "I had no evidence that this burglary was carried out or commissioned on the instruction of the press, let alone The Sun".

He also learned that private investigators specialising in "blagging" medical information by ringing hospitals had also been paid to find out about the birth of his daughter to Tinglan Hong, his former partner.

"Although we did our best to keep this information out of the public domain, we suspected that it was leaked by the hospital to the media", he said.

However the recent disclosures convinced him The Sun had been behind the targeting of his private life.

He said News UK "considered itself above the law and is using the law now in a way I believe it was never intended, that is to further cover-up and conceal what it has done."

"I strongly believe that cannot be allowed to happen and that what it has done must be brought to light."

Mr Justice Fancourt said another legal hearing would be needed in early July before he could deliver his judgement.