From Beyoncé's body suit to red-carpet nude dresses, showing some flesh has long been a surefire way to get talked about. But is it always as basic as that, asks Clare Thorp.
No musician harnesses the power of an image quite like Beyoncé, so when she kicked off her Renaissance world tour this week, the costumes were as highly anticipated as the set-list. From a futuristic beaded Alexander McQueen catsuit and a black and yellow striped Thierry Mugler "Queen Bee" look, complete with matching antennae, to a colour-changing gown by Japanese label Anrealage, they were as striking as expected. But one really stood out – a custom-made Loewe bejewelled bodysuit with strategically placed trompe-l'oeil hands that created the optical illusion of someone hugging – or protecting the modesty of – Beyoncé's bare body.

It isn't the first time the singer has embraced the "naked" look. On the cover for last year's Renaissance album, she sat on a holographic horse in nothing but a few pieces of chrome scavenged by artist Nusi Quero. For the Oscars party she hosted with husband Jay-Z in 2022, she wore a nearly nude – save for a few carefully positioned embellishments – Celia Kritharioti couture gown. In 2015, she wore a scene-stealing bejewelled naked Givenchy gown to the Met Gala. Beyoncé pushing boundaries, and shedding clothes – or appearing to – on stage is nothing new, but the response to her catsuit shows that nakedness, or even the suggestion of it, still has the power to grab attention.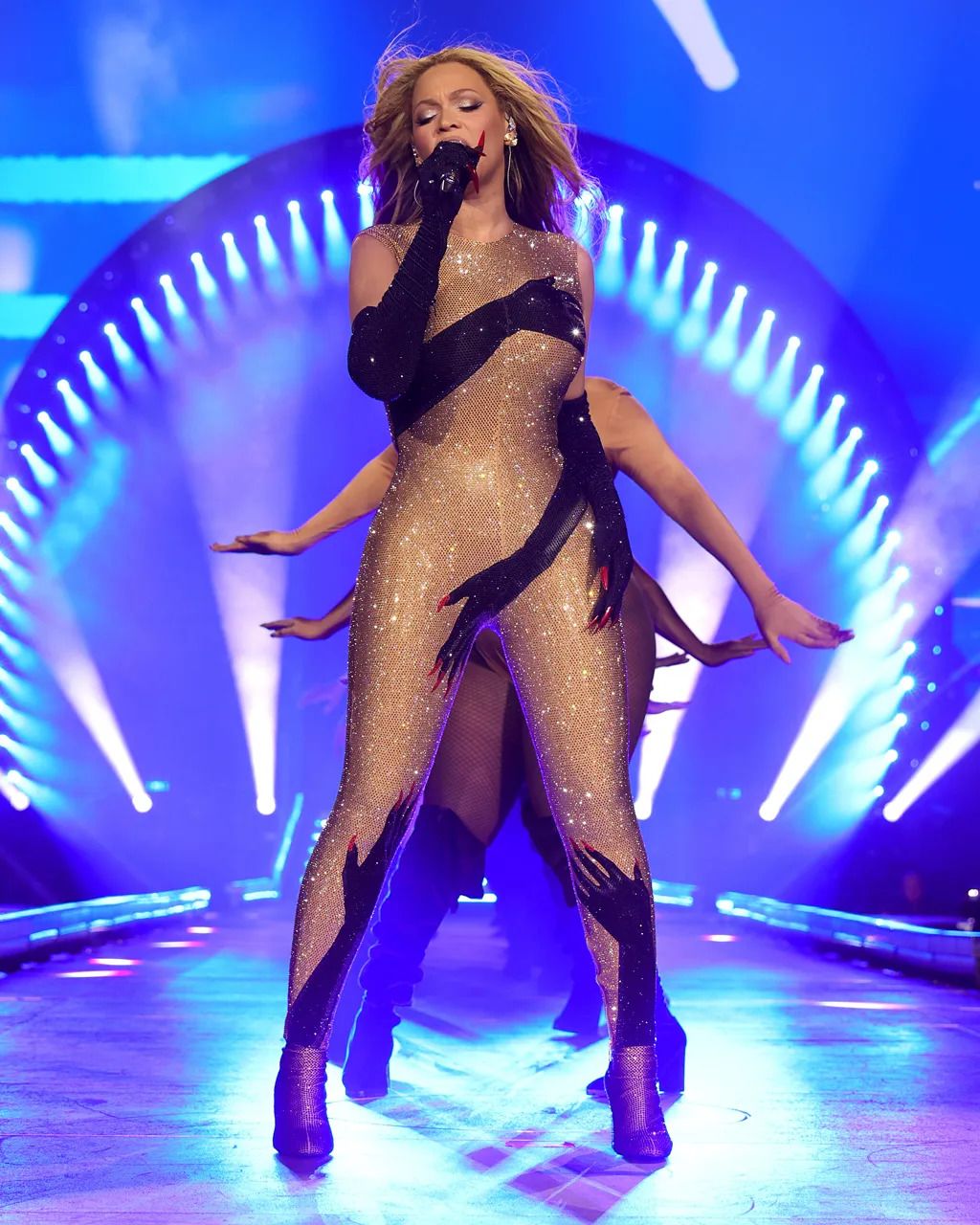 The optical illusion of nudity created by Beyoncé's bejewelled bodysuit has been a recent talking point

Take Janelle Monáe who, a few weeks after wearing a structured sheer dress over a sparkly bikini to the Met Gala, went even further by going completely topless in the video for her new single Lipstick Lover – promptly sending the internet into meltdown.

Going naked as part of a performance is one thing, but the amount of flesh on show on the red carpet has been trending upwards for a while now, too. At this year's Oscars, the look ran the gauntlet from romantic tulle and blinged-up fishnet to strategically placed PVC and leather, while at the Met Gala afterparties, Kendall Jenner, Gigi Hadid, Olivia Wilde and Emily Ratajkowski competed for the most risqué look in a selection of sheer slips, see-through bodices and underwear-as-outerwear. At Paris Fashion week, Florence Pugh put her own twist on the look, wearing a sheer Valentino maxi-skirt over a thong, paired with a casual sweatshirt.

For decades, showing some flesh has been a surefire way to get your outfit – and you – talked about. But is it always as basic as that, or is there something more at play? Especially when artists like Beyoncé, who don't need to resort to shock tactics to get attention, are all in on naked dressing, too.

The term "naked dress" first entered the lexicon in the 1930s, explains fashion historian Kimberly Chrisman-Campbell, who has a chapter dedicated to the naked dress in her most recent book, Skirts: Fashioning Modern Femininity in the 20th Century. "In the 1930s, the term was used to describe a strapless dress, because they looked so bare to people then," she tells BBC Culture.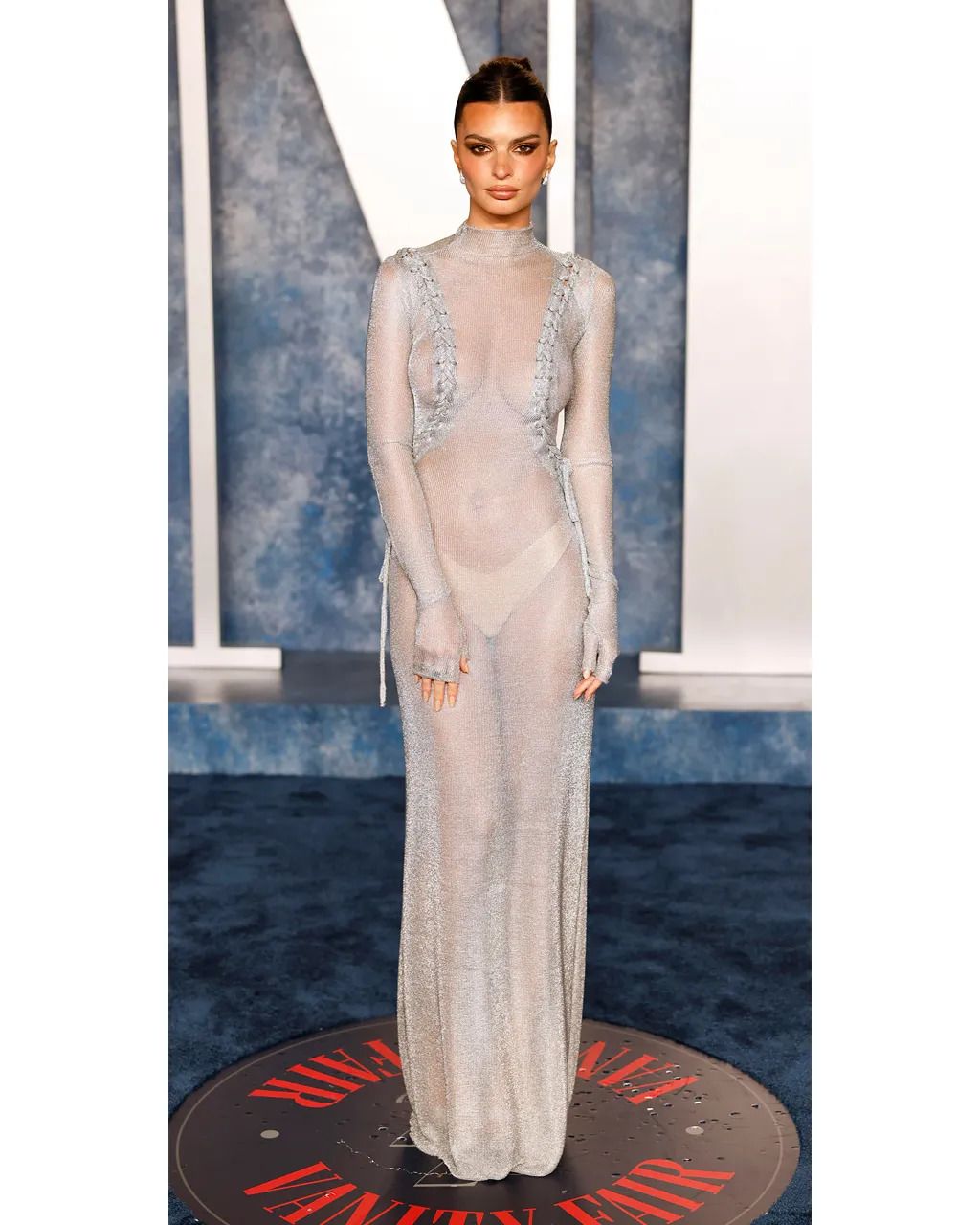 Emily Ratajkowski was among several of this year's Oscars attendees who wore a risqué "naked dress"

By the middle of the century, cabaret performers and actresses were pushing the boundaries further, with Marlene Dietrich wearing daring stage costumes that gave an impression of nudity. Then, in 1962, the naked dress went mainstream when Marilyn Monroe wore a rhinestone encrusted, flesh-coloured dress that clung tightly to her body to sing Happy Birthday to President Kennedy. "That's maybe what we would think of as a naked dress now but it wasn't called that then, it was called an 'illusion dress', because it gave the illusion of nudity," says Chrisman-Campbell.

It showed the power of such a dress to grab attention, and other stars followed suit. "People like Dietrich and Marilyn Monroe, they were really trying to capture the spotlight and the dresses were designed so that when they were in the actual spotlight, the fabric would sort of vanish and it was like they were just wearing sequins or lace or embroidery, even though that wasn't the case. It was a great way of saying 'look at me', because people really had to look hard to figure out what was going on with that dress."


It remains a great way to get eyeballs and get photographed, but it can be much more than that, too – Kimberly Chrisman-Campbell

Bob Mackie, the young designer who first sketched out the idea for Marilyn's dress, later started working with Cher. In 1974, she wore a feathered see-through dress by Mackie to the Met. "It caused a lot of hullabaloo." Mackie said. But it didn't deter Cher, who continued to wear body-baring outfits to high-profile events like the Oscars throughout the 1980s.

Sometimes, a celebrity denies any prior knowledge that their dress was "naked". Jane Birkin told Vogue she had no idea the see-through sweater dress she wore to the 1969 premiere of Slogan was so transparent. Likewise Kate Moss – whose sheer slip worn to a model agency party in 1993 remains one of the most iconic and influential examples of the naked dress – blames the photographer's lightbulbs, insisting she had no idea it was that revealing.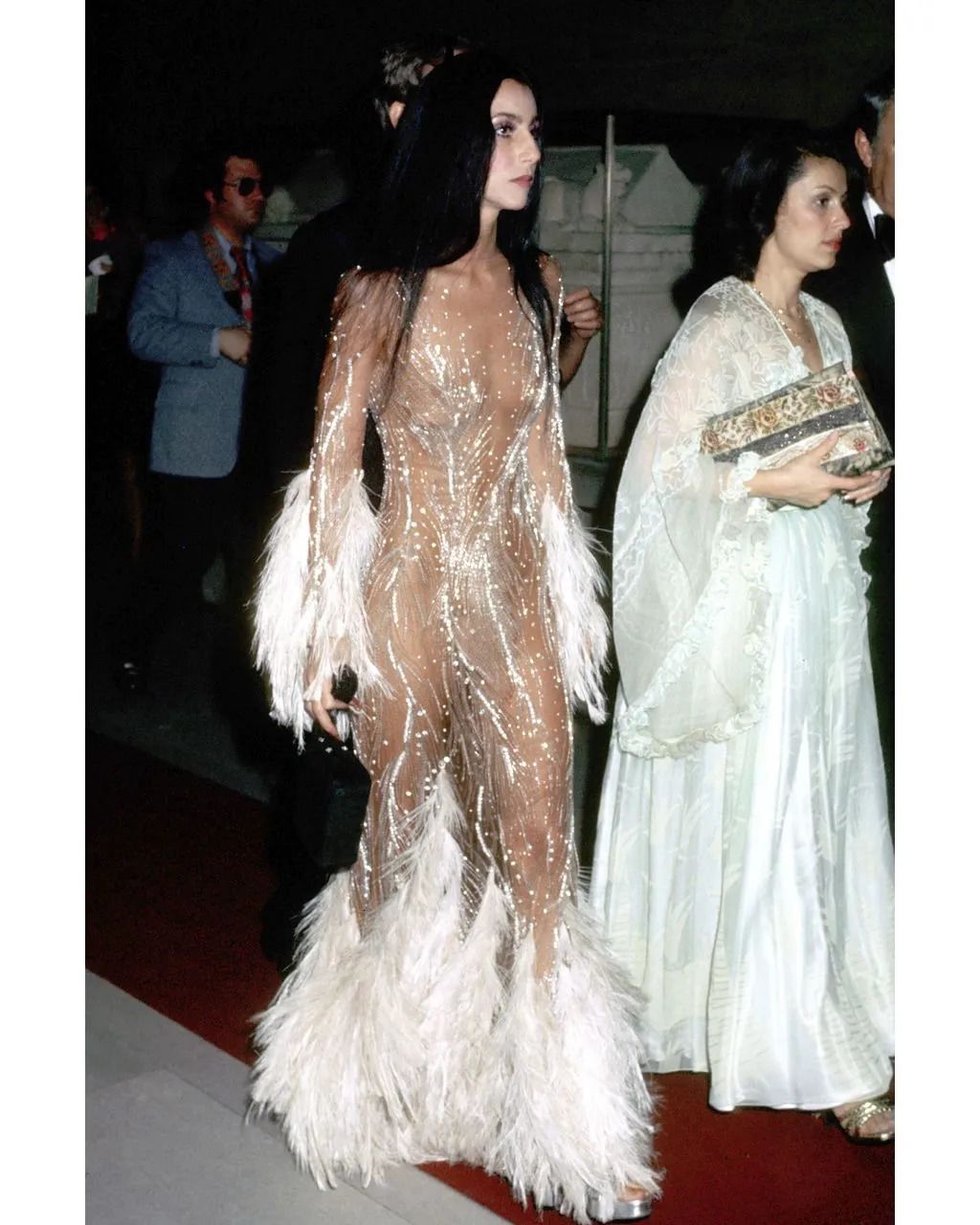 In 1974, Cher wore a stunning, feathered, see-through dress by Bob Mackie to the Met, causing a "hullabaloo", as the designer put it

Over the years, "naked dress" has been somewhat of a catch-all term for an outfit that associates itself with nudity – whether through clever illusion, by using sheer fabric, or by a lack of material altogether, such as Jennifer Lopez's slashed-to-the-navel Versace gown at the 2000 Grammys, which caused such a frenzy it inadvertently led to the creation of Google Images. Today, Chrisman-Campbell says the term is most commonly used to describe something with "sheer, skin-coloured fabrics, maybe some lace or sequins, anything where you really have to look twice to see if the person is showing any body parts."

Despite it being nothing we haven't already seen before, flashing some – or rather, a lot of – flesh on the red carpet remains a powerful way to command attention. Rihanna isn't short on dramatic fashion moments, but the bottom-baring, nipple-revealing fishnet gown – coated in more than 200,000 Swarovski crystals – she wore to accept her Fashion Icon award at the 2014 CFDA gala remains her most daring, and probably her most dissected. "It remains a great way to get eyeballs and get photographed," says Chrisman-Campbell. "But it can be much more than that, too."


Power undressing

She argues that the naked dress can be a powerful tool for subverting beauty norms. "A lot of celebrities and influencers have been wearing [naked dresses] to highlight their shape or their skin in a way that has traditionally not been seen on the red carpet," she says. "Lizzo for example, wears naked dresses to show that she's proud of her body, even though it's not Size 2. A lot of black celebrities have worn naked dresses to highlight their skin colour, because it's not something that has always been welcomed, for example, at the Oscars." She points to Halle Berry's 2002 Ellie Saab Oscar dress, which had a sheer mesh bodice covered with floral embroidery. "It was so sexy and so revealing, but she was also calling attention to the fact she has black skin and she was the first African-American woman to win best actress. When the dress went on display at the Academy Museum of Motion Pictures earlier this year, Berry said she was happy it would be "accessible to generations of people for whom the dress also holds meaning and forever be a reminder that all things are possible."

Chrisman-Campbell also points to Winnie Harlow, whose predilection for revealing dresses highlights her rare skin condition, vitiligo. "She really uses her body as a work of art to say, this isn't something to be ashamed of, this is something to be proud of and to show off."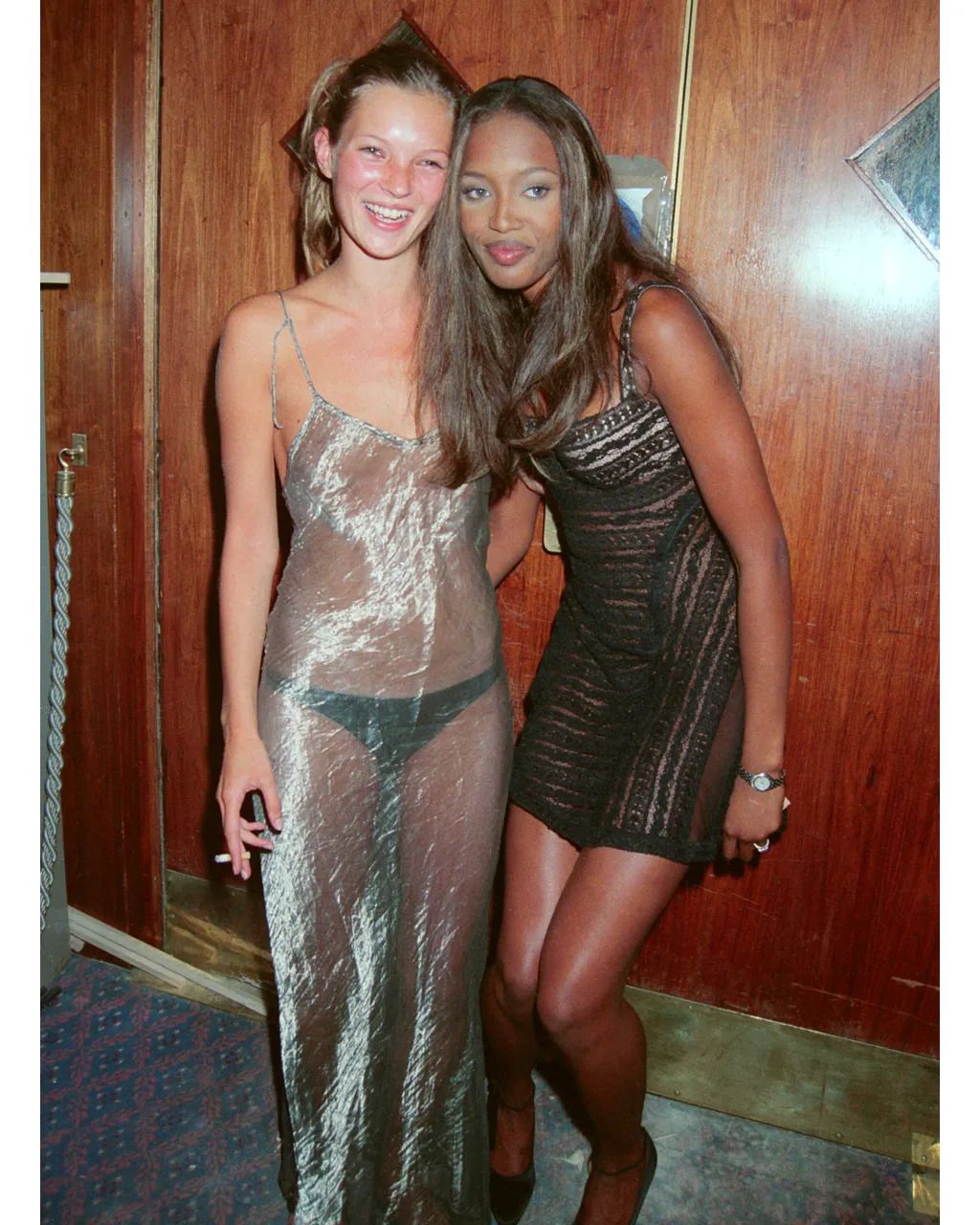 Kate Moss, pictured here with Naomi Campbell, wore a sheer slip dress to a 1993 party – she later said she had no idea how revealing it was

Despite these examples, Caroline Stevenson, programme director of fashion studies and cultural and historical studies at the London College of Fashion, says the naked look still predominantly celebrates an idealised body – and anyone who falls outside of that can expect to be pulled apart for their choices. "Take Florence Pugh's pink see-through Valentino dress that she wore in 2022 and the absurd backlash she received from men who openly criticised her for her seemingly small breasts and curves," says Stevenson. Pugh hit back at criticism, writing in an Instagram post: "What's been interesting to watch and witness is just how easy it is for men to totally destroy a woman's body, publicly, proudly, for everyone to see", with the hashtag #freethenipple.


It's no surprise that designers and celebrities would seize this moment to present the female body as a bold symbol of empowerment – Caroline Stevenson

Zoe Kravitz also responded to trolls who questioned the revealing Saint Laurent crystal mesh dress she wore to the 2021 Met Gala, saying: "Being uncomfortable with the human body is colonisation / brainwashing. It's just a body. We all got em." In contrast, it's notable that when male stars like Iggy Pop go semi-naked in public, it's usually seen as part of the rock-star charm.

For some women, wearing the dress in the first place is an act of defiance. Rose McGowan's 1998 MTV Awards outfit – a completely sheer beaded dress paired with just a thong – was one of the most talked about red carpet moments of that decade. It's only more recently that McGowan – one of the first women to accuse Harvey Weinstein of rape – revealed her reason for wearing it, explaining that it was "a reclamation of my own body after my assault". In a piece for Vogue Scandinavia, Swedish Eurovision winner Loreen – who's a favourite to win the competition again this year – also made the case for the naked dress as a way to push back against the male gaze.

It could well be this sense of rebellion that's driving the amount of flesh on show right now. "At present, female bodies are, once again, at the centre of a political battleground through the erosion of reproductive rights and the #metoo movement," says Caroline Stevenson. "It's therefore no surprise that designers and celebrities would seize this moment to present the female body as a bold symbol of empowerment."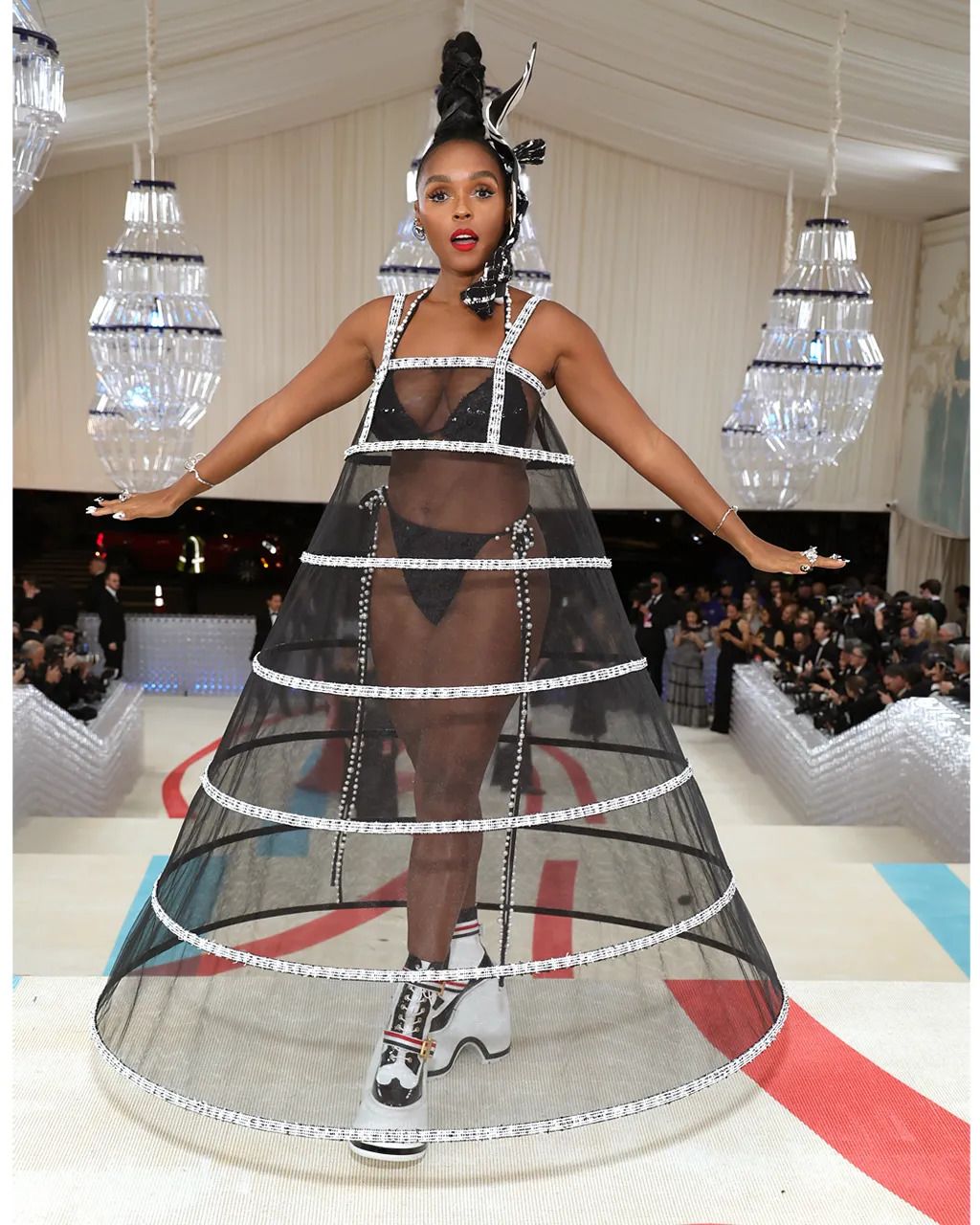 Janelle Monáe's structured sheer dress over a sparkly bikini, worn to the Met Gala, created an empowered look

While the naked dress can still function as a shortcut to grabbing attention, Chrisman-Campbell thinks the current trend is driven more by subversive style rather than straight-out shock. "There's this sense of 'we've seen it all and is it even shocking to wear a naked dress or does it look kind of desperate for attention', and there might be some truth in that, but I think women and designers are doing very interesting and innovative things with the generic label of the 'naked dress' that can mean so many different things. People are playing with the idea of how to wear it in a way that that's in line with a maximalist fashion trend, and it's been really interesting to see what people come up with."

At their most powerful, what "naked" outfits really reveal, more than any amount of skin, is an extreme level of confidence. Or, as with Beyoncé, a radical form of both self-acceptance and self-expression. " Beyoncé's illusion bodysuit by Loewe is nothing short of empowering, with its gloved hands and red nails winding around her body," says Stevenson. "The embracing arms seem here to represent self-love, protection and adoration, rather than objectification." And if it just happens to get plastered all over social media, well surely that's just a happy coincidence.