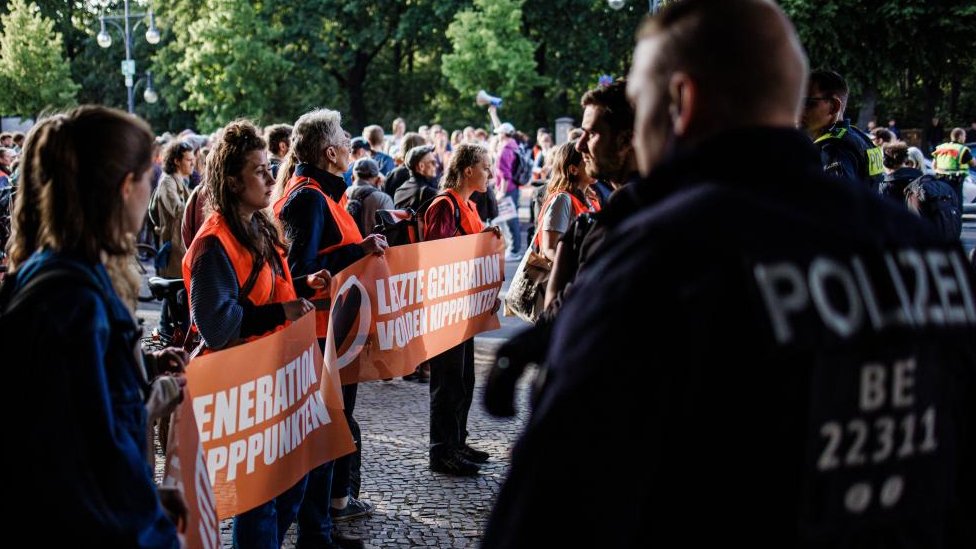 Climate Activism in Germany: The Fine Line Between Peaceful Protest and Criminal Activity
The ongoing climate protests in Germany have sparked a debate about the line between peaceful protest and criminal activity.
The police raids on the homes of environmental activists, known as Last Generation, have been criticized by both conservative politicians and left-wing politicians and voters.

Some argue that the protesters' methods are disruptive and harmful, while others say that they are using nonviolent civil disobedience to bring attention to the climate crisis.

The debate has also been influenced by the UK's treatment of activists from the group Just Stop Oil, who have staged similar protests in Germany.

In Germany, the right to protest is protected by the constitution, and activists who block roads typically receive fines, but in March, two Last Generation activists were sentenced to prison, sparking outrage among civil rights campaigners.

The recent police raids have further intensified the debate.

Germany has ambitious legally binding climate targets and concrete policies to reach them, but the country is also heavily reliant on the auto industry.

Political debates over pedestrianization and other transportation issues can be contentious, with the recent Berlin regional election being fought over the issue.

There are conflicts between the Green party and the pro-car liberal party, the FDP, with the latter viewing driving a Porsche without a speed limit as a fundamental right.

Social Democrat Chancellor Olaf Scholz described the actions of "Last Generation" as "completely crazy," highlighting the cultural divide over the role of the car in German society.

The issue is further complicated by the fact that the car is at the heart of Germany's culture wars, with extremes appearing to be getting more radical.

No wonder blocking a road can get heated.