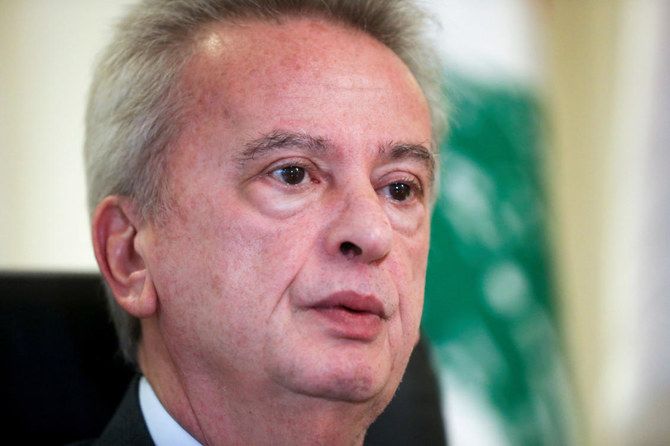 French prosecutors accuse Lebanon central bank chief of hiding fraud
French prosecutors have told Lebanon's central bank governor Riad Salameh they plan to press preliminary fraud and money laundering charges against him, partly based on allegedly forged bank statements used to conceal his wealth, according to French court documents seen by Reuters.
The accusation of using fake account statements, which had not previously been reported, is contained in documents sent to Salameh by French judicial authorities ahead of a planned hearing in France on May 16.

During that hearing, French prosecutors intend to press the preliminary charges and formally name him a suspect.

Salameh declined to comment on his alleged use of fake documents. He has repeatedly denied accusations of fraud and money laundering, saying he is being made a scapegoat for Lebanon's financial crisis that erupted in 2019.

A lawyer for Salameh said earlier this month that his client had not yet decided if he would travel to France to attend the May 16 hearing.

As part of a joint investigation with counterparts in Lebanon and at least four other European countries, French prosecutors suspect Salameh, 72, colluded with his brother Raja to divert more than $300 million in public funds, some of which was used to buy properties across Europe.

Riad and Raja Salameh have denied diverting public funds.

French and other European investigators, who questioned Salameh in Beirut last month, suspect the bulk of the governor's fortune stems from the public funds he allegedly diverted.

As part of his response to accusations, Salameh sent French prosecutors a 65-page memo supplied by Marwan Kheireddine, the chairman of Lebanon's AM Bank.

The document seen by Reuters contains series of bank statements which, according to one of Salameh's lawyers, show how the governor's savings rose from $15 million in 1993 to more than $150 million by 2019 "as he capitalized interests."

But according to the French court documents seen by Reuters, French investigators have reached the conclusion the bank statements were fake.

Salameh "used fake records of bank accounts at AM Bank… provided by Marwan Kheireddine, to justify in a deceitful manner the origin of his properties or revenues," French prosecutors say in the court documents.

Kheireddine's lawyer, Thierry Marembert, said his client denied wrongdoing.

Following Salameh's questioning in Beirut, French prosecutors wrote that "Riad Salameh is not able to justify the different loans and investments that allowed him to increase his wealth by more than 250 million euros (at a minimum) during this period," according to the French court documents.

Salameh has said his fortune came from the sound management of savings he amassed during his career as an investment banker.

Kheireddine was questioned in France earlier this month on suspicion of participation in a criminal association and aggravated money laundering. The banker was told not to leave the country and his passport was confiscated.