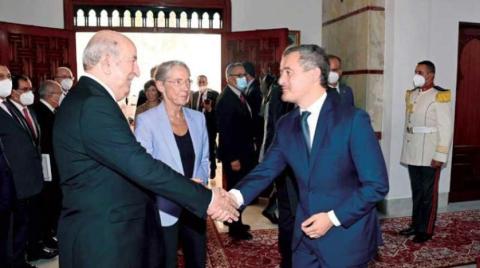 French Interior Minister Visits Algeria to Resolve Visa, Illegal Immigration Crisis
French Minister of the Interior Gerald Darmanin will conclude on Sunday a three-day visit to Algeria at the invitation of his Algerian counterpart Brahim Merad.
Dermanin held talks with relevant Algerian authorities and discussed efforts to combat terrorism, illegal immigration, and the highly disputable visa issue.

According to Algerian political sources, the visit aims to settle two related disputes: the crisis of Algerian immigrants residing in France illegally and France's decision to reduce by 50% the number of visas granted to Algeria.

They said the visit also indicates that both countries are willing to compromise and reach a settlement on the disputed issues.

Algeria probably does not mind that its consulate in France issues licenses to allow the deportation of illegal migrants, but it refuses to issue 7,000 licenses as requested by Darmanin.

Also, Algeria is keen to know the "real nationality" of the immigrants France wants to deport to Algeria. Algeria proposed reviewing the cases individually.

In September 2021, Dermanin said that the Algerian consulate in France refuses to issue permits to expel more than 7,000 Algerian immigrants, hinting they included extremists who threaten France's security.

However, Algeria's President Abdelmadjid Tebboune later responded by affirming that the figure is a "lie." He noted that Algiers received 94 deportation requests, of which 21 were approved.

In response, France announced reducing the number of visas granted to citizens of Algeria, Morocco, and Tunisia to protest over these countries' refusal to facilitate the return of their nationals residing illegally in the country.

In October 2022, French Prime Minister Elisabeth Borne announced dialogue with the Algerian authorities to make cooperation in the migration issue more effective, noting that strengthening legal immigration and thwarting illegal ones is mutually beneficial for both countries.

Regarding the issue of visas which angered Algerians after Paris reduced their quota to half last year, Borne said that the issuance of a permit to enter France is a "sovereign act," adding that her country wants it to be a more constructive process focusing on selective immigration, for students, entrepreneurs, political officials, researchers, cultural actors, and athletes.