The UK's health system is buckling under the weight of staff shortages and a lack of beds. In France, meanwhile, there are more doctors and many more nurses, yet its healthcare system is still in crisis.
President Emmanuel Macron has promised to change the way its hospitals are funded, and to free doctors from time-consuming administration, in a bid to break what he called a "sense of endless crisis" in its health service.

A series of eye-catching measures over the past few years - such as signing-up bonuses of €50,000 (£44,000) for GPs in under-served areas, and ending a cap on the number of medical students in France - have failed to plug healthcare gaps.

The pressure on both hospitals and GPs has continued to mount with a triple-whammy of winter illnesses, leading medical staff to nickname this month "Black January".

After years of Covid, and with inflation biting, many say chronic staff shortages and increasing demands are making their work impossible and threatening the French health system.

Some hospitals are reporting up to 90% of their staff on "sick leave protest" at the conditions.

And France's second-largest health union has called an "unlimited walkout" this week, following a fortnight of strikes by French GPs.

Julia Venturini, eight years into her medical degree, joined a rally of GPs in Paris last week.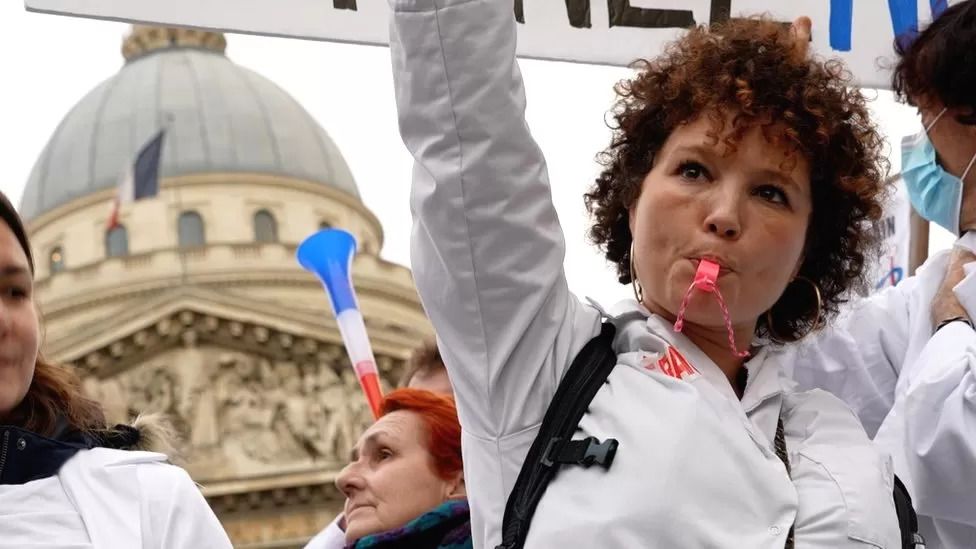 Many GPs in France say increasing demands are making their work impossible
"I made this choice [to be a GP] but now I have a lot of questions about my future," she tells me.
"We're all in the same boat, and the boat is now like the Titanic. When the emergency services go down, the GPs go down, and the hospitals go down - the health system in France is really cracking."
Julia says she and many of her classmates are considering whether to quit the profession entirely, or to try to work abroad.
"I'm worried as a future doctor, but I'm worried as a patient too," she says.
I ask her whether she would rather be a patient in France or in the UK.
"Ten years ago, I'd have said France," she replies. "But now in France, it's so complicated, and if you have money in the UK, you can get care. So, I think I'd rather be rich in the UK, and have good care [there]."
The causes of France's healthcare crisis are complex, but the long-term pressure of an aging population alongside a shortage of medical staff was brought starkly into focus by the
Covid
pandemic.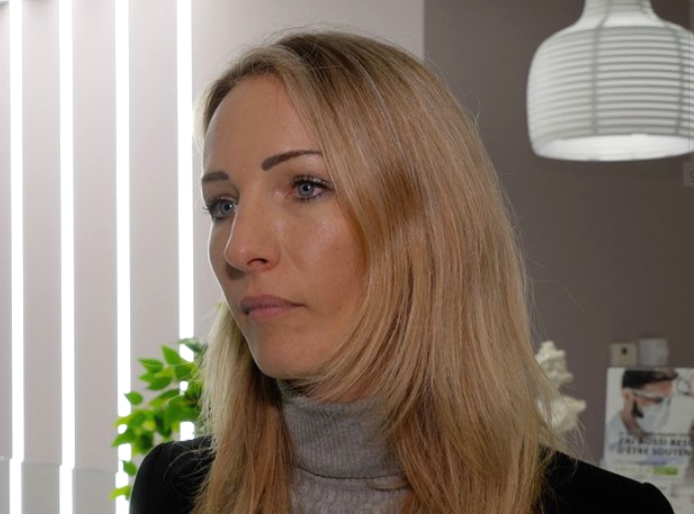 "We are in a very worrying phase where we regularly alert emergency services [about] people who call saying they are going to commit suicide"
Pauline Dubar
Works for a helpline for medical staff

France has more doctors per head of population than the UK, and many more nurses.

But according to the World Health Organization, almost half of French doctors are above the age of 55 and approaching retirement. In the UK, that figure is around 15%.

Many younger medics are put off by the growing professional and financial pressures, which are also taking their toll on a workforce exhausted by Covid.

Pauline Dubar works for a medical helpline, set up to help staff cracking under the strain. She says calls have more than tripled since the Covid pandemic began.

"At the start [of Covid], people were afraid of the unknown, then a weariness set in," she says. "And today we are in a very worrying phase where we regularly alert emergency services for people who call saying they are going to commit suicide."

The National Order of Nurses estimates that 40% of working nurses want to leave the profession, despite the government allocating an extra €12bn (£10.5bn) a year for hospital workers' salaries.

"The salaries are a little higher than before," Pauline tells me. "But for a decent salary, you have to work nights and weekends, and that ends up exhausting people in the long term."

Pauline says fewer people are willing to work those kinds of hours now, especially when inflation is cutting into wages, and staff shortages mean more stressful shifts - a vicious cycle.

She describes being put in charge of 30 patients herself, as an overnight nurse. And says the lack of minimum staffing numbers outside intensive care units is putting patients and staff in danger.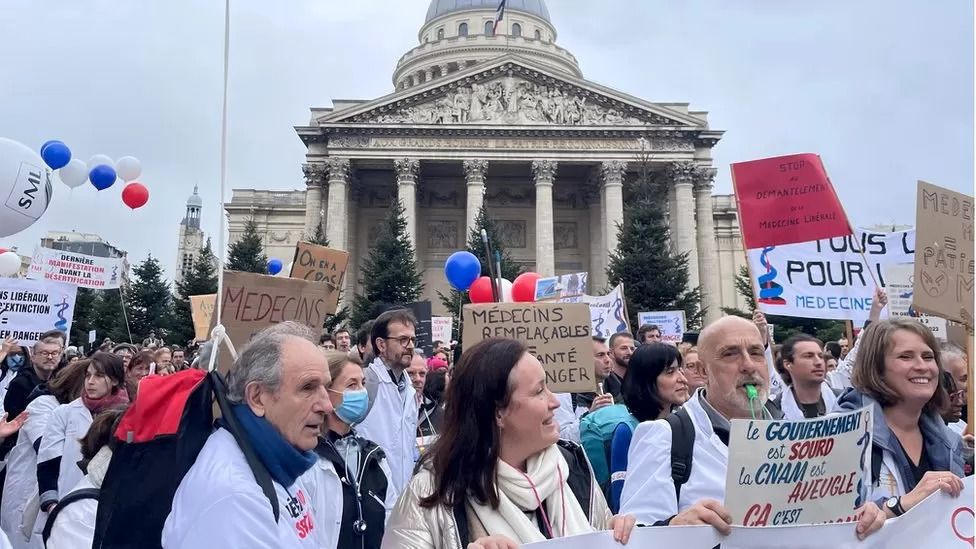 As well as street demonstrations, hospitals are reporting up to 90% of their staff taking sick leave in protest

President Macron's promise to change the way hospitals are funded is designed to ease some of the pressure on staff.

Like in the UK, French hospitals are partly funded according to the procedures they carry out, creating an incentive to carry out as many high-paying procedures as possible.

Mr Macron says he wants to shift to a funding model based on jointly agreed health objectives, though it's not clear yet exactly how that would work.

And it doesn't solve the problems faced by GPs.

"I work 60 hours a week," says Patricia Lanco-Saint-Guily, a GP in Toulouse who was out on strike last week. "If I worked less, I couldn't live. We are upset and tired. I'm 52 years old, and I want to change job."

The vast majority of GPs in France operate as individual private practices, with 70% of each consultation reimbursed to patients by the French state.

GPs want a doubling of the consultation fee from €25 to €50. The government has said it is willing to look at an increase, but not one this big.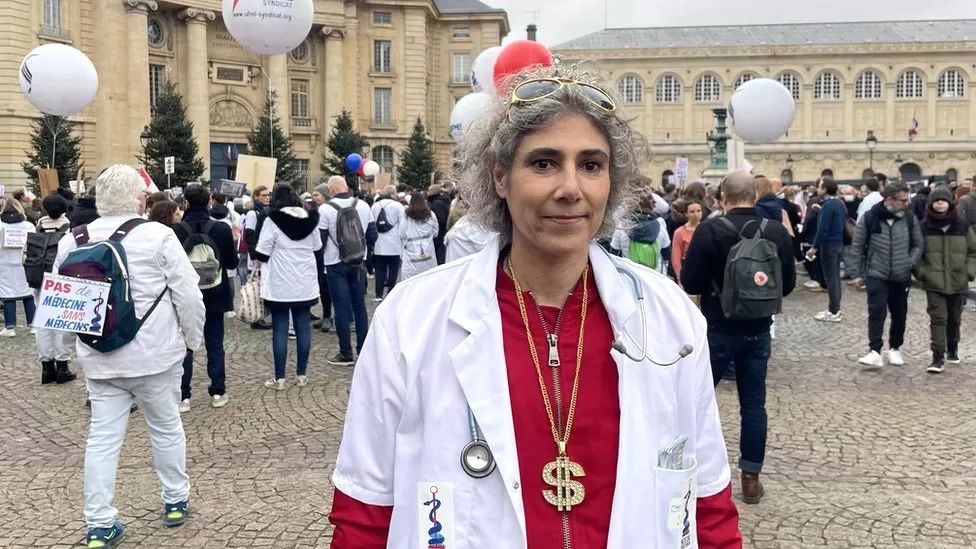 GP Patricia Lanco-Saint-Guily says she and her colleagues have been left upset and tired

Some GPs are drifting away from the profession, or looking for the rarer, salaried positions in clinics or hospitals, where they are freed from endless paperwork and work limited hours - further reducing the number of GPs available for late night and weekend appointments.

President Macron has promised to recruit more medical assistants, and delegate some tasks to pharmacists and nurses, in order to free up more consultation time for GPs.

But none of this will directly tackle one of the country's biggest healthcare problems: large swathes of rural and suburban France known as "medical deserts", without access to a doctor at all.

The French government has resorted to offering €50,000 signing-up bonuses for GPs who commit to the most under-served areas for five years.

And the National Assembly has just passed a new law, requiring all fourth-year medical students to complete a year's internship in a so-called medical desert.

But some desperate local authorities are opting for their own solutions.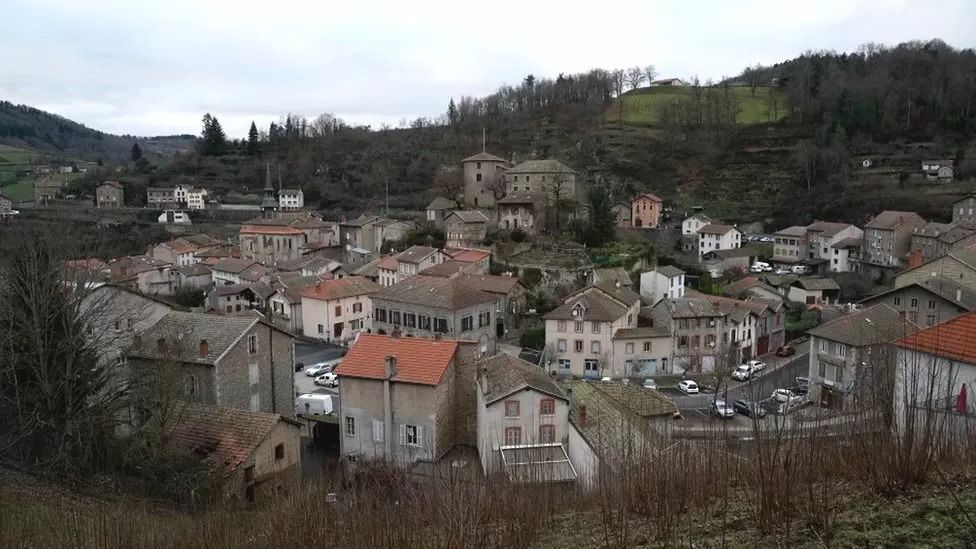 The town of Olliergues, two hours' drive outside Lyon, had been without a GP for five years

The road into the village of Olliergues, two hours' drive outside Lyon, winds through the foothills of the Massif Central to a picturesque basin of old stone houses, overlooked by a small château.

A large banner, bright blue against the old stone walls, greets all entrants to the village: advertising vacancies for GPs to work at the new clinic here.

"We haven't had a GP since 2018," Mayor Arnaud Provenchère tells me. "We tried recruiting one, but we simply didn't get any candidates. No-one wanted to come. GPs are afraid of arriving here alone and being submerged by the demand."

GPs working on a per-consultation basis, as the majority do, say rising inflation and growing paperwork forces them to work very long hours. In a medical desert, those pressures exist alongside acute demand, very little medical support, and limited public services.

Fed up with the situation, Mayor Provenchère decided to solve the problem by offering GPs a local government contract, with set working hours, a regular salary and a medical assistant.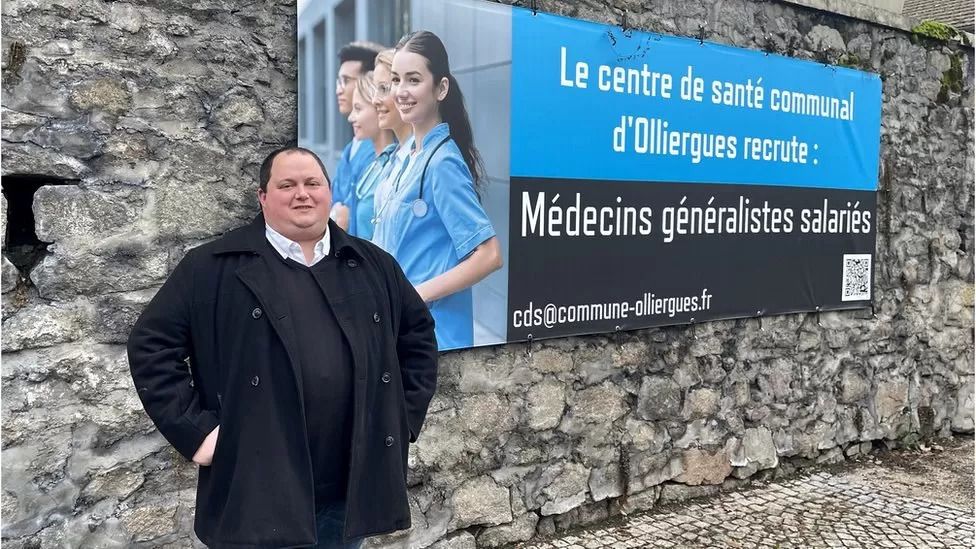 Mayor of the village of Olliergues, Arnaud Provenchère, says GPs were afraid of being inundated with patients

It's put a €40,000-a-year hole in the local finances. And it worked: Céline Preux began work here last week.

"There were some appointments that really moved me," she says. "Fragile people, in situations they should not be in. Some are almost in danger: they stopped their thyroid treatment a long time ago, or they're at risk of acute cardiac events, because they're not well cared for."

Céline works two days a week at a hospital and says she regularly sees the overflow from medical deserts in the emergency department there.

"We see patients come in because they don't have a GP. These are patients that are hospitalised for many days, sometimes weeks, when they could have had a stabilising treatment."

Guillaume Garot is a Socialist MP leading a cross-party bill to tackle the problem of medical deserts.

"Eight million French people live in a medical desert, and six million don't have an attending doctor," he says. "It takes six months, on average, to find an appointment in my department of Mayenne; in Paris it takes two hours."

The short-term solution, he believes, is for the government to control where new doctors can practice - channelling them towards areas that aren't already covered.

"[But] the real solution is allowing a generation of young people from working-class backgrounds and rural areas to become doctors," he says. "Because having grown up in these territories, they will have less difficulty in returning to practice there."

President Macron has promised that 600,000 chronically-ill patients currently living in France without a doctor will have access to one - or to a treatment team - by the end of this year.

But the loss of medics, whether from hospital wards or places like Olliergues, is France's most pressing health problem, and it won't be easy to cure.