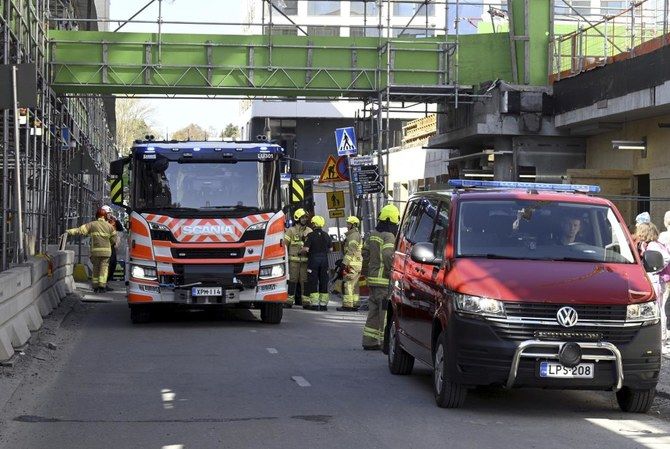 Finnish footbridge collapse injures 27, mostly children
Some 27 young people, mostly children, were injured in Finland on Thursday when they fell five meters onto a road after a temporary footbridge near a construction site collapsed.
The accident occurred at around 9:20 am (0620 GMT) in Espoo, near the capital, Helsinki, when wooden planks gave way and the group landed on the carriageway of a small side road.

Most of the injured were eighth-year pupils aged around 14 or 15, who were on a school field trip to an art museum, city officials said. Their teacher was among the injured.

"We did not have to rescue anyone from immediate danger," Kalle Ristola, fire chief at Western Uusimaa Rescue Department, told reporters.

"I saw the bridge was no longer up and many people (were) on the ground," Jaakko Markkula, who lives on the fifth floor of a building near the accident site, told AFP.

The first of the 14 ambulances sent arrived at the scene in less than five minutes.

Twenty-four people were taken to various hospitals in the Helsinki region.

"No one has life-threatening injuries," Helsinki's hospital service HUS said, adding that the majority had limb fractures.

"There has been no indication of any risk of paralysis but there are some head injuries involved as well," HUS medical director Eero Hirvensalo told reporters.

An AFP reporter at the scene said the sides of the footbridge were intact but there was a gaping hole across half of it, with a pile of wooden planks in a jumble under one end.

Rescue workers could be seen treating multiple people lying on the road shortly after the accident.

The cause of the collapse has not been confirmed and is being investigated, the Espoo city authorities said.

Jyrki Kallio, detective inspector at the Western Uusimaa Police Department, said they were looking into the potential crime of causing danger and injury.

The head of the Helsinki city education department, Satu Jarvenkallas, told AFP the injured were pupils from the Kalasatama comprehensive school in the capital.

"They were on a normal field trip to the Emma Art Museum," she said.

A crisis team has been set up at the school, she added.

The city of Espoo said weekly inspections had been conducted on the structure, most recently on May 5.

Jarno Tuuri, the contractor whose company built the bridge, told the Iltalehti daily "nothing out of the usual was observed" during weekly checks.

"The situation is of course very bad. We're now checking all the structures and making the necessary additional reinforcements," he said.

"We're assisting the authorities in every way we can," he added.

Espoo mayor Jukka Makela, expressed his "regrets," adding: "This simply should not happen."

"Shocking news from Espoo. Our strength to those injured in the accident and their loved ones. You are in our thoughts," Prime Minister Sanna Marin said on Twitter.