Historic launch ends in an explosion high in the atmosphere as booster rocket fails to separate
Elon Musk's SpaceX Starship - the biggest and most powerful space rocket ever developed - has exploded minutes after blasting off.

The launch, which took place from SpaceX's Starbase in the US state of Texas, came after a stuck valve forced a launch attempt on Monday to be aborted.

While Thursday's launch saw the rocket leave the launch pad and ascend into the sky, the first and second stages of the launch vehicle failed to separate, ending the mission with a bang.

 The Starship spacecraft and Super Heavy rocket - collectively referred to as Starship - both appeared to flip in the air a number of times before disappearing in a fireball over the ocean about four minutes after lift-off.
Mr Musk tweeted: "Congrats @SpaceX team on an exciting test launch of Starship! Learned a lot for next test launch in a few months. "
SpaceX added on Twitter: "As if the flight test was not exciting enough, Starship experienced a rapid unscheduled disassembly before stage separation."
 It added that lessons learned from the mission will help improve Starship's reliability.
Super Heavy is the first stage of the launch system, is fully reusable and is designed to re-enter Earth's atmosphere to land back at the launch site.
However, the test flight on Thursday would have seen it make a water landing.
SpaceX says Starship will be able to carry up to 100 people on long-duration interplanetary flights.
It will also enable the delivery of satellites and the development of a moon base, and point-to-point transport on Earth - allowing travel to anywhere in the world in one hour or less.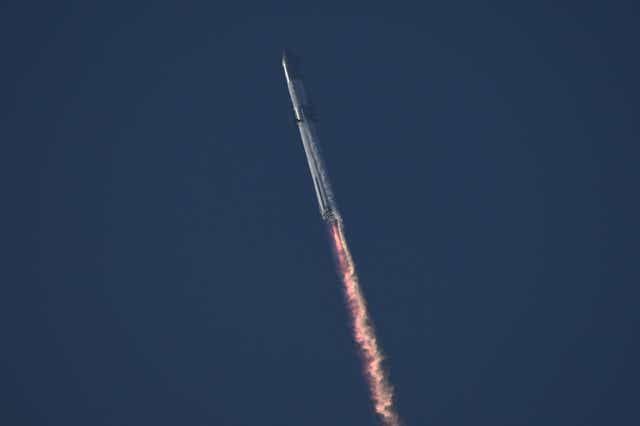 The SpaceX Starship lifts off from the launchpad during a short but historic flight test
The stainless steel Starship is 120 metres tall, has 33 engines and 16.7 million pounds of thrust.

There were no people or satellites on board the test flight.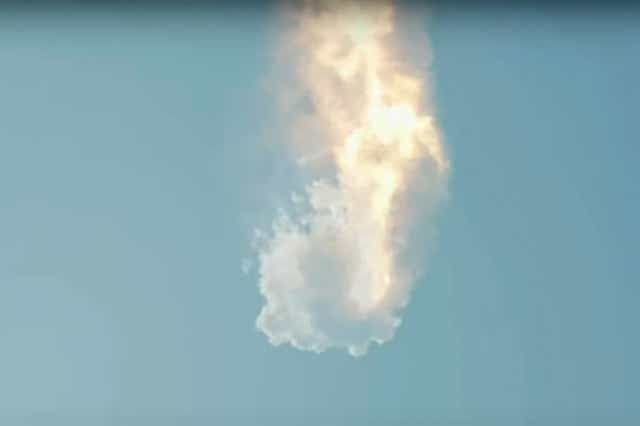 The spacecraft self-destructs after liftoff
Nasa has reserved a Starship for its next moonwalking team, and would-be space tourists can book lunar fly-bys.

Before launch, SpaceX tweeted: "With a test such as this, success is measured by how much we can learn, which will inform and improve the probability of success in the future as SpaceX rapidly advances development of Starship."