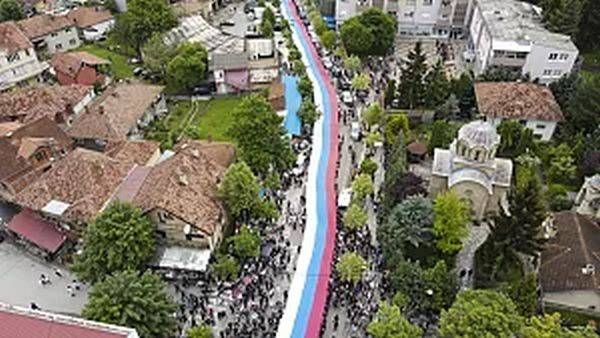 Efforts to De-Escalate Kosovo Crisis Intensify as Serbia and Kosovo Leaders Meet in Moldova Summit
The international community is intensifying efforts to defuse the ongoing crisis in Kosovo amid rising tensions between ethnic Albanians and Serbs.
German Chancellor Olaf Scholz and French President Emmanuel Macron will meet with the leaders of Serbia and Kosovo at a summit in Moldova on Thursday.

On Wednesday, hundreds of Serbs held protests in the northern town of Zvecan, calling for the withdrawal of special police and ethnic Albanian officials from the town.

The protest ended peacefully, and the crowd spread a large Serbian flag outside Zvecan town hall.

The tensions between the two sides have led to concerns of another war in Kosovo, which claimed thousands of lives and resulted in a NATO peacekeeping mission that has been in place for nearly a quarter-century.

The European Union has met with Kosovo Prime Minister Albin Kurti to avert any further escalation, while Russia has been accused of supporting the Serbian cause.

Kurti has rejected Serb demands for the withdrawal of special police units, but suggested that new local elections could be held if the violent protests against them end.

The Russian government has expressed support for the rights of Kosovo Serbs, but Moscow has not yet responded to the latest developments.