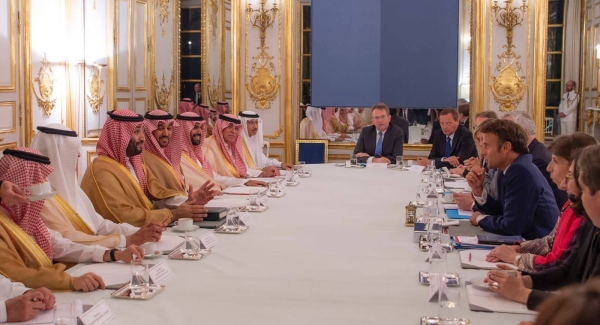 Crown Prince meets Macron in Paris
Crown Prince Mohammed Bin Salman, deputy premier and minister of defense, met President Emmanuel Macron of France at the Elysee Palace here on Thursday evening.
The two leaders held extensive talks in the presence of the delegations of the two countries. A French presidency official told reporters earlier that their talks would figure oil and Iran nuclear deal among many other things.

Upon arrival at the palace, the Crown Prince was welcomed by Macron, who wished him and his entourage a pleasant stay, while the Crown Prince expressed his happiness over the visit.

Macron warmly greeted the Crown Prince with a long handshake ahead of a dinner. Macron then guided the Crown Prince up the steps on the red carpet into the Elysee Palace.

The Crown Prince was also received by several French ministers and senior government officials. Macron hosted a dinner banquet in honor of the Crown Prince.

The expanded meeting and working dinner were attended by Minister of Energy Prince Abdulaziz Bin Salman; Minister of Foreign Affairs Prince Faisal Bin Farhan; Minister of Sports Prince Abdulaziz Bin Turki Al-Faisal; Minister of Sports Prince Badr Bin Abdullah; Minister of Culture Prince Badr Bin Abdullah; Minister of State, Member of the Cabinet and National Security Adviser Dr. Musaed Al-Aiban; Minister of Commerce and Media Dr. Majed Al-Qasabi; and Minister of Investment Eng. Khalid Al-Falih.

On the French side, the meeting was attended by several ministers including Minister for Economy, Finance, Industrial and Digital Sovereignty Bruno Le Maire, Minister for Europe and Foreign Affairs Catherine Colonna, Minister for Energy Transition Agnes Pannier-Runacher and several senior government officials.